I have every intention of growing and aging into a place of happiness. Someone told me the other day that they thought people, as they approach the Middle (St)age either get mad or they get depressed. No! That is not what I'm going to do!
I am going to challenge myself to not only stay insanely busy but also learn to get happier about it.
Wait.
Maybe it's the insanely busy part that I need to focus on.
NAH!
I'll just do more research on how to be happy! That'll do the trick.
Right now I have at least 37 books in my bedroom on the topics of getting happier, more focused, and finding bliss. And I did not buy them all at once. I bought them in a moment of crisis, or confusion. Each book is special, and each book addresses a certain issue that I have at one time confronted. I guess I have had about 37 issues. (Could be more... maybe some of these books cover a little more ground.) I think a good book is the way to go when one has a problem and needs some guidance to solve their emotional issues.
I've heard that:
If you have the answers... you have the answers. And if you had the answers... you'd know the answer.
Right?
Let that soak in for a moment.
The common name for this kind of therapy is "SELF-HELP." Well as much as I like this name, it's a bit of a misnomer. "SELF-HELP" is more like what Stuart Smalley used to do. He would look at himself in the mirror and say something like, "I'm nice and doggonit people like me." Good for him! Now, that's an exercise of SELF. These books that I have in my bedroom are actually an external input. Not so much self, but SHELF.
I think we should call it SHELF-HELP.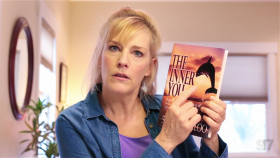 I've read pieces of every one of those books. With dedication. I start each of them with a vim and vigor that would shame Oprah Winfrey. Now if someone could just help me get past page 46. I'm afraid I lose steam. I find a sentence or two that resonate and well... the truth is...I never really found out how the Tibetans lived...only how they died. And I know there must be a 3rd and 4th Agreement that might come in handy. And there are more Pillars, and a few more stages of power and healing, and some tigers I still need to awaken and...I have a problem.
Could someone please write a Shelf Help book on finishing said Shelf Help book? Please? And be sure to cram in the important stuff before page 46. Just in case.
Now, watch Season 1 of Middle (St)age exclusively on Stage17.tv. You'll feel better about yourself!
Middle (St)age is written by Stacia Fernandez and Jacob Pinion and can be seen in it's entirety on Stage17.tv. Follow Stacia at @Fernandezstacia -- follow her character Marina Lippon at @MarinaLippon or follow her page, Middle Stage on Facebook. Just don't follow her around the grocery store. It makes her nervous.
Stage17.tv is the first digital entertainment platform to offer curated, theatre-centric content to a global online community. With its unique focus on Broadway and the arts, Stage17.tv is pioneering the intersection between theatre and the digital stage.