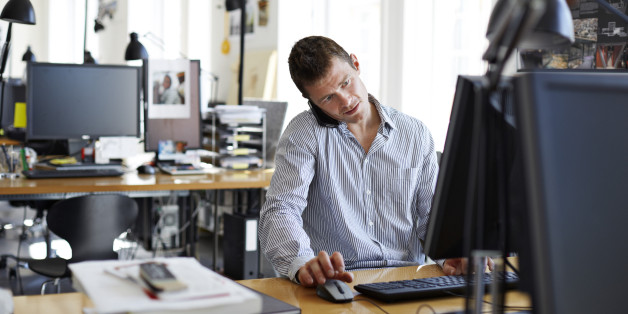 It's amazing how easy it is to get distracted when you really need to focus on finishing. It's inevitable. Emergencies pop up out of nowhere, the phone rings off the hook and everyone suddenly needs your undivided attention. Many times it's not everything and everyone else that's holding up the progress, it's you. If you're constantly putting off projects, it's usually due to internal blockage. That block is just a mental barrier standing in the way of your success. Nevertheless you can bust through, clear your mind and confidently complete your projects with these tricks.
1. Power up your progress by reading: Reading opens the doors to 'aha moments' and divine ideas that will motivate you to take action. Pencil in reading time daily. Reading enlightens you and makes you better prepared to finish projects.
2. Master your momentum: Shield yourself from distractions by silencing your phone and closing your office door to lock yourself into a work-inspired space. Gather all of your snacks and everything you need before you get started so there's no need to stop. Then focus to finish your project.
3. Small changes yield big impact: Progress happens little by little. Don't allow yourself to be overwhelmed by tackling a big project all at once. Break it down into steps and start with number one and work your way down the list.
4. Hone new habits for productivity: Get up 20 minutes earlier to think and plan. Start using a kitchen timer to get more done in less time. The ticking clock will remind you to work expeditiously and stay focused. Write in your journal daily to record your thoughts, ideas and plans. All of these success habits will help you perform better throughout your day.
5. Get fixated on fast action: When you learn something new, plan to implement it right away. The faster you take action, the more likely you are to commit to the change and succeed. Challenge yourself to reach daily action goals. You can use my 5x5 principle, five goals with five action requirements, to get a lot done in a short time.
Here are a few things you can do in a day that would make a big difference:
Write five blog posts and set them all up to publish automatically
Write five pages in your book
Find five pictures for your social media posts
Handout your business card to five new people throughout your day
Make five sales calls
The key to avoiding procrastination is saying no to the urge to be distracted. Push yourself to focus on taking action instead. When you are feeling resistance, take out your journal and write down your thoughts to clear your mind. Acknowledge your resistance, and then answer it with an action step. Regardless of limitations, there is always something you can do to get closer to your goals. Always ask yourself, "What can I do right now?" Then just do it!