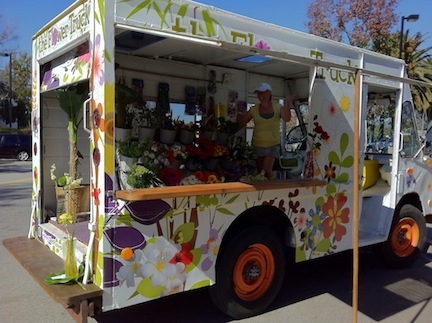 You're visiting LA; Mar Vista is beach adjacent, creative, hip and one of the city's best kept secrets. A neighborhood worthy of a drop in any day of the week.
Population: 37,447
Lay of the land: 2.90 square miles
Cool revival: Two-dozen shops have taken up residence on a once abandoned block of Venice Blvd.
Local flavor: A united neighborhood, cutting-edge farmer's market with a culturally diverse, creative niche of young urbanites; chefs, designers and artists. Sundays from 9am to 2pm, Grandview and Venice Blvd. DJ included. (www.marvistafarmersmarket.org).
Unofficial HQ: The Venice Grind, free wireless, sunny patio and proudly serving Stumptown Coffee daily. (www.venicegrind.com)
Flower power: The Flower Truck offers mobile blooms year round out and about in the neighborhood. (www.theflowertruck.com).
Best-kept lunch secrets: Earl's Gourmet Grub (www.earlsgourmetgrub.com) dishes out hot and cold sandwiches, salads and burgers. Top picks include the grilled duck salad, crab po' boy sandwich, and the Red Fang Bison Burger. Grub on the back patio. Another local favorite, El Sazon Oaxaqueño, a hole in the wall with a killer chicken in black mole sauce, on the corner of Grand View and Washington Place. On the edge of the neighborhood lines lies The Wood Café, which serves up fresh farmer's market fare breakfast, lunch and dinner. Locals love the house made market pickles, herbed Laura Chenel Chevre, and wild mushroom pate. Indoor/outdoor dining. (www.thewoodcafe.com)
The breakfast club: Roll over to Mar Vista Lanes and have breakfast overlooking the bowling alley. (www.amf.com/marvistalanes). For a little French flair, Le Petite Creperie serves up authentic French dishes, brimming with locally sourced produce, and artisanal meats. Get your homemade jam fix here.(www.lpcmarvista.com).
Cool mom: Sarah Auerswald blogs about the community on a daily basis. Posts include business profiles, community news, education, food and events. (www.Marvistamom.com).
Wood worthy: From the Golden State to the Garden State, local artist Kelsey Nichols' wooden designs give nostalgic string art a modern twist. Each piece is made from up cycled wood and hand crafted to celebrate your favorite state. (www.thornandwood.com)
Homegrown: Wander about at the Ocean View Farms nonprofit community garden on the corner of Centinela and Rose avenues. OVF offers members a place to garden, provides a green space for the community, and is committed to organic gardening practices. OVF also offers educational classes on how to grow and maintain plants, and how to recycle waste through composting. Locals can rent a plot for $30 and a few hours of community service a month. (www.oceanviewfarms.net )
Park it here: Lots of solar powered metered parking on Venice Blvd but, be sure to feed your meter. Great free side street parking on Grandview on either side of Venice all day/night.
Shop green: Browse local made organic soaps, body balms, oils, salt scrubs and other eco offerings at Soaptopia. Take a soap making class. (www.soaptopia.com)
Old school DIY: Stop into Dick's True Value Hardware Store and channel your inner general store. You're sure to find all the necessary goods for every unfinished and new project on your list.
Unwind: Oasis Healing Center has a community of wellness experts offering massage, acupuncture, homeopathic medicine, facials, chiropractic care and other unique services that fall under the alternative umbrella.(www.oasishealingcenter.com)
Bike lane: LA Brakeless one of the leading fixed gear bike shops in LA located on Venice Blvd. (www.labrakeless.com)
The dish: Udon noodles in soup from the food court at Mitsuwa Market, a full service Japanese market, books store and general goods section. (www.mitsuwa.com/english)
Photo by Jennifer Kaplan.