Last week The North Face released a video about one of their brand ambassadors, Salt Lake City resident and snowboarder Ryan Hudson.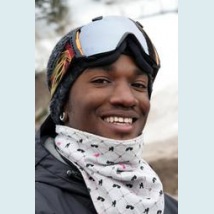 Check out the film here, about Ryan, who grew up in and out of homeless shelters in San Diego, Calif. Ryan was introduced to snowboarding through Outdoor Outreach and his life took a 180, propelling him forward and into the mountains. This week, Ryan, along with The North Face athlete and senior statesman of the mountains, Conrad Anker, author Jon Krakauer, professional skier and snowboarder respectively Kasha Rigby and Jeremy Jones, as well as noted alpinist and outdoorsman Phil Henderson amongst others, are going to make a summit attempt of Denali in Alaska.
I had the good fortune of catching up with Ryan at a coffee shop in Salt Lake City last week to talk about life and the outdoors.
SB: Where are you from and how did you grow up?
RH: I am the youngest of five, grew up in San Diego with my Mom and two immediately older siblings. The other two were on their own when I was a kid. I grew up on the streets and remember finding a Batman toy when I was really little that was missing a leg. I thought it was the coolest thing and I loved it. My Mom and I were in a shelter once and I was on my Mom's lap reading or doing home work or something during an election when a photographer came in and asked if he could take our picture. The next day I was on the front page of the paper and I was really proud of that. But the caption said I was homeless and at school kids made fun of me for the photo. It was the first time I noticed something was different about me.
SB: What were some of your early influences in life before you found the mountains?
RH: I've always been into being outdoors. I used to skate four miles down to a skateboard park, skate all day, then skate back home. Its how I first got outside. Music has also been a huge influence in my life. Drumming really. A lot of people don't know this but Stevie Wonder was a really great drummer and his style is something I really got into.
SB: How did you get into the mountains?
RH: In 2004, I was at the Toussaint Academy and Chris Rutgers, from Outdoor Outreach, asked if we wanted to go snowboarding, but we had to have good grades and stuff. Surprisingly I could go. My first year at school was rough. I like to learn, but school was not my specialty. I'd rather be skating and being the dirty ghetto kid out having fun. But I got to go.
On the drive up to the mountains all the other kids fell asleep but I just stared out the windows and thought 'this is awesome.' When I first got on a snowboard I knew this was IT.
SB: You are a snowboarder and you happen to be black. How has that impacted your experience in the mountains?
RH: I've been riding at Snowbird for five seasons and there's about four or five black guys out there since I've been there. I don't want to be known as the black snowboarder, I want to be known as a snowboarder, not just the black snowboarder, but its been the conversation starter. I get the value of diversity in the outdoors and kids need to see other kids like them out in the mountains.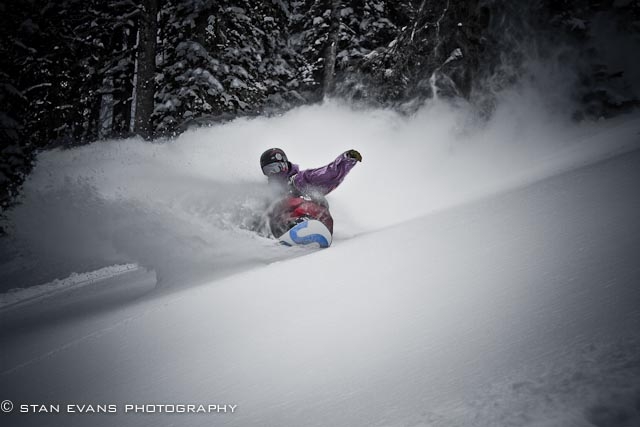 SB: Who inspires you in the mountains?
RH: People who give high 5's all contribute to me as a person and an athlete. I find inspiration from a lot of different people who all contribute to my self esteem and person in different ways from direct contacts to reading about and seeing guys like Jeremy Jones. Snowboarding is such an awesome community. Not even skateboarding can compare to the bonds of snowboarding, like soccer, such an international love and everyone can feel the same energy.
Going back to music, guys like Mos Def, Talib Kweli inspire me and others who give back, who educate, who do more than the 'me me me thing,' which is so overplayed. So I want to give back and people who give back inspire me.
SB: Tell me about your work with Outdoor Outreach and The North Face?
RH: Outdoor Outreach gave me a reason to live and opened a new door of opportunity for me. The North Face (Ambassador Program) gave me a reason to keep on doing what I love and a means to contribute to what I'm doing in the mountains and with people. I have a responsibility to inspire, to empower, and to share my story with others because there's a bigger good beyond me. I'm not just sharing it only if its for me or money and being an ambassador let's me be an educator and maybe an inspiration.
I try and go back to San Diego every year and work with Chris (Outdoor Outreach) to give back and keep the spirit going. You know, if a kid from poverty becomes a snowboarder and no one knows about it, does it happen? I gotta give that spark to kids and that's what being an Ambassador let's me do.
SB: What are your goals in the mountains?
RH: Survive. Thrive. Stay excited 24/7 for the feeling I get in the mountains and get more kids out here with me.
SB: How do we get more kids outdoors?
RH: Its tough. Kids in town got no car, no snowboard, no pass, no gear, and no way to the mountains, so we've got to make it cheaper, more accessible. We've got to expose people to it and get a couple hundred brains working on the solution. It can happen. It happened for me.