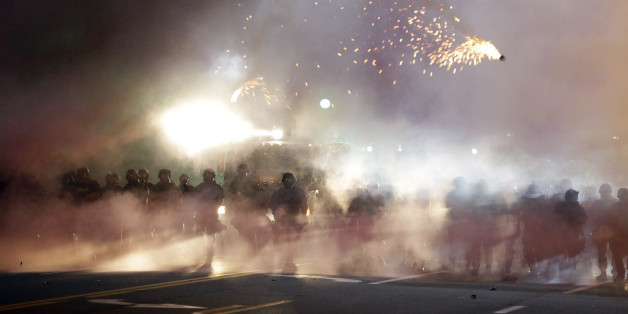 I am sitting on my couch paralyzed, impotent, and full of rage. Its 10:41 p.m., I have emails to catch up on and work I'm behind on and I'm glued to my Twitter feed. I'm frantically posting and emailing wondering if I shouldn't be organizing a bus to take people the 19 hours in traffic it says it will take to drive from here to a small town outside of St. Louis, MO.
I want this to end. I want to wake up tomorrow and have this be an ugly dream. I want to think that what I was told I went to fight for, and what I was told the 'terrorists' hated, my American way of life and freedom and such, is really what I went to fight for, but this, this is outrage. Nobody deserves to be gun downed in the middle of the street unarmed.
Peaceful protestors should not be confused with others who take advantage of a chaotic situation to lash out and break a few windows. Guns get pointed by a white guy to white land management agency workers in Nevada a few months back from a dude who doesn't believe in the federal government and has for months violated the law and nobody shoots back.
Black people march in their hometown after an unarmed black kid is gunned down in the street and we get a police force better equipped than my team was in Iraq in 2007 when the surge started -- and two journalists arrested and harassed and jailed for no reason for evidently charging their iPhones in a McDonalds because they were reporting, or in other words exercising their First Amendment rights.
2+2 is not equalling four in America.
It shouldn't matter what side of the political aisle you are on unless you are just 100 percent racist or fascist to see that none of this is a good thing and that what is happening right now in America is way beyond anything we've seen or chosen to ignore in the past.
So should we go? Is this our moment? I've led men in battle (thanks to SSG Kevin Church for getting me moving the first time mortars started landing our way), I've led people in the mountains, and now I'm waiting to be told. I don't know what to do.
Is this how my mother felt when I went off to war? Like she wanted to do something but just couldn't?
Maybe when I wake up in the morning and before I feed my cat I'll see that all the roads around Ferguson are blocked for all the traffic of all the people going to see first hand what the hell is going on here in this country and stopping the madness and ensuring justice, however we will define that term now, is done.
All of a sudden I feel here at home like what we were told Russia was like in the Cold War and I find myself empathizing with young men in the Soviet Army. They were just trying to get by, I'm just trying to get by -- but at some point, just like Perestroika, even they had to pick a side.
Maybe I'll call the bus lines after I clean out the cat's litterbox, but if you need another person to stand in the barricades or march in the streets or organize busses before then, tell me where to go...