We asked some current and former volunteers with America's Unofficial Ambassadors about the most useful things they packed for service abroad, or what they wish they had packed after they arrived. What we got were some surprising answers and, in the process, some lessons about what it means to be an effective volunteer overseas. Here's the top five items that stood out on their packing list.
5. Nice Clothes
Whether you're volunteering in a remote village or an urban center, the fact remains that being a volunteer is a job, one that you'll need to take seriously if you want to gain the respect of the people and the community you're serving. That means dressing the part.
People often imagine volunteers working abroad in tie-dyed t-shirts and flip-flops (okay, the flip-flops are sometimes true) but it's wise to pack at least a couple outfits of so-called "office attire" before you go overseas. This doesn't necessarily mean that you should wear a suit or an expensive dress, but having a few dressier articles mixed into your travel wardrobe can make a big difference.
In fact, you'll probably need them on your first day of volunteering abroad because that's when you'll likely meet your local supervisor, not to mention the people you're there to serve. It's also fairly common for volunteers to get invited to community events that call for a bit of dressing up. Invites to weddings, family gatherings or dinners -- particularly if you're serving in a Muslim community during Ramadan -- all require you to look presentable.
4. Construction Paper, Crayons, Stickers
If you're a volunteer teacher or working with kids, it's wise to think about the extra supplies you'd like to bring into a classroom for lessons or for arts and crafts. Even just a few sheets of colored construction paper and crayons can open up a range of possible games and activities for your students but those items might be hard to find where you're heading. Volunteers also reported getting a lot of use out of small items like gold star stickers, glitter and glue sticks.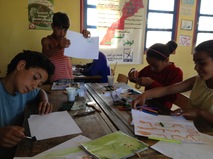 Sports equipment should get an honorable mention here too, though it is often difficult to pack. Inexpensive items like a Wiffle Ball set, an old pairs of kid sized soccer cleats or a soccer ball can be especially useful if you're volunteering in a summer camp or anywhere else you'll need to organize activities for young people.
3. Sealable Plastic Bags
Keeping your belongings dry, clean and free from creepy crawlies is sometimes tough to do if you're volunteering in a remote area. This is particularly true for storing that stash of Power Bars or snacks you might keep in your room, or for keeping your toiletry items clean. In rainy climates, a sealable plastic bag is also handy for keeping valuable items from getting soaked, like your passport or health insurance card. It helps to have bags in different sizes as well, a large one for documents or files you need to keep safe and smaller ones for your personal stuff.
2. Postcards from Home
Being a volunteer abroad is about a lot more than the actual scope of your service work, it's also a chance for you to be an ambassador representing your community and, in a larger sense, your country. Depending on where you serve, you might be the first foreigner some of the folks around you have ever really gotten to know and part of building a relationship with them means sharing about where it is you call home.
Postcards are an easy, cheap and effective way to do that. Consider bringing a selection of inexpensive cards with cool pictures that you can use for "show and tell" or to give to people as a nice gift that they'll remember. Even if you're faced with a language barrier, those pictures will help you tell the story of who you are and the place you represent.
1. A Laptop
Deciding what kind of electronics to bring with you during your service can be tricky. Very often, volunteers want to use their service time as a chance to unplug, to get away from emails and social media. There's also the worry that computers could be damaged or maybe even stolen while abroad.
Still, a lot of service placements out there will require you to use a computer at least a few times a day. You might be tasked with typing up lesson plans for your next ESL class or charting out a communications strategy for a local grassroots organization, all of which means sitting down in front of a keyboard. The computer skills you have, even if it's just a basic understanding of Word or Excel, can provide substantial benefits to the people you're serving.
So, it's wise to bring your own laptop and be ready to apply what you know computer-wise in a new setting. Just remember to keep it safe and dry during your time abroad.
Your laptop is also your best way to stay connected during your service with people back home and to share your story with a larger audience. Keeping a blog is a great way to let everyone know where you and what you're doing, and it'll be something you can look back on when you get home.
What would you bring for a service role overseas? Leave a comment below and let us know what you think the most useful item on your packing list would be.