When I told friends about my wine trip to Argentina, it was no surprise they assumed it would be all Malbec all the time. While Argentina is South America's largest wine producer and the world's largest producer of Malbec, its wine regions grow a wealth of varietals spanning from Torrontes to Riesling, Syrah to Bonarda, Cabernet Franc to Cabernet Sauvignon and the list goes on.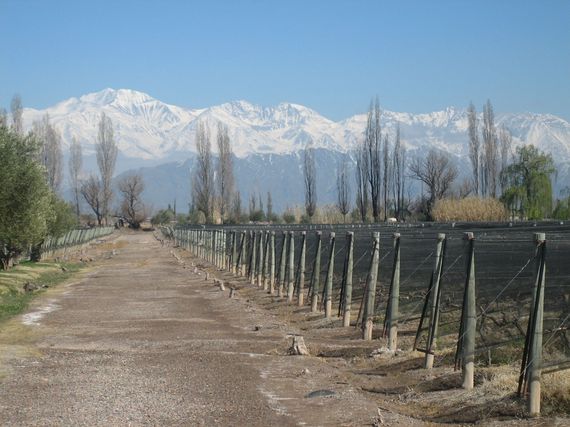 Although, I was eager to sample Malbecs from Mendoza and Patagonia, my underlying mission was to explore the country's assortment of blends and single varietals beyond Malbec.
Surprisingly, Malbec is not indigenous to Argentina. Rather, it's a French varietal that arrived in Mendoza with immigrants in the mid-1850s. To the delight of farmers and winemakers - and quaffers - the European vines took to Mendoza's loose sandy soil and desert climate.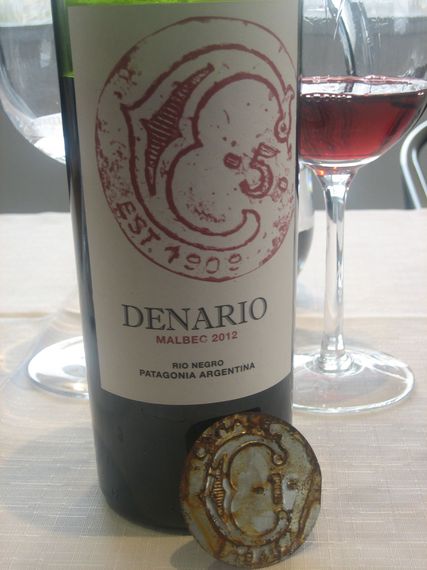 Today, over 70 percent of Argentina's wines come from Mendoza. Nestled on the east side of the Andes Mountains, Mendoza, dubbed a "high desert oasis," gets less than 10 inches annual rainfall. So, vines rely on the Andes' ample snowmelt for pure water. Despite its considerable reputation, only 3 percent of Mendoza is developed. The rest is desert. Yet, grapes have unusually long "hang-time" and thrive under powerful high altitude sun -- vineyards are 2,000-7,000 feet -- that shines over 300 days annually. While cool, crisp nights allow grapes to rest and retain acids vital to dynamic wines.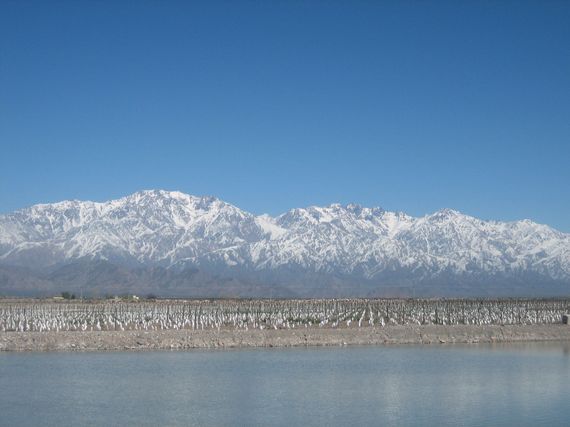 I was traveling with three fellow wine devotees and our first stop in Mendoza was at Fincas Don Martino, a welcoming, low-key winery with outstanding winemaking and fantastic fermentation tanks. Originally called Finca, "La Violeta," when founded in 1926, the winery was taken over and re-launched in 2011.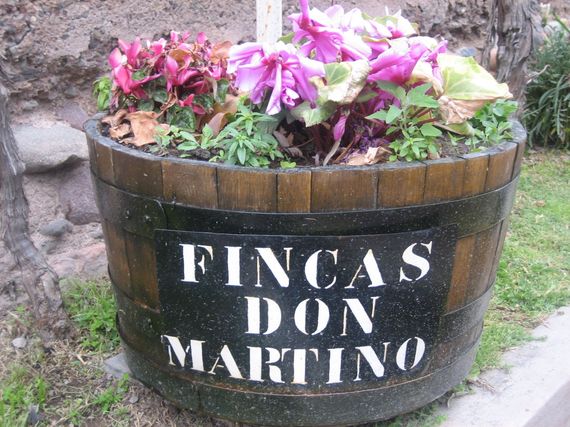 Following a swift tour of the modern winemaking facilities, at 10 a.m., we sat at a rectangular table, swirling, sniffing and sipping (and spitting) selections from their impressive portfolio.
An admitted Cabernet Franc fan, I loved the Cabernet Franc Reserve, overflowing with spicy red plum, black cherry and touch of mint. A step up in maturity and structure, the Baldomir Gran Blend - 50 percent Malbec, 25 percent each Cabernet Franc and 25 percent Cabernet Sauvignon - had notes of raspberry, cassis and mocha. It would be great with roasted duck.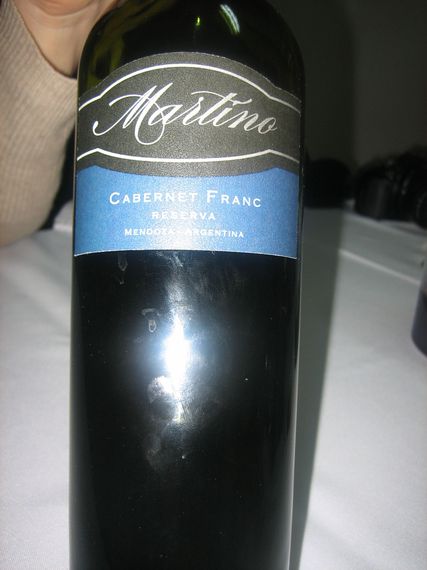 Next, we visited Club Tapiz, an eco-friendly winery, restaurant and boutique inn, built in the 1890s, on the outskirts of Mendoza. Once owned by the Kendall Jackson Family (think California wine), it was bought a decade ago, by a lawyer and doctor, husband and wife team.
In the old cavernous wine cellar, we whet our appetites sampling wines from a handful of local producers, which we later sipped with a multi-course midday meal.
It was after one O'clock when we sat for lunch in the cozy, rustic upstairs dining room with floor to ceiling windows, overlooking some of the 24 acres of vineyards. My grilled shrimp was delicious with the crisp, minerally Tapiz Alta Chardonnay and would have been terrific with Amalaya's Vino Blanco, Torrentes-Riesling blend, I tasted earlier in the trip. While, Don Cristobal's stone fruit driven Verdejo was great with my trout entrée. Upon moving into red world, I enjoyed the Caligiore Malbec Reserva, a dynamic organic sipper packed with ripe black cherry and black plum. While Finca Las Moras Mora Negra, 70 percent Malbec and 30 percent Bonarda, 18 months in French oak, tickled my tastebuds with rustic spicy red fruit, chewy tannins.
Another standout lunch in Mendoza was at Bodega Melipal, which offers tours and tastings. It's a gorgeous family-run winery with Malbec vines dating back to 1923.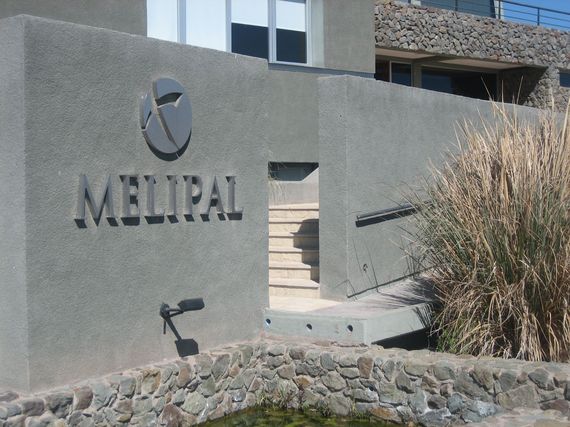 One of the most interesting twists on Malbec I discovered was Vicentin's Blanco de Malbec (White Malbec). Its pale pink body packed restrained watermelon, strawberry and lingering menthol on the finish. It was wacky, but delicious.
While, Mendel Vineyards' Malbecs were amongst the most refined. From grapes grown on 80-year old vines, they had enticing toffee and holiday spice aromas with rich roasty blueberry and violet flavors.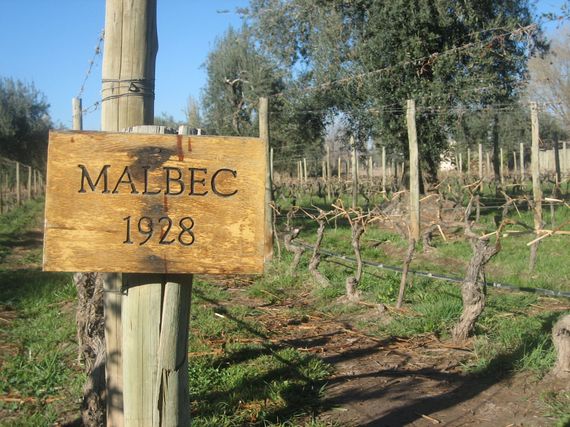 I also adored the area's Petit Verdot, especially from Finca Decero Winery. It pleased with herbal aromas, velvety wild dark berry and a generous finish.
But I was most intrigued by the Bonarda grape, introduced to Argentina by Italian immigrants during the influx of European immigrants in the mid-1900s. Mairena Winery, produces a Bonarda aged in steel and another in oaked. Both packed terrific violet and ripe, dusty fruit, but the subtleness in texture and notable vanilla on the oak version were fun comparisons.
While at dinner with folks from Bodegas Nieto Senetiner, a sprawling winery, founded 1888 by a group of Italian immigrants, and acquired by the Nieto Senetiner family in 1969, our hosts opened special bottles of 2000 Bonarda and 2002 Cabernet Sauvignon. The 14-year old Bonarda had elegant metal labels and retained deep, fresh fruit with underlying leather and spice. It was lip-smacking evidence that Mendoza's wine can age.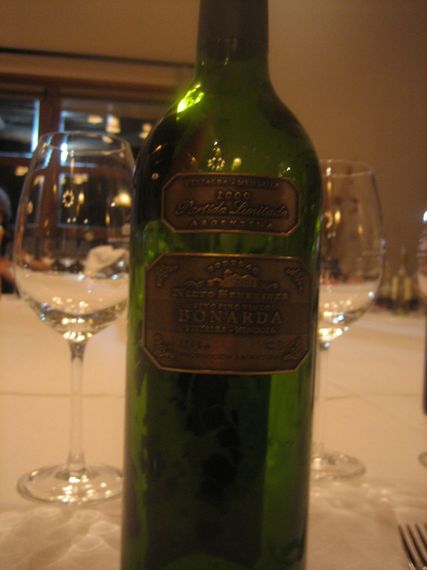 A few days later at Bodegas Humberto Canale, in Rio Negro, Patagonia, we met winemaker Horacio Bibiloni, who made the fantastic Nieto's Senetir 2000 Bonarda -- before he started at Humberto Canale.
Humberto Canale Winery, established in 1909, has retained its Wild West aura with vintage trucks carting wood barrels, horse-hitched wagons (sans horse) and gorgeous, regal handmade wood wine barrels peppering the vast barrel room.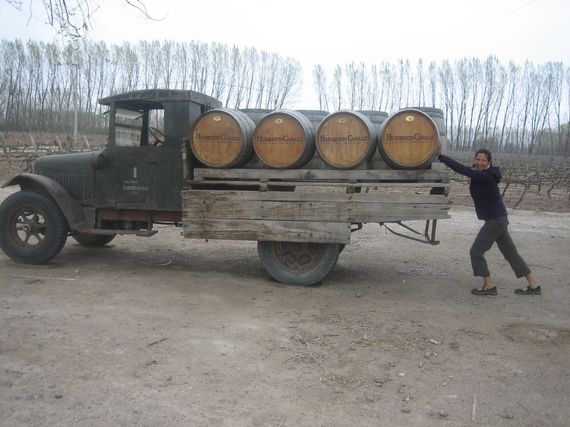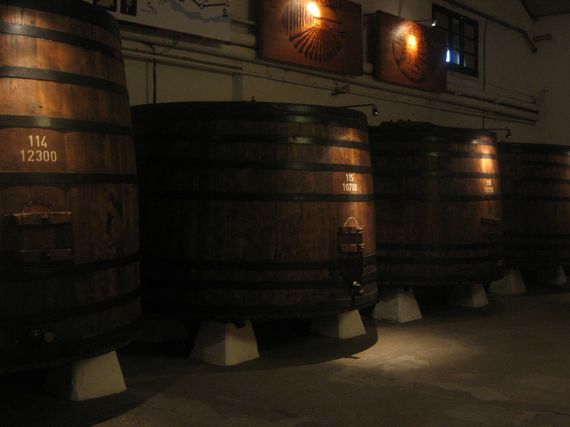 I had my first Asado here (sort of). I don't eat meat. So, while my pals pigged out on pig and miscellaneous mammal grilled over hot coals paired with Gran Reserva Malbec and Denario Reserve Malbec, I nibbled crunchy spinach empanadas and "Asado" grilled veggies, with Old Vine Riesling and Old Vine Pinot Noir. The racy Riesling, made from grapes grown on vines planted in 1937, was bright, ripe and rich laced with petrol and white peach. While, the Pinot Noir was equally excellent with toasty cherry Coke flavors splashed with spice and clove.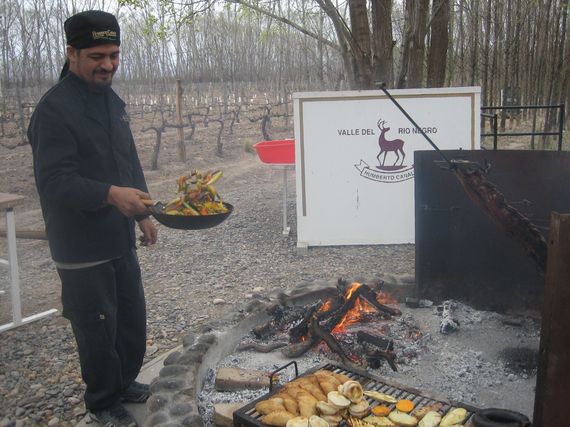 Other Pinot Noirs that topped my list were Huarpe Winery in Mendoza and Familia Schroeder, a pioneer in the Neuquén Province that makes 100 percent Pinot Noir and an unusual Pinot Noir-Malbec blend, described as "fruit salad that makes sense."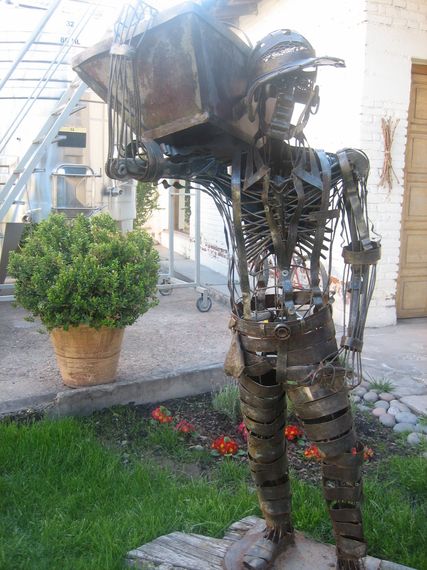 In summer, the fledging Neuquén Province in Patagonia gets 45 minutes more sunlight than Mendoza. Consequently, with dry weather and frequent southwest winds, grape quality is high, but yields of the small, thick-skinned berries are in low, limiting quantity. Since the region is at the same latitude as Marlborough, New Zealand, it makes sense that Pinot Noir does well here.
When Schroeder winery was being built, dinosaur bones and eggs were uncovered, inspiring owner Robert Schroeder to dedicate a line of wines to the lost dino's, called the Saurus Selection. He established a section of the wine cellar that displays the bones and replicas of the eggs. While, the central cellar sector showcases artwork and hosts concerts.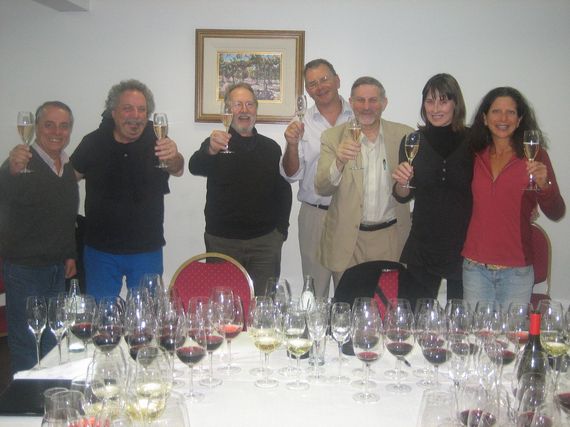 In 2001, Schroeder planted its first vines and did first its bottling two years later. More recently, in 2009, they partnered with Paul Hobbs, California winemaker-turned consultant to several wineries in South America, to create Alto Limay, aiming to appeal to the American market and palate.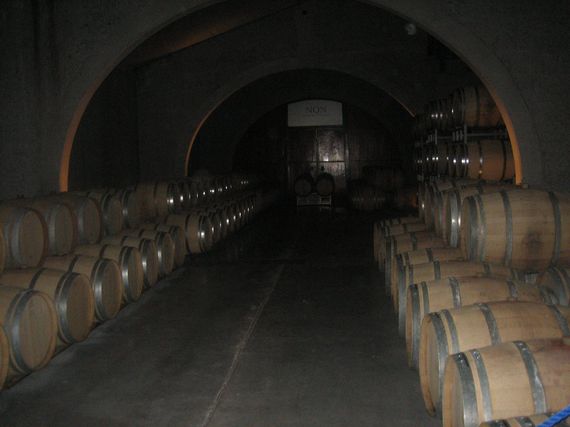 Our final day was spent at Bodega NQN, a contemporary winery and restaurant with a hipster feel. They craft two lines of wine, NQN and Del Fin Del Mundo. With refreshing pink grapefruit, NQN Sauvignon Blanc had balance and liveliness and the un-oaked Chardonnay was clean and bright with white peach. While, NQN single vineyard Pinot Noir and single vineyard Cabernet Franc were my favorites. The latter, packed racy black cherry and dirty leather with a delicate edge and was a palate pleaser with my grilled salmon and wild mushrooms meal.