As details jelled about my spring trip to Bordeaux, France, it became apparent that my travel-mates were set on a full wine and food exploration. Who was I to argue? But, some of my favorite trips have been cycling and sipping through wine regions around the globe and I did not want to miss out. So, I extended my visit by three-days and created Part 2: A price-friendly, DIY cycling exploration.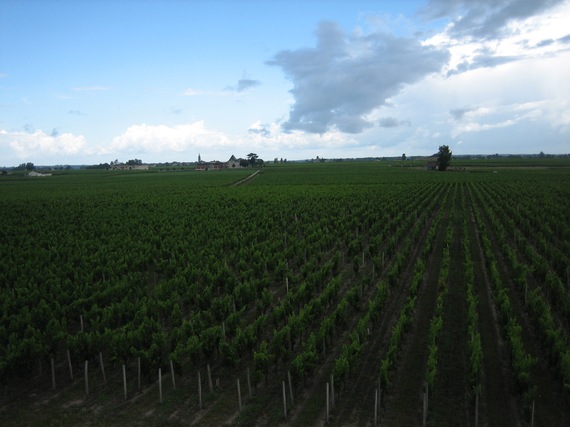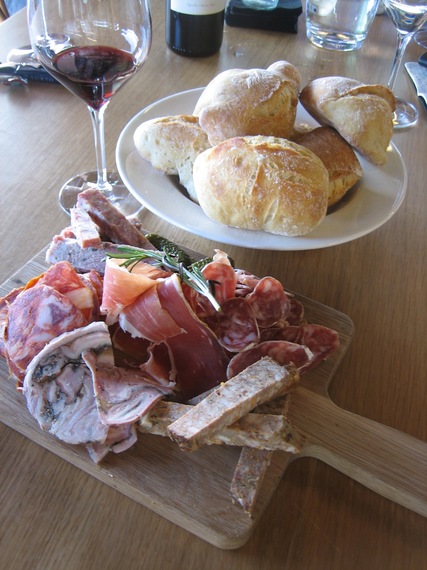 I rented a road bike from 02Cycles. They delivered -- and picked up -- to my tiny budget hotel, situated in the center of Bordeaux city, across from the Saint Jean train station, should my sipping overpower my cycling. It was a far cry from the modern, chic Seeko'o Hotel, where we stayed earlier. 02Cycles also provided maps and suggested routes.
On my first 60-mile two-wheeling day, grey skies hovered as I pedaled past runners, cyclists and café's along the smooth paved path, paralleling the Gironde River, which separates Bordeaux's left bank and right bank wine regions further north.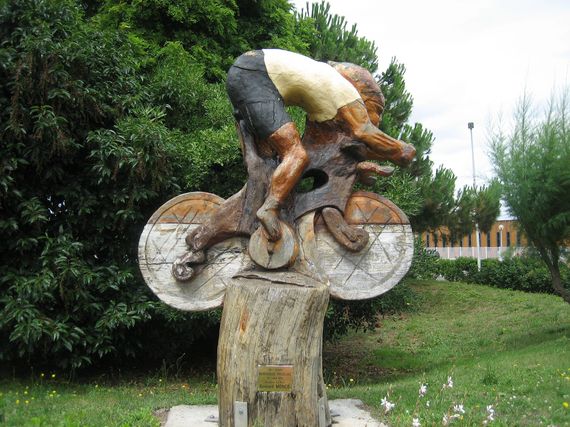 With the bustling city at my back, I relaxed and settled into my saddle, cruising along the pancake flat roadway paralleling Highway D2, which connects to Graves and the Medoc -- home to wine royalty like Margaux, Saint-Julien and Pauillac.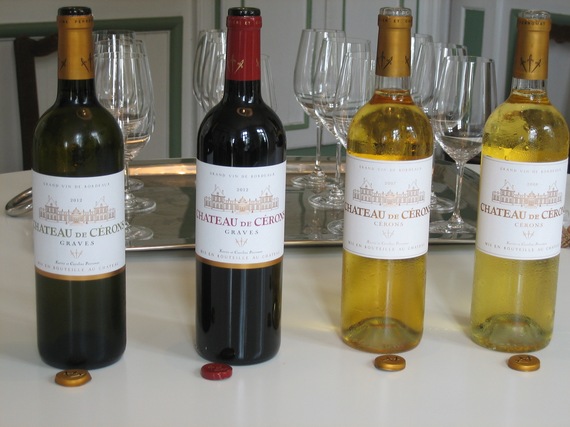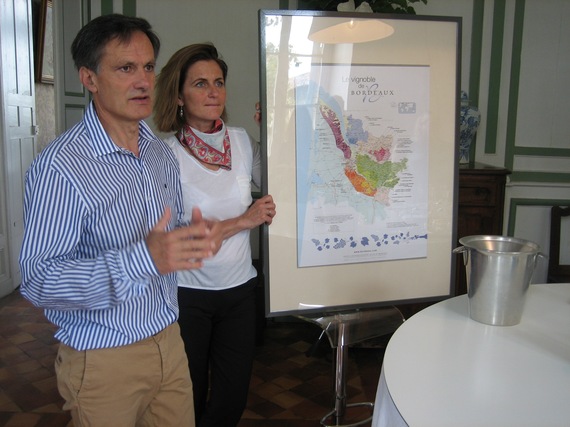 The Graves appellation seemed quieter and greener than it was days earlier, when we drove to Château de Cérons. The winery and 18th Century Chartreuse is owned by wife and husband Caroline and Xavier Perromat, who is the winemaker. They offer daily wine lessons, tours and wine picnics -- and sell local specialties, such as, foie gras, black olive "tapenade" and duck pâté. We plucked a few items from the pantry to nibble and bottles to sip amongst the Magnolia's on the front lawn. The Sauvignon Blanc, Semillon and Sauvignon Gris blend was bright, mineraly and had a pleasing salty finish. While, the Cabernet Sauvignon-Merlot offered ripe raspberry, soft tannins and splash of spice. It was terrific with tapenade and pâté.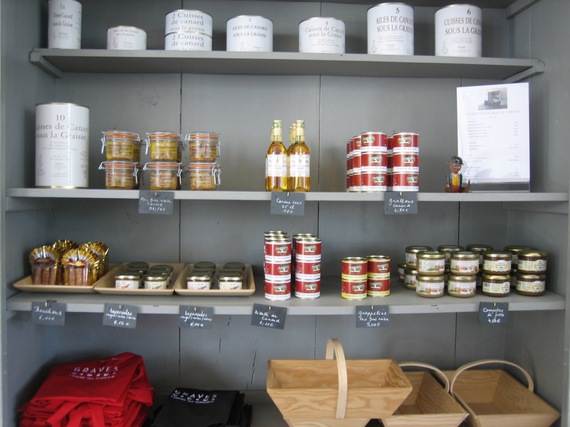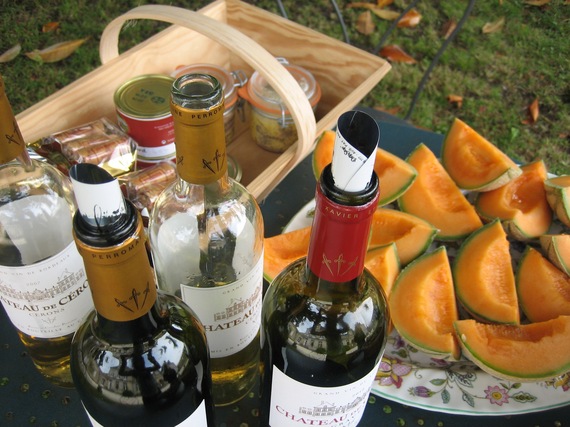 Raindrops ping-ping-pinged on my helmet as I cycled the tree-lined streets of Margaux, awash with pristine vineyards and sprawling estates. Feeling a slight chill, I stopped at a cozy café to warm up with a robust espresso. In rhythm to the soft tunes in the backdrop, I waved "au revoir" to the barrister behind the petite wooden bar and continued my journey to Saint Julien, where I arrived at Château Branaire Ducru - one of my favorite Bordeaux wineries. "I did not realize you were coming by bike," said Jean-Dominique Videau, the winery manager. We toured the winery and barrel room and then adjourned upstairs to taste the 2010. Though, the vintage has not gotten the hoo-ha of 2005 or 2009, both warm years, the 2010 is refined, yet opulent with layers of plum, black currant and touch of spicy, smoky cocoa that lingers in its generous finish. After a quick, gracious good bye, I hopped on my bike and rode to Pauillac to catch the 5:40pm train to my hotel.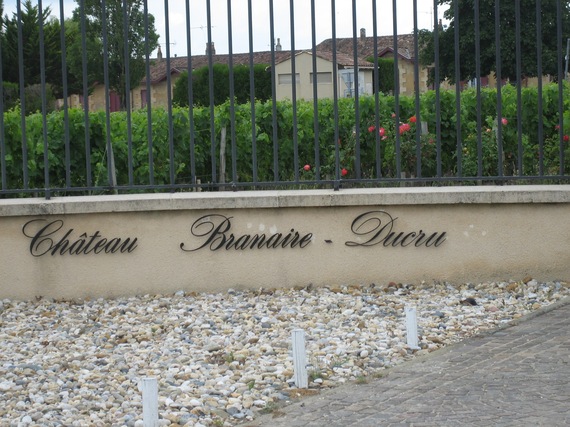 Days earlier, we took a Bordeaux River Cruise motorboat to Pauillac, home to Lafite Rothschild, Latour and other Who's Who of Bordeaux. That day we toured revered Château Pontet-Canet with co-owner Mélissa Tesseron. The expansive 200-acre family-run estate and vineyards, an 1855 Classification, cultivates 40 percent of vineyards with horses and utilizes organic and biodynamic methods, which Tesseron says, "Creates a higher richness in the wine." Indeed, the wines were plush, elegant and layered with bountiful dark fruit and subtle leather, spice and structured tannins.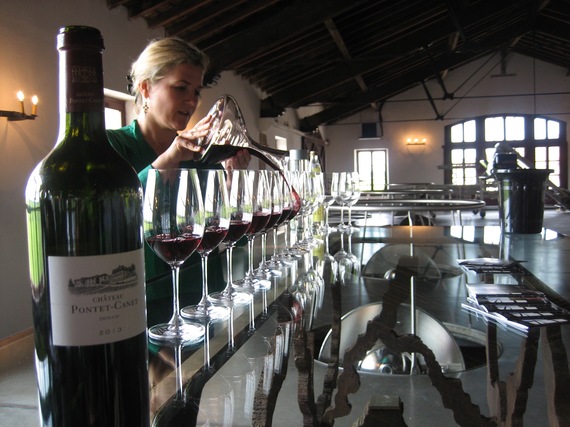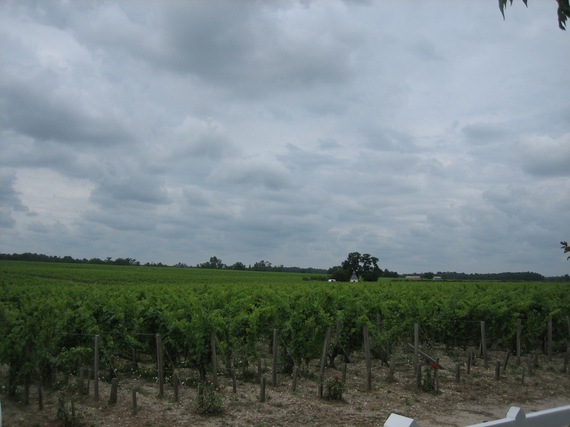 My second cycling morning, started riding over the bridge across the rippling Gironde River to exit the city. I was excited to discover the protective bicycle lane on the bridge that transforms into a two-lane bike path paralleling the highway. Turning left, I followed the marked path toward Saint-Emilion. Puffy clouds peppered cobalt skies and the sun poked in and out, warming the brisk, breezy morning as I stood to stretch my legs, pedaling uphill. The leafy path cut through residential communities -- in all, it stretches 24km from the heart of the hectic city to the town of Creon, a subdued suburb on the edge of wine country.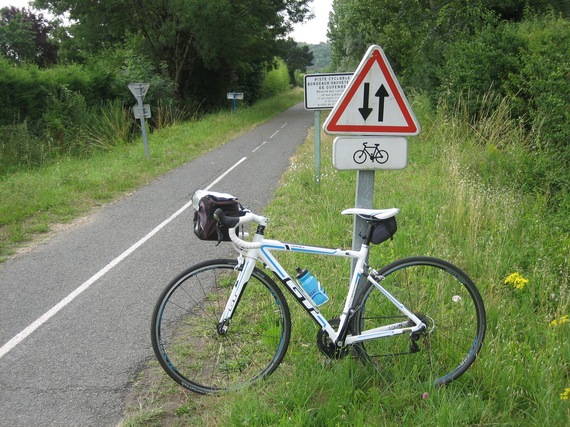 It was late morning when I arrived in Saint-Emilion, a UNESCO World Heritage Site, renowned for its historic castles, churches and rolling, bucolic landscape. Nestled on the right bank, the wines produced here tend to be Merlot-based, thereby typically softer, rounder and more fruit-driven than wines from the Medoc. Picture-snapping tourists strolled sidewalks, window-shopped and lingered over Cappuccino's in outdoor Café's. I leaned my bike on a metal bench, where I sat snacking on a banana and almonds, while breathing in the stunning picturesque surrounding landscape. Following a quick tour of town, I zipped down the stonewalled surrounded street to begin the journey back to my hotel and complete a 73-mile loop.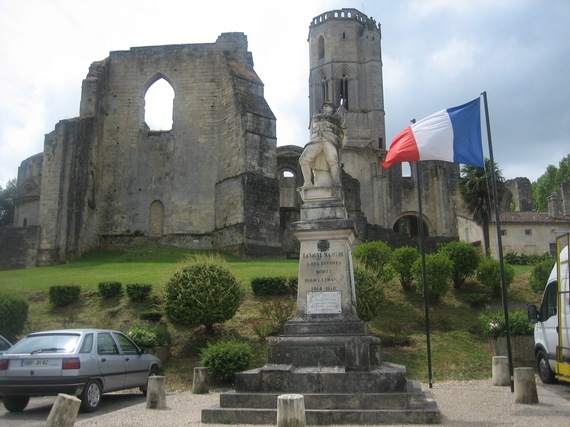 Tucked low to my top tube to hide from the blowing wind, I spotted life-sized two-dimensional wooden figurines peppering the nearby green lawn. I was overjoyed. It meant I was in La Sauve, where days earlier we had a fantastic lunch at Restaurant De L' Abbaye -- and photo session -- after touring and tasting at Château Thieuley. Run by the Courselle sisters, Thieuley melds old world technique and new world technology, such as the steel self-serve taps in their contemporary tasting room.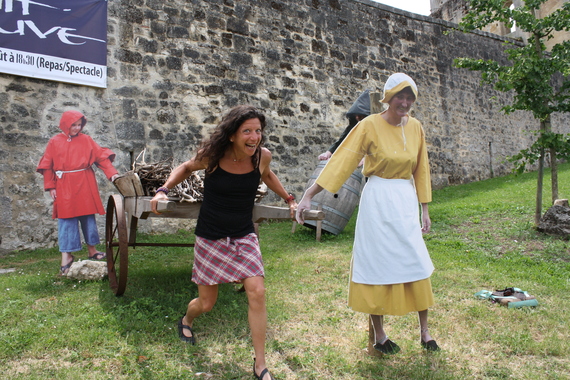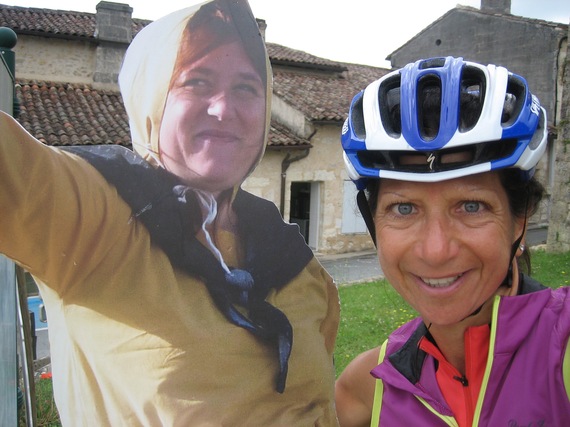 On my final 70-mile cycling day, I headed south to the Entre Deux Mers, a lush, rolling area of Bordeaux, that crafts lean, bright white wines. A blend of Sauvignon and Semillon, some of the wines are austere, while others are summer in a class.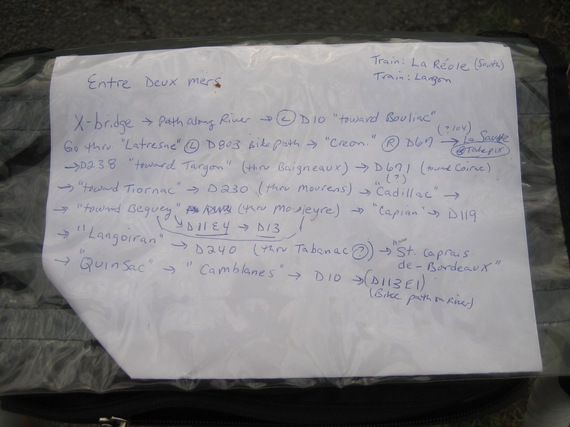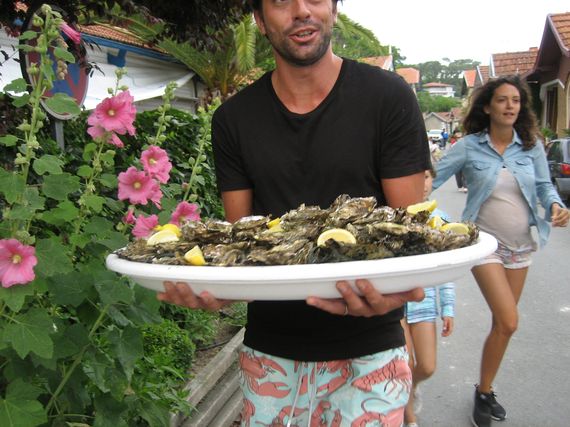 The wine's fresh cut grass aromas and frisky acidity perfectly pair with the wealth of scrumptious oysters harvested further south in Cap Ferret, a seaside resort adjacent to the Arcachon Bay, often called the Hamptons of Bordeaux. I can still taste the fat juicy oysters exploding with creamy brininess, like kiss of fresh sea air.