My jacket fluttered in the cool March breeze as I swooshed down and around the tight hairpin turn. Then feathered my bicycle brakes to slow speed, leaning into the next twisty curve. I snuck a glimpse at the rippling turquoise sea below, wedged between jagged limestone mountains sprouting from sparkly water. It was eye candy for the soul and one of the many gems hidden in Mallorca, Spain.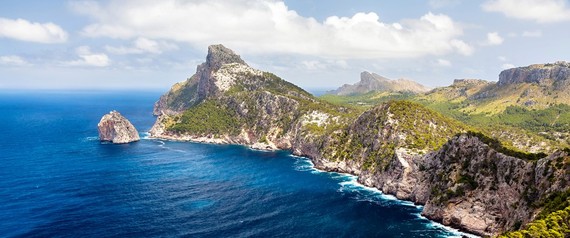 Only, reaching Sa Calobra, the tiny fishing village at the bottom of the nearly six mile labyrinth roadway, was no time to relax. Designed by Italian engineer Antonio Parietti Coll in early 1930's as a tourist attraction, it dead-ends at the water's edge. Meaning, the only exit was pedaling back up 26 spiraling, steep switchbacks with out-of-saddle sections reaching 12% gradient.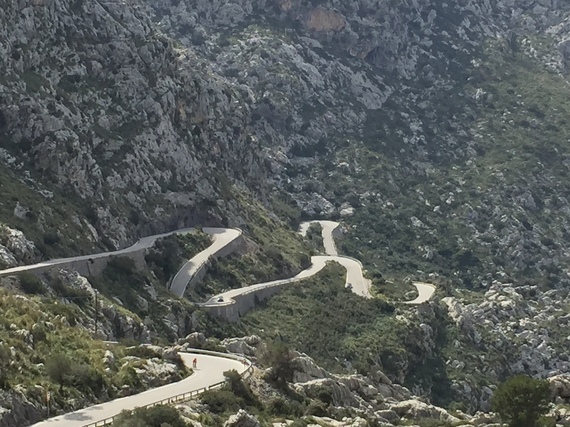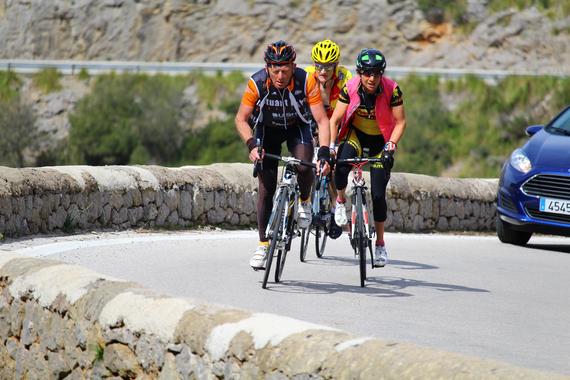 This was my fourth day at Stuart Hall Cycling Camp, a UK-based organization, run by namesake Stuart Hall, who professionally road bicycle raced in France for 10 years. Since 1987, Hall has frequented Mallorca, which for decades has been a vacation hot spot for Europeans - and training ground for professional and recreational cyclists, due to its bike-friendly car culture and diverse terrain. This year, over 140,000 cyclists are expected.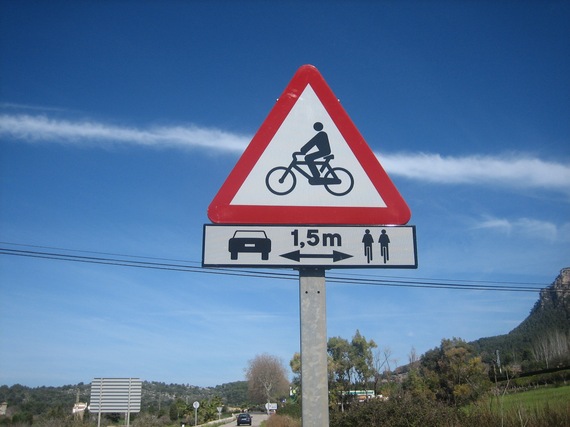 When I heard about Hall's affordable and affable cycling camp, featuring guided rides over mountain passes, along winding coastal roads and past budding vineyards, it sounded dreamy. Two friends from home in New York City, Kristi and Cheryl, agreed, joining me for eight days on the Spanish Island.
"This company started as a lifestyle choice," said Hall, who has mastered balancing fun with professionalism. "I want to ride my bike and I want people of all levels to get satisfaction and pleasure out of riding." Unlike many retired pros with camps, Hall leads daily rides with his fit, friendly staff - including a 22-year old pro racer, 67-year old World Champion and former clients.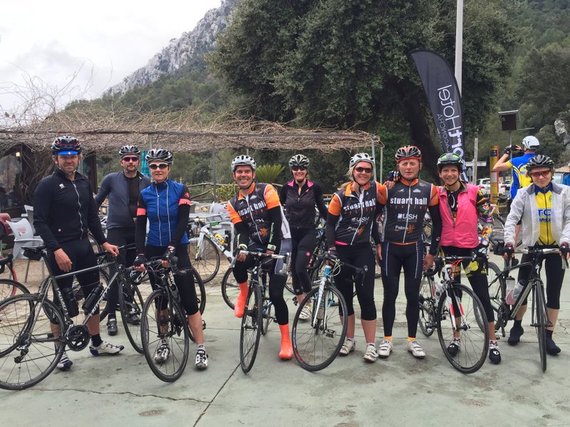 We stayed at Hotel Playa Mar, in Port de Pollença, a quaint beach town on the east coast. Each day offered three-to-five ride options, spanning 35-90 miles, flat or hilly - labeled fast, medium and steady.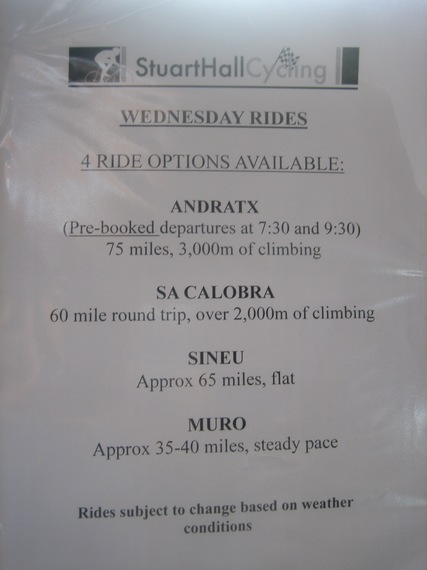 On my second day, the air was crisp and skies brightening, as we rolled out at 10:00 am for a 90-mile ride to Sant Salvador Monastery, a mountain top sanctuary built in early-1700s. I zipped my pink Pearl Izumi vest to shield the coastal breeze and tucked behind a steady wheel, chatting with Geoff Standring, 55, an Accountant from North Wales. He was also a first-timer. "I like riding with different groups each day and dining with different people at night," he said, as we rode two-abreast, pacelining at a brisk tempo.
With towering mountains as a backdrop, our group of 22, including two guides, zipped past fluffy sheep grazing fertile farmland, worn windmills peppering desolate plains and men building rock walls. At times, I felt like a cog in a machine as our human powered train strung out, snaking through narrow, winding stonewalled roads. It was a rush. And, demanded full focus, sitting inches from the wheel in front and rider to the side - especially, slowing into and accelerating out of corners.
Our pace picked exiting Felanitx, known for 13th-century Church of Sant Miquel with Baroque façade, and capers, "green pearls," sold at Sunday's morning markets.
Riders jockeyed for position, passing heavy steel gates leading to Sant Salvador Monastery. As the road inclined, chatting declined and the group split. Fresh woodsy scents filled the air on the tree-lined, twisty three and half mile road. It was quite. Only shifting gears and my heavy breathing were audible. I stood for extra power on sequences of tight, tilted turns knit together by short sections of slanted asphalt. Halfway up, I passed a small stone chapel as a few riders from another group, zoomed down.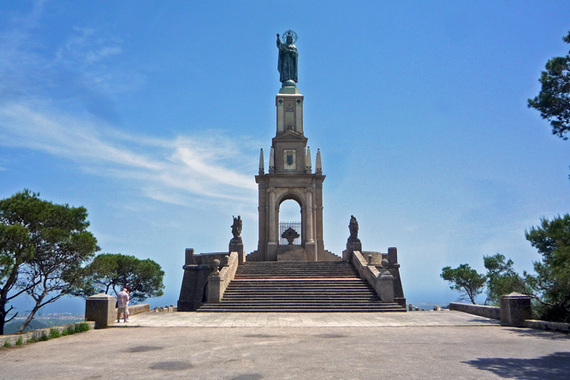 Approaching the final climb, stood an enormous 23-foot Crist Rei Monument, erected in 1934. Nearby, was a giant stone cross atop El Picot. With my heart pounding and sunglasses fogged from sweat, I reached the monastery and adjacent fortress-like stonewall, overlooking the breathtaking verdant valley below.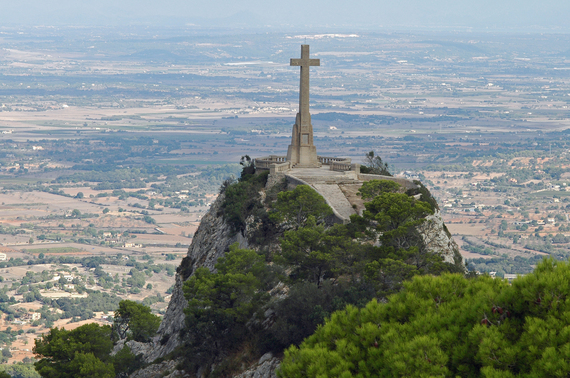 Heading home, I rode next to Louise Wainwright, 42, Lawyer from Dronfield, Derbyshire, U.K., who was on her third SHC trip. She's not alone. Hall's clients have an unheard of 80% return rate. "It's great value with fantastic riding." Wainwright said. "And, the staff couldn't be friendlier or more helpful."
The novel "rolling entry" allows riders to reserve anytime, January to mid-May and October, when Stuart Hall Cycling is based in Mallorca - and pay per day.
Most evenings, we dined at the hotel's flavorful and plentiful buffet. But, one night we ventured to Tolo's Bar & Restaurant, a beachfront Mediterranean eatery with cycling appeal. It's a favorite of British Olympic Gold medalist and Tour de France winner Bradley Wiggins, an island regular. Several of his bikes hang from the ceiling.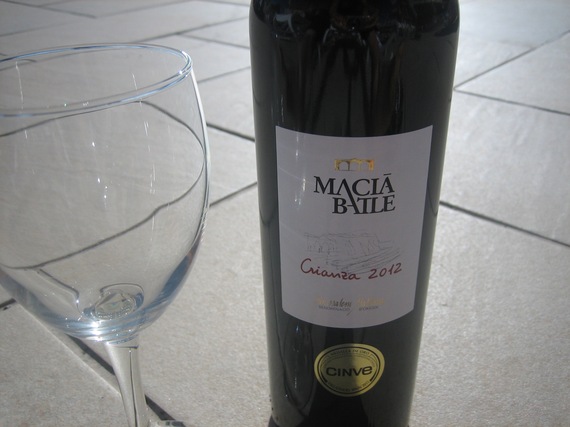 At dinner, my meaty sardines and flakey grilled sea bass were delicious with a glass (or two) of Macià Batle Crianza, sporting spicy cherry nuances and terrific acidity. A blend of Manto Negro, Merlot, Syrah and Cabernet Sauvignon, it was from Binissalem, Mallorca's largest wine region, which we cycled through days earlier.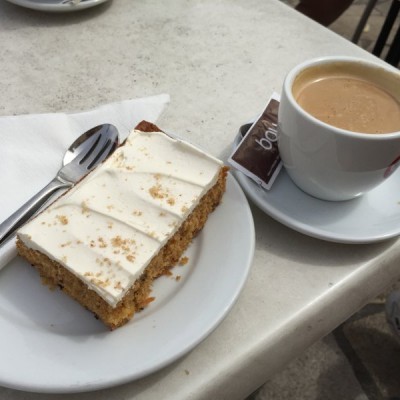 Needing a recovery day, I shunned the mountains for a fun, flat 43-mile ride to Muro, home to Placa de Toros bullring. We stopped at a sunny outdoor café for inky black espresso, frothy latte and lemony almond cake. It fueled us through fierce winds along the coast, where colorful kitesurfers danced above choppy water.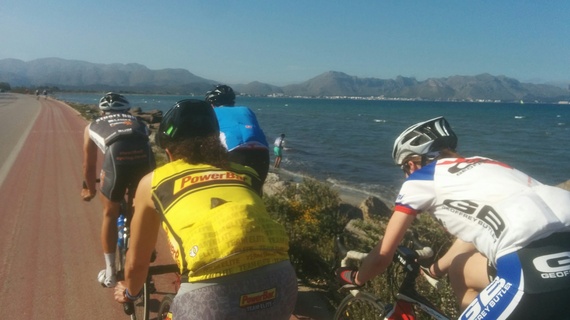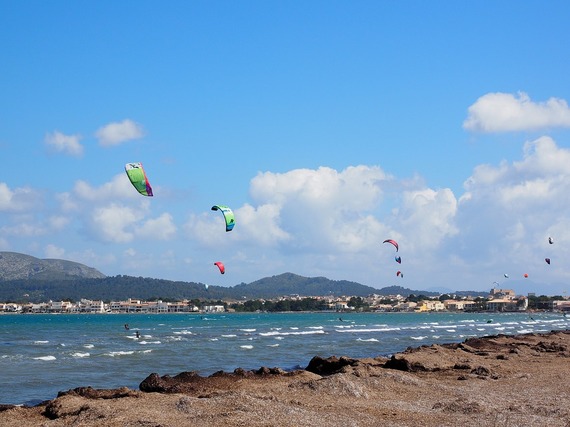 The next day, was like being on a reality TV Show. A dozen of us were driven to a dirt lot in the town of Andrax. Our mission: Ride 75-miles (10,000 feet elevation) along the coastal road back to Port de Pollença.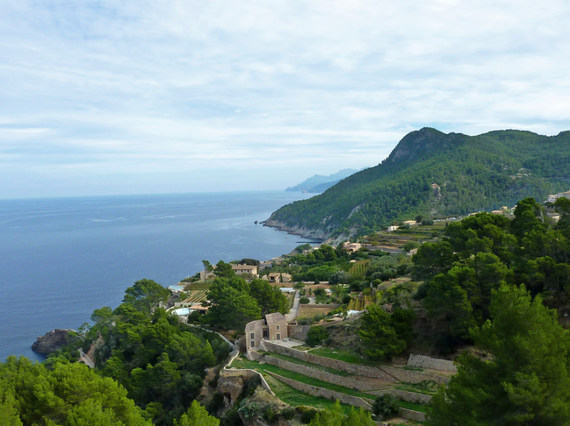 With a map, chocolate PowerGels, figs and an emergency phone number in my pockets, I started my two-wheeled journey through the Serra de Tramuntana Mountains. Cresting the first hill, unveiled the blazing sun hovering over endless crystal blue water, flanked by terraced cliffs speckled with homes. I peddled past Deia, an artist town etched into the hillside, through Sóller and eventually reached Puig Major, the island's longest and highest climb - nearly nine miles with 2,700 feet elevation gain. Slogging to the top next to some French riders, I continued thru a short tunnel and joyously sped downhill.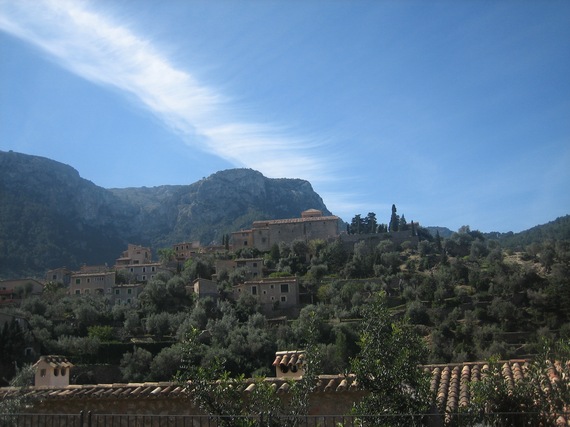 Reaching the hotel, I felt pleased and parched. Without distraction, I joined riders at the poolside bar for a glass of zesty Tempranillo to toast another great day in the saddle. Cheers!