My quads winced stepping onto the tall ancient stone platform of the desolated Doric temple, known as Temple E. Surrounded by towering antiquated limestone columns, it was once part of five sacred Greek temples and an acropolis, now the Selinunte Greek Temple Ruins, in Trapani province, on the southwest coast of Sicily, Italy. Erected by an army of human power in the sixth and fifth centuries BC, this incomprehensible example of physical exertion is a fascinating peek into the past.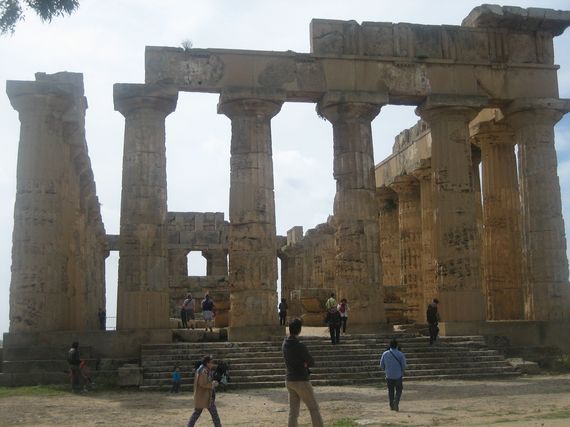 As we strolled past toppled chipped columns and crumbled remnants, the indigo Mediterranean Sea glistened in the backdrop. Clusters of pastel wildflowers and vibrant olive trees blew in the gentle breeze. Our guide explained that Selinus was attacked, defeated and destroyed by the Carthaginians in 409 BC. Then, in the Middle Ages, a massive earthquake pummeled its remains.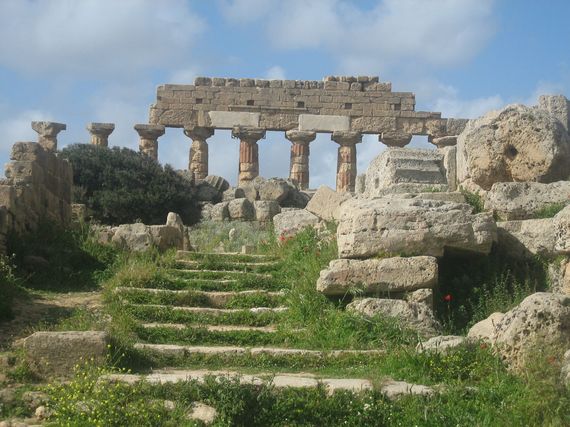 Just two days earlier, I was in Tuscany, competing in the 50K Lost Worlds Tuscany Crossing ultra-running race. While, hoofing unrelenting hills between Montalcino and Castiglione d' Orcia, I trotted past fertile farms, budding vineyards and through tight cobblestone streets. At the time, the stone buildings and churches en route seemed ancient. But, standing among the Selinus carcass, I was struck by the far-reaching Greek influence on Italy's celebrated culinary and wine culture.
The first night of my four-days visit to Italy's southern island, we dined at Da Vittorio, in Porto Palo di Menfi. While, sipping a refreshing glass of Stemmari Pinot Grigio, the waiter served white ceramic plates swathed with what I (wrongly) assumed was prosciutto. Instead, it was paper-thin sliced tuna cut from the saddle of the massive fish -- caught that day. The delicate raw pink meat drizzled with olive oil and kiss of sea salt melted in my mouth.
Next, arrived raw sweet shrimp (head-on) with a splash of spice that was wonderful paired with Dalila, a 80 percent Grillo and 20 percent Viognier blend showing subtle white flower aromas, a creamy stone fruit body and lovely acidity. The dynamic sipper brightened the succulent fish -- as would a squirt of lemon.

Switching to red wine, our scrumptious banquet from the sea continued with fragrant seafood stew overflowing with itsy-bitsy tender clams, muscles, cockles, fresh tomato, garlic and basil. It shined with Hedonis, a velvety, round dark fruit-driven 70 perccent Nero d'Avola and 30 percent Syrah blend. The fabulous fish fiesta wrapped-up with a grilled whole fish -- the size of a regulation baseball bat -- sliced tableside. Its succulent cheek meat was tender, juicy and lingered in my mouth and mind.
The next morning, we toured Stemmari's earth-friendly winery and part of the sprawling 1,700 acres of single varietal vineyards in Sambuca di Sicilia, Agrigento province. Our fervent guide, chief winemaker Lucio Matricardi, grew up in a winemaking family in Marche, studied at University of Bologna and then received a PhD in Biotechnology from UC Davis, in California.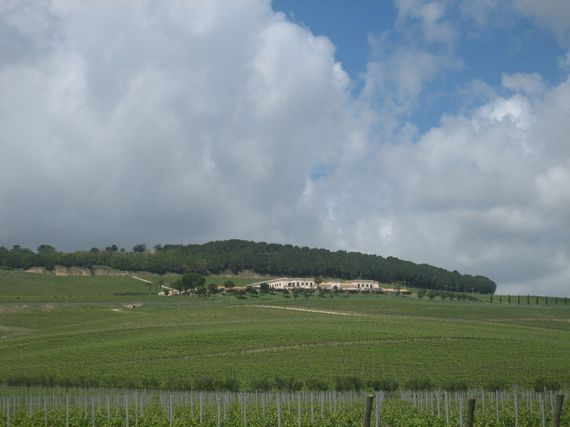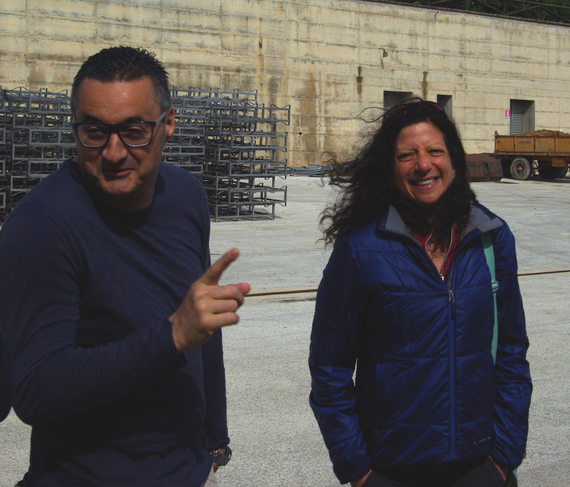 "I want to make honest wines that are easy to understand and easy to drink." He said, plunging a siphon into the oak barrel and squirting purple young Nero d'Avola into our glasses for a taste. "But mostly get out of the way and let the varietals' expression shine." The fruit-driven, spicy Nero reflected both his traditional and scientific background. While, the winery melds traditional architecture with modern technology, using solar and photoelectric panels for heating water and sterilization.
Matricardi notes eco-friendly grape growing and winemaking in the warm Mediterranean climate requires adjusting to Mother Nature. The white grapes are harvested at night when they are cool to prevent rot and discoloration in varietals like Pinot Grigio, which develops a pink hue if pressed warm.
A finicky grape, Nero d'Avola is protected from the sun and picked early to prevent jamminess. This varietal has become as important to Sicily's as Shiraz is to Australia and Malbec is to Argentina. Meaning "Black of Avola," its one of area's oldest indigenous grapes, mostly used for blending until the mid-1980s. With enticing smoky, wild strawberry aromas, peppery black cherry body and distinct tannins, it's a crowd-pleaser and great with food.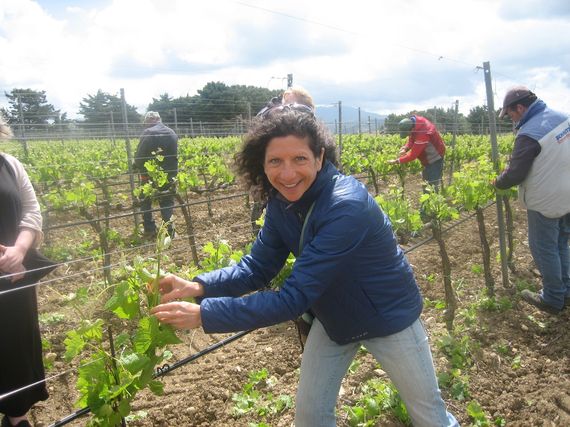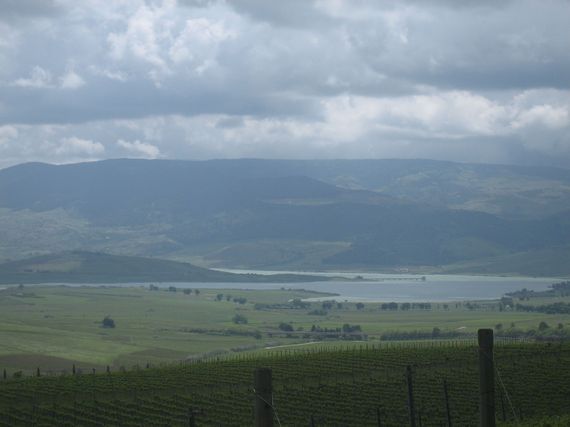 Later, we ate lunch at Porto San Paolo, in the port town of Sciaccia (pronounced "SHAHK-kah," which is fun to say and reminds me of the 1970s R&B singer Chaka Khan). The house specialties were seafood squid ink pasta grilled whole fish from the docks outside the two-story restaurant. With stuffed bellies, we strolled through town. I found room for handmade cantaloupe and raspberry sorbetto, which tasted freshly plucked off the tree. We popped into ceramic shops, showcasing glazed colorful plates, pitchers and plaques. The ceramic technicians were magical, turning blobs of clay into dazzling vessels with the finessed fingers and a twirling tray.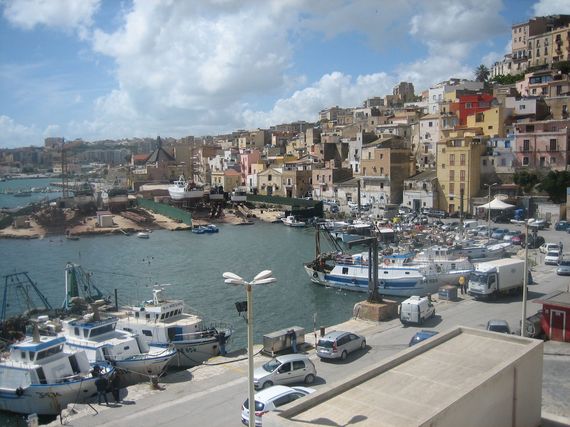 Another morning, we learned to made ricotta and pecorino from a local cheese maker in Santa Margherita Belice countryside. As we stood shoulder-to-shoulder in a tiny, humid room reeking of pungent sourness, the cheese maker rhythmically churned a vat of whey heating over an open fire that would become ricotta. A cross between the Swedish Chef from the Muppet Show and an ironworker, his strong sinewy hands grasped the wooden stirring staff with the comfort of a guitarists and her instrument.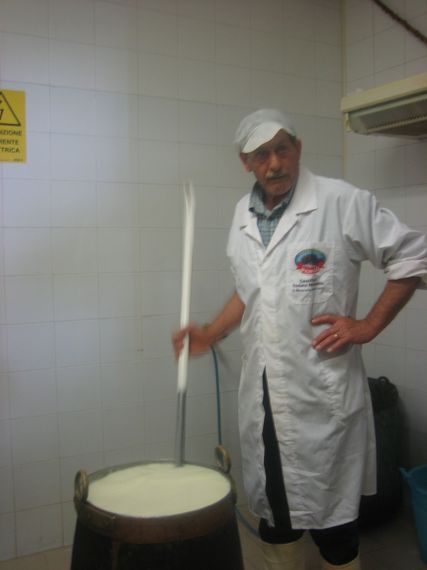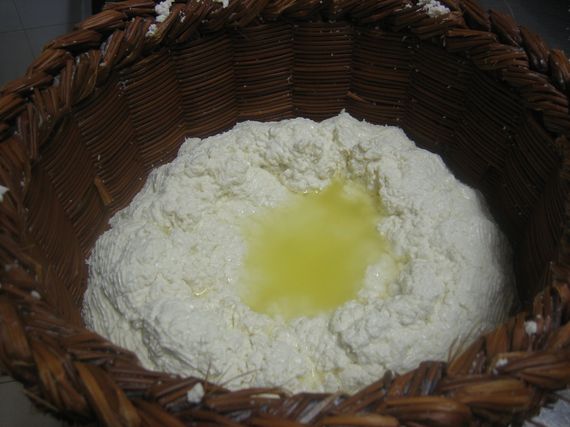 With deft turns of his wrist, the opaque liquid thickened and curds rose to the top, separating from the whey, which he scooped into wicker baskets to drain. While, the heated pecorino was dumped into a metal bucket and then onto a metal table, where he kneaded the steaming mass like a baker with his dough, until it became uniform. It was then cut and rolled into softball-size pieces. Kurplunk! And, dropped into shallow terra cotta bowls to set for 24 hours.
At 9:30 a.m., we emerged into the fresh air. As we clinked glasses of Nero d'Avola and gobbled salty, gooey ricotta and crumbly pecorino atop crusty bread, we agreed somewhere in the world it was happy hour.