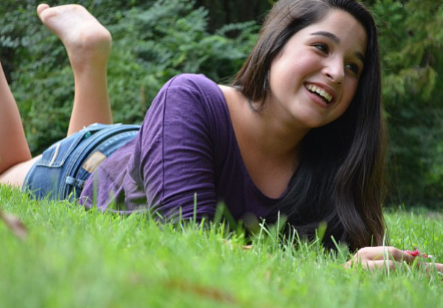 Photo Credit: Grace Cantwell-Sweeney
If we did all the things we are capable of doing, we would literally astound ourselves-Thomas A. Edison

Adults entertain thoughts of change often throughout life and we have all pondered the creation of a new habit -- you know, exercise more, eat healthier, quit coffee and, in my case, meditate daily. It all begins with a simple thought that sticks but when it comes to creating a new healthy habit, we know that it takes 14 days to make a difference and 21 days to transform that difference into a habit.
With New Year's just weeks away, the urge to make a change and commit to new habits is in the air. Across the globe, millions will commit to change old ways, to setting a bit of time aside to contemplate our current state of reality, and to set goals that may better our lives. But it doesn't have to be New Year's Day, or any other special day to make the commitment to change. You are here and you can start working towards making your goal a habit any time you choose. Perhaps today is the day; as a matter of fact, today may be the perfect day! And if you commit today and repeat your new habit again tomorrow and the next day, before you know it, in just 21 days you won't have to remind yourself as often. It will be natural, it's just "what you do."
Sometimes it helps to have a bestie, buddy or group of like-minded people working towards the same goal to helping us to stay focused and moving in the right direction. The crew at Umojawa, along with the help of friends, created a group committed to self improvement. This group practice along with a bit of disturbing news across the web has brought us to The Challenge.
I've challenged myself to observe my mind and my words carefully, be it spoken or "posted" word. I am now 18 days into my challenge and I'm feeling "light." Eliminating reading the plethora of junk on the web, including Facebook status updates bashing neighbors and politicians, parents and more has brought a liberating sense of joy. As I approach day 21, I realize, a habit has been made! Rather than power up my laptop and logging into Facebook to cruise the latest town gossip, I woke up this morning, poured a cup of coffee and picked up a wonderful book that has sat on our bookshelf for far too long waiting to be read.
My next goal is to help others create healthy online habits, particularly among our youth who unfortunately may not fully understand the impact of their updates and sharing across the web.
Here's the challenge. Umojawa is looking to enlist schools and not-for-porfit organizations nationwide in an initiative to help youth cultivate compassion and develop leadership skills as they help eliminate cyber-bullying amongst their peers. Organizers hope to engage 100 plus schools and organizations across the nation in the first annual Share Mindfully fight against cyber-bullying. Umojawa's youth initiative to #FightCyberBullying was created in hopes of providing our nation's youth an opportunity to use new age technology for social good.
The Challenge includes leadership program materials for all schools in the United States, a media tool kit to inspire youth to reach out to leaders in their communities and promotional materials to support their efforts. The challenge requires minimal preparation and teamwork by students to identify opportunities in their community to foster awareness and to utilize social media to rally together to foster social good.
Many school districts and religious organizations now require service learning or community service hours for graduation and rights of passage. Students now have the opportunity to learn about avoidable human suffering in their communities while actively participating in a solution. Join the movement, Share Mindfully, raise awareness and take The Challenge!
Stephanie Jelley is co-founder and chief executive officer of umojawa, a crowdfunding platform supporting educational and not-for-profit organizations serving youth and their communities. Using new age digital media and innovative social media strategies, umojawa's crowdfunding platform helps educators, parent teacher volunteers, and organizations to effectively promote their initiatives.
Stephanie's path leading to umojawa, both professionally and personally, served as the perfect preparation for what would become umojawa, a "hybrid community for social change". She has developed and delivered programs to help promote mindfulness and social-emotional learning in projects for teens, educators and parents, with a particular focus on those in at-risk circumstances.
Through "The Center", she co-facilitated the installation of Mindfulness Without Borders Mindfulness Ambassador Council for Essex County, New Jersey at Rutgers University's Institute for International Peace. She has presented "An Alternative to the Habitual Thinking: Changing the Inner Dialogue" at Central Connecticut University with Dr. Daniel Barbazat, Professor of Economics at Amherst College and Executive Director of the Center for the Contemplative Mind in Society.
Stephanie is married and mother to three boys and one empress living outside New York City. To keep up with Stephanie's many characters (140 to be exact), follow her on Twitter @stephaniejelley @umojawa