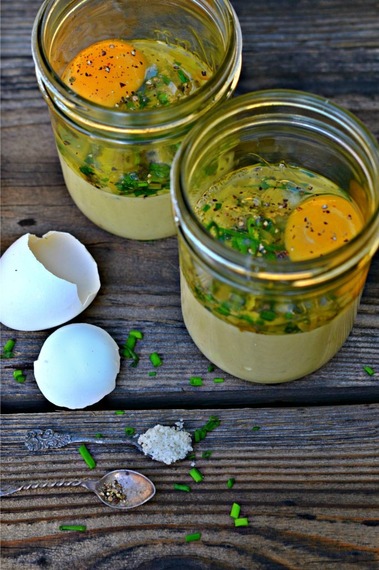 There's something sensual about feeling the weight of an egg in my hand. I cradle it carefully with my fingers, caressing the cool delicate shell before cracking the egg open, allowing the gelatinous white to spill out. The slippery yolk settles within the bottom of the mixing bowl. It looks completely circular and perfect.
When a soft-boiled egg seeps its luxuriously gooey yolk into the grainy holes of bread, it arouses my appetite. I want its velvety liquid all over my tongue.
I like my scrambled eggs soft and buttery upon toast and my hard-boiled eggs naked, wearing only a dash of salt. I long to wrap my hands around an egg salad sandwich. Egg salad made with a spoonful of Dijon mustard and two lightly toasted slices of rosemary bread slathered with olive tapenade is eye rolling good. The flavors of olive, Dijon mustard and rosemary pair well with chopped egg. Ajitsuke tamago in a piping hot bowl of ramen with that jammy yolk? A fried egg on top of Korean bibimbap? Oh yes. Eggs with runny yolks are my ultimate egg pleasure.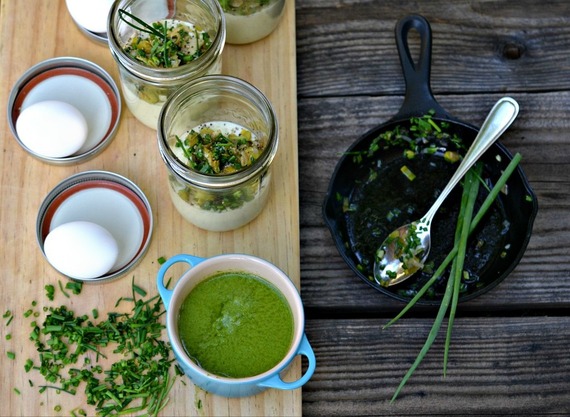 My steamy egg fantasy began in the afternoon. I was having my usual lunch of kale and avocado salad dressed in lemon vinaigrette. Suddenly, with a forkful of dark leafy greens in my mouth, the desire for a poached egg, runny and golden, appealed. I couldn't stop fantasizing about the crack of each shell, the yolks shimmying in the bottom of a bowl-- two yellow orbs of pleasing perfection.
I want eggs soft-boiled, poached, scrambled, fried, hard-boiled, sunny-side up, as a quiche, as a frittata, and as an omelette. But for the sensuality of a runny egg I prefer that luscious yellow ooze that only oeuf en cocotte, or a coddled egg, can be--- voluptuous and almost erotic.
The sexiest egg recipes are those that have feminine French names. Allow me then to give you the steamy details about this eggy coquette called oeuf en cocotte.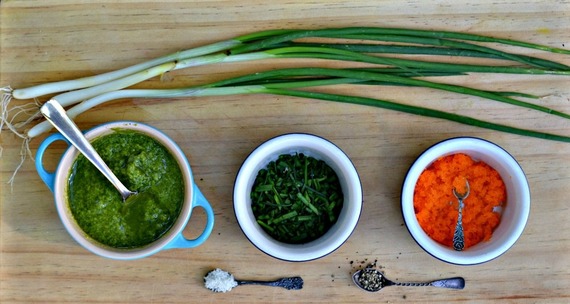 This would be perfect as a special recipe for brunch with friends at home. Quite possibly its genius is in the slow way the egg is cooked within the heat of a sealed jar using a bain-marie method. The result is simply marvelous: gently dip your spoon into the whipped potato purée and stir the golden yolk around into the creamy potato as the vibrant green chive oil sinks into it. The salty pops of roe give your runny egg a little extra pleasure by the spoonful.
Did I mention this would make a good brunch recipe for friends? Oh goodness, let me rephrase that. Make this just for you and your love. Eat it together in bed. The jars are oh-so convenient to place upon your bedside table when empty. Bon appetit!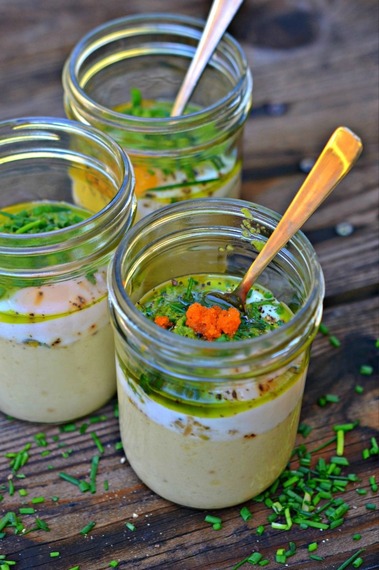 Coddled Egg & Whipped Potatoes, Leek & Chive Purée, Roe
(Serves 4)
Ingredients:
4 large Yukon Gold potatoes cut into 1-inch cubes
1 cup heavy cream or crème fraîche
6 cloves garlic, caramelized
4 large eggs (I prefer Davidson's Safest Choice™ pasteurized eggs for this recipe)
2 leeks, whites only, chopped fine
4 tbsp butter
2 tbsp Marsala
1 oz chives
2 tbsp olive oil
2 tsp salmon caviar (roe)
1 tbsp minced chives
coarse sea salt
freshly ground black pepper

Instructions:
In a medium pan sauté the leeks in olive oil and 1 tablespoon of butter for about 5 minutes on medium-low heat or until soft.
After the leeks soften, splash in the Marsala. Continue to sauté on medium-low heat for about 5 more minutes. Turn off heat and season with sea salt. Set aside.
Place potatoes into a heavy saucepan with water and bring to a simmer. When the potatoes are fork-tender, remove from the heat. Drain the water and add garlic, cream, 3 tablespoons of butter, and half of the sautéed leeks into a food processor. Purée entire mixture until smooth. Add sea salt and pepper to taste as you blend.
Place chives into simmering water for 10 seconds. Remove from water and shock in an ice bath. Add chives to a blender with olive oil and purée until smooth. Season with sea salt.
Add the potato mixture to four 8oz Mason jars, dividing into equal portions. Layer the remaining sautéed leeks on top of the potato.
Crack one egg into each jar. Cover with lid. Place jars into a large shallow pan filled with simmering water that will come just above the level where the potato mixture sits in the jar. Cook in steam bath for about 15 minutes. Keep watch on the eggs. You can remove from heat and open their lid to see how the egg is cooking. Seal it back up if it needs more cooking time.
Remove from steam bath carefully. The jars will be very hot. Open lid and top with chive purée, caviar (roe) and minced fresh chives. Serve immediately with a spoon. Salt and pepper to taste. An extra smidge of chive pureé to garnish.
If you don't want to make 4 servings, fill the jars with the extra whipped potato mixture and save in the fridge. You can also save any extra chive purée for another dish or to make the coddled egg recipe at another time.
If you like this recipe, please visit The Sensual Foodie for more pleasure and foodgasm-inducing inspiration.