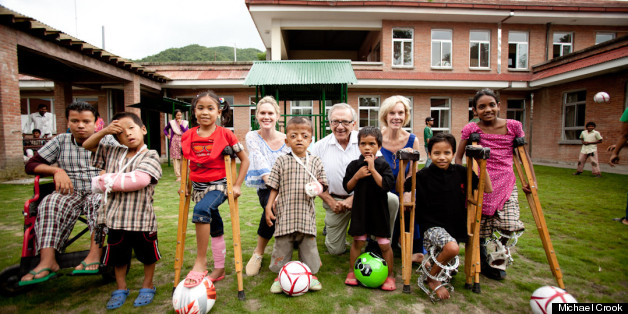 As I write this, I am winding my way over a jagged misty mountain road through Nepal. I have traveled here with the World of Children Award to visit two of our past honorees and see, up close and in person, the remarkable work they do. As harrowing as this particular stretch of highway is (cue sharp intake of breath, car coming headlong), it is a carnival ride compared to what I have seen thus far -- children rescued from human trafficking rings, street kids from the slums of Pokhara and Kathmandu, children suffering from club feet. The list is a long one.
Perhaps, I should more accurately say, I have seen children who once suffered these indignities. I had the tremendous good fortune to meet these people (children are people) in the care of recovery programs specifically tailored to their individual and often unimaginable needs. Dr. Ashok Banskota, who founded the Hospital and Rehabilitation Centre for Disabled Children (HRDC) outside Kathmandu in 1986, spends all Tuesdays and Wednesday in surgery fixing club feet, twisted spines and fractured arms. How does he spend Thursday to Monday? Organizing rehabilitation programs and mobile clinics. Many of his patients are from areas of Nepal so remote that they had to travel by basket on the back of a loved one. No roads, no resources. Dr. Banskota knows better than anyone that treatment administered without consideration for the practical realities of his patients' lives is useless. If they cannot walk well enough to climb a steep hill, it's not good enough for Dr. Banskota.
Or consider Douglas MacLagan's projects in Pokhara, where children bonded into the worst kind of servitude are able to forge a second life with counseling, confidence building and practical vocational training. It's not enough to sweep a child out of danger, one must offer meaningful ways to heal and reeducate if a life after that hell is to be achieved. At the JYOTI Vocational Training Center, rescued teens are able to choose between training as an electrician, plumber, computer specialist or caregiver. The assertion of choice is enormously important in this rehabilitation. The kids at this JYOTI street project have a micro bank inside the shelter to keep their money safe from the inevitable police shakedown and it teaches rudimentary financial management. Now who among us could have guessed that would be a need? It's difficult to organize a 10K around that.
It's the people on the ground, in the field, living the life that make a real difference. It is this kind of attention to specific cultures and situations that is at the heart of their success. Harry Leibowitz, founder of the World of Children Award, famously says, "It's easy to give away money. It's hard to do it well." Regarding philanthropy, truer words have never been spoken. Good intentions and black tie galas only go so far. The chain of responsibility is key. Everyone wants to buy a big ticket to party and have her name in the paper or added to the new wing of the building. No one wants to monitor how much money goes towards postage or board retreats. Charity only works when smart, innovative, compassionate people in the field are supported from home. The World of Children Award raises money and visibility for change makers, people doing the real work. We are a conduit for funding and resources only; all of our operating costs are covered by our generous board of governors. It's not about us. It's all about them -- the Dr. Banskotas and Douglas MacLagans of the world.
Sustainable, practical giving to real life heroes, that's how we operate. We are working to create a world that no longer needs our services. Until such a time comes the World of Children Award will continue to elevate those in the field. I look forward to that education.