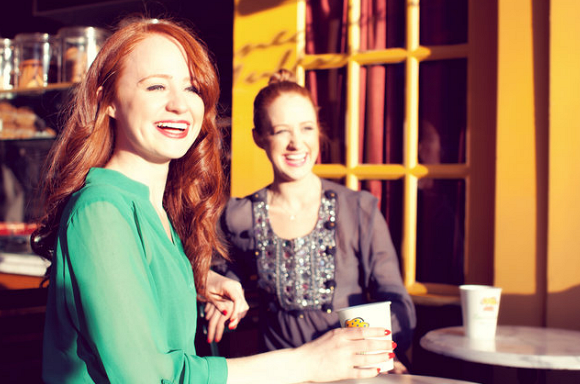 With St. Patrick's Day right around the corner, it's time to rock the mighty and very 'redhead friendly color,' Green.
Redheads, you are not alone if you think, "I can't wear green! I don't want to look like a leprechaun!" Most of the redheads I have styled have felt this way and I am here to tell you that if you wear the right color green, you'll only look smokin' hot. All of my ladies always come back saying, "You were right, green does look amazing with red hair. What was I thinking?!"
And, with the 'Season of Color' vastly approaching, it's time to make bright tones and textures your best friend; so why not start experimenting with green in your every day wardrobe?
The color green is fantastic because there are so many shades to choose from and most of them won't make you look like a "leprechaun" or a "Christmas tree," because they will flatter your red locks and features in more ways than one!
So, where do you start, you ask?
Every redhead looks fantastic in deep greens such as emerald, hunter and mossy. Stay away from harsh, stark greens such as harlequin and lime.
From the red carpet to the runway, green is making an appearance and climbing to the top. Green is the new black. From Emma Stone wearing a Jason Wu green-laced gown to the 2012 Critics' Choice Awards to Jessica Chastain rocking a 'kelly green' Elie Saab gown at the 40th anniversary of Sir Charlie Chaplin's honorary Academy Awards.
Eye-popping shades of green should be raiding your closet. If it's not, here are some ways you can incorporate green into your every day wardrobe:
1. The Effortless Blouse: Sheer green tops are a perfect way to enhance your red hues. I have a favorite forest green blouse that I love rocking during the day and night. I pair it with fitting jeans or if I'm feeling like showing a little leg, I will tuck it into a skirt.
2. Fun Printed Dresses: With the warm months approaching, you will find me in green printed dresses all the time. What's so wonderful about dresses is that you can easily play around with them by pairing them with flats or wedges.
3. Fitted Skirts: From high-wasted to long-pleated, skirts are a great way to add a burst of green. One of my favorite looks for spring is a long flowy skirt matched with a pumpkin-orange silk top (two redhead friendly colors in one outfit -- ow, ow!)
4. Bold Necklaces: Chunky green jewelry is the way to go. Green/turquoise jewelry is a wonderful color that looks great on any redhead.
5. Color Block Clutches: A perfect way to accessorize a great outfit and pump up your panache -- redhead style.
Even after St.Patrick's Day ends, embrace your true beauty by enhancing your features with different tones of green. I promise, you will be making many green with envy over your gorgeous red locks and great style.
Will you be rocking green this St. Patrick's Day?
Image courtesy of How to be a Redhead! Photo by Kara Kochalko.