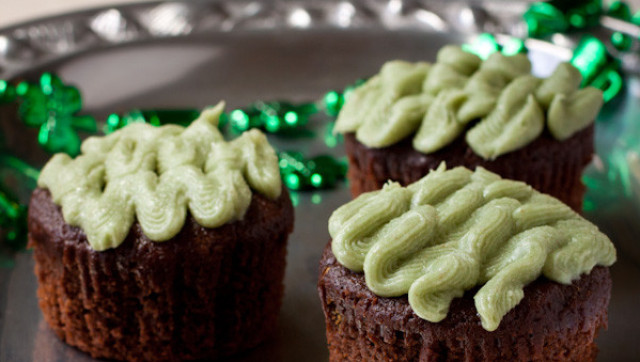 Make these rich chocolate cupcakes topped with minty-green frosting in honor of Saint Paddy! In case you were wondering, it's Paddy, not Patty. I always got it wrong. Perfect for bake sales or kids' parties, as they are vegan and gluten-free.
Peppermint Paddy Cupcakes
Makes 24
This cupcake recipe is adapted from the BabyCakes cookbook.
1 C. garbanzo bean flour
3/4 C. oat flour
1/2 C. potato starch
1/4 C. arrowroot powder
1 C. cocoa powder
4 t. baking powder
1/2 t. baking soda
1/2 t. xanthan gum
2 t. salt
1/2 C. coconut oil
1/2 C. soy milk plus 1 t. apple cider vinegar
1 C. agave, brown rice, or maple syrup
1 C. unsweetened applesauce
3 T. vanilla extract
1 C. hot filtered water
Preheat the oven to 300°F. Fill two standard 12-cup muffin tins with paper liners.
Put the soy milk into a large mixing bowl and add the vinegar to curdle. Blend in the oil, syrup, applesauce, vanilla, and water.
In a medium bowl, sift together the flour, potato starch, cocoa powder, arrowroot, baking powder, baking soda, xanthan gum, and salt. Add the dry ingredients to the mixing bowl and mix until well blended and smooth.
Using a 1/4 cup measure, fill the muffin cups.
Bake on the center rack for 20-25 minutes, rotating both trays 180 degrees after 10 minutes. The cupcakes are down when they spring back when pressed and a toothpick inserted in the center will come out clean.
Remove from the oven and put the trays on wire racks to cool. After 20 minutes, take them out of the pans and let cool completely before frosting. These dry out quickly. Store in an airtight container in the refrigerator for up to 2 days.
Minty frosting
1 C. soy milk
3/4 C. soy milk powder
1/2 C. granulated natural sugar
1/2 C. coconut oil
1 T. coconut flour
4-6 soaked dates
1-3 t. peppermint extract
green food coloring or liquid chlorophyll
Soak the dates in hot water for at least an hour until very soft. Remove the pits. Melt the coconut oil over low heat (or by placing the jar in a larger container of hot water.)
Put the granulated sugar in a dry blender and blend until powdered. Remove to a bowl.
Put the dates in the blender with the soy milk, soy milk powder, peppermint extract, and coconut flour. Blend until very smooth. With the blender running, slowly pour in the coconut oil until well blended and very thick. Add food coloring or chlorophyll until it's the color you want. Scrape out into a bowl and add enough of the powdered sugar to make a frosting consistency.