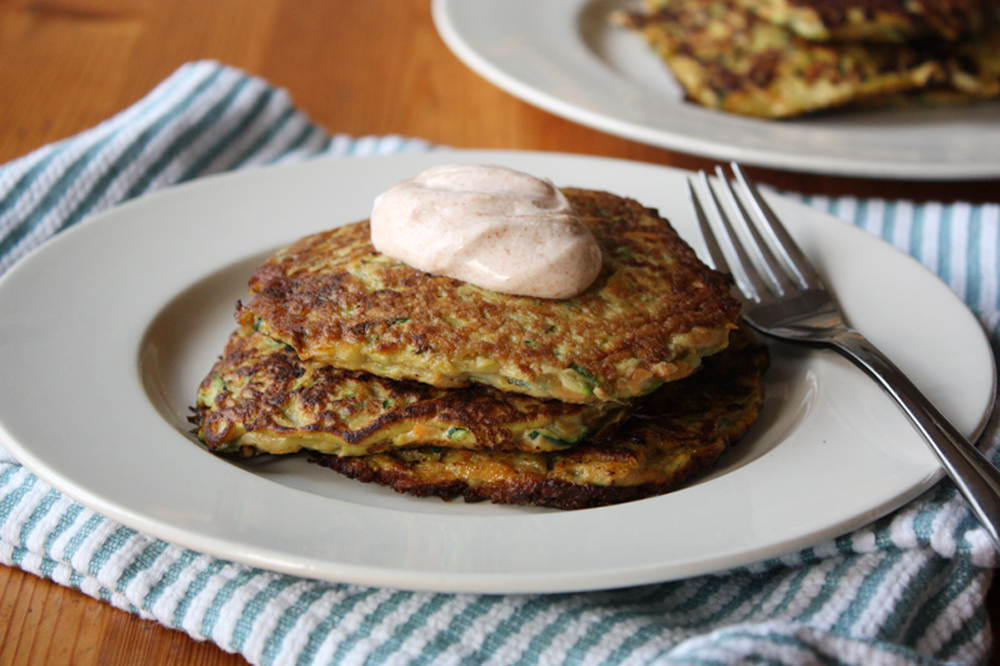 I don't know about you, but I hate to waste food. Sometimes I re-purpose extra ingredients for meals later in the week; sometimes I make my husband eat more of a dish just so we don't have to throw out the leftovers (he doesn't seem to mind this mild abuse); and sometimes, you may or may not find me gnawing on a carrot straight out of the fridge, just to put it to good use (this might also happen with a slice of cake or a plate of cookies. It's a sacrifice, but someone's got to do it).
When it comes to leftover summer produce, I'm even more anxious to use it up before it goes bad. So when we had zucchini coming out of our ears and an extra sweet potato the size of Manhattan lying around the other day, I knew what I had to do: Make pancakes.
Maybe it's the German in me, but I can hardly resist the allure of the potato pancake. Crispy on the outside, soft and warm on the inside, topped with a spoonful of applesauce or sour cream, there's nothing more comforting and satisfying than digging into a pile of piping-hot potato pancakes any time of year. Though I love my basic recipe, I'm also prone to wander into new territory. Yukon gold potato pancakes with chopped scallions and bacon. Fine-grated Russet potato pancakes topped with roasted apples and crème fraiche. Or, in this case, sweet potato pancakes mixed with grated zucchini and dolloped with paprika-spiked sour cream.
What I love about this recipe -- and most pancake recipes in general, for that matter -- is that you really can't go wrong with the method: It's up to your palate's preferences more than anything else (thick or thin batter, shredded or grated potato, all-purpose or whole wheat flour, etc.). The biggest trick is to squeeze out most of the moisture in the zucchini before tossing it into the batter, but even if you forget, the pancake will still turn out to be a pancake. These are best cooked up on a cast-iron skillet or griddle top, too, for extra crispy edges. And there's no such thing as too much sour cream on top. I mean, someone's got to eat it all before it goes to waste.
Sweet Potato Zucchini Pancakes
Yields: 2 generous servings, 4 smaller servings
Ingredients:
2 cups shredded zucchini (about 2-3 medium zucchini)
2 cups peeled and shredded sweet potato (about 1 large potato)
4 eggs
1 teaspoon salt
1 teaspoon ground pepper
¼ cup plus 2 tablespoons whole wheat flour
2 tablespoons unsalted butter
Paprika and sour cream, to taste
Directions:
Place shredded zucchini in a colander and carefully squeeze out excess moisture through the holes. Place zucchini in a large bowl and add sweet potato, eggs, salt, pepper and flour. Stir to combine.
Heat a large cast-iron skillet or griddle over medium heat. Melt 1/2 tablespoon butter in skillet; swirl to coat.
Ladle just under 1/4-cupfuls of batter into the hot skillet, about 2-3 pancakes at a time. Cook until bottoms are deep brown and bubbles begin to form on top, about 3-5 minutes; flip and cook a few minutes more. Remove pancakes from skillet and place on a covered plate while you cook the remaining pancakes. Add more butter to the skillet as necessary.
In a small bowl, stir together paprika and sour cream until you reach desired taste. Serve pancakes warm with sour cream on top.