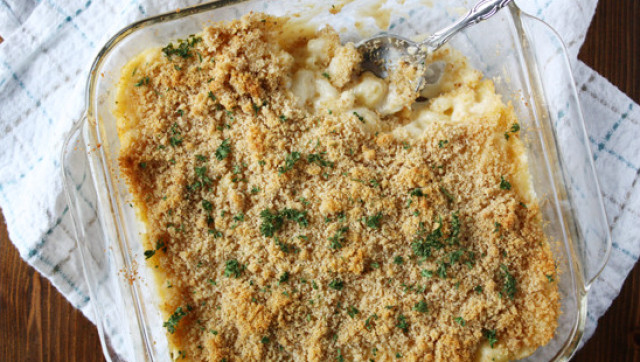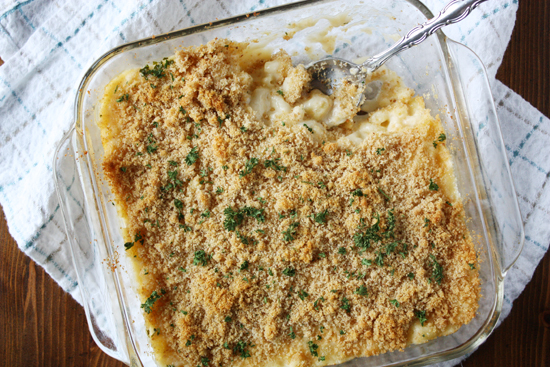 Can we talk comfort food for a second?
I think it's a category in a state of constant flux. To me, comfort sometimes tastes like fresh-baked chocolate chip cookies. Sometimes, it tastes like tomato soup. Sometimes, tomato soup and a grilled cheese sandwich. Sometimes, just the cheese.
Lately, comfort has tasted a lot like this baked macaroni and cheese -- perhaps the only macaroni and cheese I'll ever eat apart from the boxed version (I'm a rare breed -- it must be baked, or pre-packaged with a packet of yellow cheese-like dust as its partner). And after my mother's recent stint in the hospital, rendering her incapacitated in the kitchen and my father, who usually wears the apron strings (er, wields the grill tongs), too encumbered with tending to her bedside to make a decent meal for the family, I knew it was my duty -- nay, privilege -- to bring them comfort and sustenance in the form of this substantial treat.
I write "treat" as opposed to meal because yes, it is a meal, but it's more than that, too. It's something you don't eat every day. It's a special circumstance, to enjoy this comfort food. It's not that it's too difficult or time-consuming to make, oh no: In less than an hour you can have two batches ready for consumption (or, one for now and one frozen for later, for us meal-planning types) for a family of four. But it is special. It invokes a unparalleled sense of warmth and satisfaction. It brings even the pickiest, most polarized eaters to the same table. It's not just a meal -- it's an experience, one that cannot be repeated too often lest it lose its luster. Or, more apropos, comfort. Comfort in moderation, if you will, is its mantra.
Even a mac n' cheese purist will appreciate this recipe's celebration of multiple cheeses, which can include cheddar, provolone, romano, fontina and/or Parmesan, as well as its inclusion of a buttery breadcrumb crust flaked with chopped fresh herbs. It's just enough to break up the creamy texture of the roux-turned-cheese sauce below, wherein perfectly cooked elbow macaroni noodles nestle quietly, unassumingly -- comfortingly.
Perhaps I should amend my previous statement, because this? Comfort always tastes like this. Sometimes with soup on the side. And a cookie for dessert.
The Best Baked Macaroni and Cheese
Yields: 6-8 servings
Ingredients:
1 pound elbow macaroni
6 tablespoons unsalted butter
1/4 cup unbleached all-purpose flour
5 cups milk
salt and pepper
4 cups shredded cheese (cheddar, provolone, mozzarella, asiago, fontina and romano cheeses work well)
1 cup grated Parmesan cheese
1 cup plain unseasoned breadcrumbs
4 tablespoons unsalted butter, melted
2 tablespoons chopped fresh parsley
Directions:
Preheat oven to 350 degrees F. Lightly grease two 8-by-8-inch square baking pans and set aside.
Bring a large pot of water to a boil; cook pasta 2 minutes less than package directions indicate. Drain pasta and return to pot.
In a separate large saucepan over medium heat, melt butter. Add flour and whisk 2 minutes; gradually whisk in milk. Add salt and pepper to taste and bring to a boil. Reduce heat and simmer, whisking occasionally, until sauce thickens, about 10-15 minutes. Remove from heat and whisk in cheeses.
Combine cheese sauce and pasta. Divide between two prepared baking pans. In a small bowl, combine breadcrumbs and butter until crumbly; sprinkle evenly over pasta. Sprinkle parsley on top of breadcrumbs.
Bake pasta, uncovered, for 15-20 minutes or until breadcrumbs are golden brown and cheese sauce is bubbling. Remove from oven and cool 5 minutes before serving.
Recipe adapted from Real Simple.