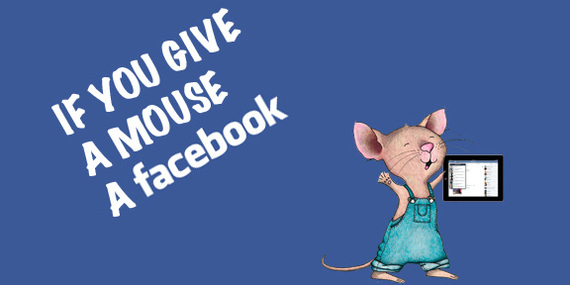 If you give a mouse a Facebook, he's going to ask you to add him as a friend.
When you accept his friend request, he'll probably want to add all your other Facebook friends too.
When he's exhausted the People You May Know tool, he'll ask for a profile picture so his new friends can recognize him.
Then he'll want to use your DSLR to make sure he looks really good.
When he sees your camera, he might notice he doesn't have an Instagram.
So he'll probably ask you to set up his account.
When he's finished, he'll want to post his pictures from his super fun spring break trip. Also that super delicious meal he had the other day.
He'll start looking through filters. He might get carried away. He might post his entire album on Instagram and Facebook and hashtag YOLO.
When he's done, he'll probably want to tweet it too.
You'll have to fix him up with a Twitter and connect all his accounts for him.
He'll dive in, play around with posts until he feels comfortable and gather up a few followers. He'll probably ask you to like his status or retweet his tweet. So, you like some of his posts and pictures and tweets and he'll ask how to get more. He'll get so excited he'll want to share everything.
He'll post about his "official" brand new job. His prestigious award. His nights on the town with his bros. The time he met Miley Cyrus and took a blurry selfie with her. The time Justin Bieber followed him on Twitter. The view of city lights from his airplane window, or the view of the ocean from his lounge chair. His photoshopped head shot from senior year or a baby picture on Throwback Thursday.
Then he'll want to measure his social media engagement. Which means he'll need a Klout score.
You'll sit back and look at it all. And his profile will make you think about how little you've accomplished, how boring your life is, how much less attractive and clever and popular and interesting you are. You'll consider deactivating your Facebook.
But how else are you going to see what he's doing? How else are you going to prove that you're a success too?
So chances are if you give a mouse a Facebook, you're going to need your own to go with it.