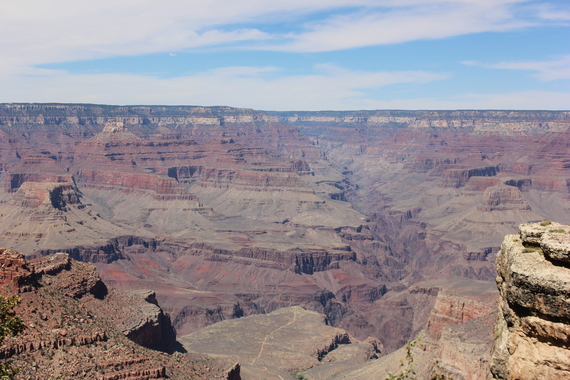 Photo by Gustavo S. Requena
Escaping to nature is one of the best ways to spend time with the person you love. The beauty of the earth surrounding your passionate embrace enhances your smile and may even deepen your emotional connection. This is why my partner and I decided to go camping at the Grand Canyon for our honeymoon. If you're planning an outdoor getaway here are a few reasons to consider visiting this southwest wonder.
Hiking Together

There are dozens of trails to choose from at the Grand Canyon National Park. If you and your partner are a serious hiking pair you can challenge yourselves to a long journey down to the Colorado River. There are also numerous shorter trails throughout the canyon. No matter your preference, setting a goal and completing the journey together is a great feeling.
Meditative Sounds & Overlooks

The calming sound of nature is one of the greatest benefits of an outdoor escape. At the Grand Canyon you can easily find a quiet location to meditate and cuddle, listening to the birds' chirp or the winds blow. After a long day the sunset is especially breathtaking at the north rim where there are fewer tourists. The colorful transition leads to a chilly evening with the night sky full of stars and a clear view of the Milky Way.
Wildlife
Several wildlife animals will make an appearance during your stay at the Grand Canyon. The most famous are the California condors whose wings span is nine feet and are often seen soaring throughout the canyon. Chances are you will also run into buffalos, deer, rabbits and lizards. At night bats roam the trails so beware!
Relaxing at the Lodge

If you are not a camper, lodging is also just as great. You can experience all the perks of a fancy hotel stay without the distracting TV or expensive bill. In addition, both the north and south rim lodges have fantastic restaurants for you to enjoy an authentic southwestern meal and try local brew or wine. Many of the meals are made with sustainable or organic products too.
However you decide to spend your Grand Canyon honeymoon I can guarantee it will be a time to remember. Being surrounded by the earth's natural beauty is the best way to start your romantic journey together.
Happy travels!