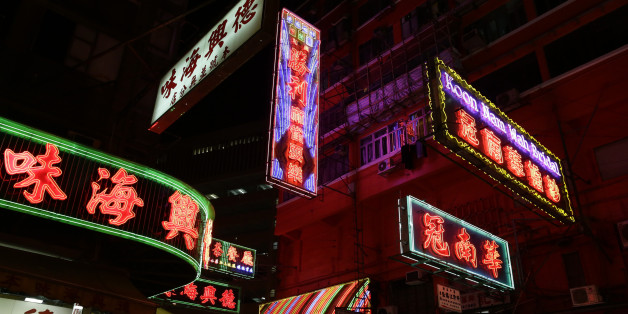 We've been looking forward to it all year. Episodes 15 and 16 of the wild Season 4 of Covert Affairs are being shot in -- Hong Kong. There'll be suspense, intrigue, love, betrayal, fights, foot chases, car chases, boat chases. There'll be blood, sweat and tears (and that's just the shoot).
DAY 1.
It's 6 a.m. in Hong Kong (or maybe it's 6 p.m. -- my body can't tell). The sun is pushing through the heavy mist (or smog). Cameras are being built. Cast and Crew are gathering in the street outside the infamous, breathtakingly distressed I-Pheng Apartments. We eschew the table of Mickey D's for the table of noodles, tea eggs and milk-tea (high-octane and tasty as hell) and then we pray on a beautiful altar with incense and fruit and flowers that has been set in a stunning alleyway.
We pray for safety. We pray for peace. We pray for fun. And on this day, we pray that the crew of Transformers 4 hasn't taken over our rooftop. And so, our journey begins.
For two weeks we make our way through ravines of shimmering skyscrapers, rolling hillsides, and sparkling water. We taste foods we never dreamed of: hotpot with edible frog, braised goose head, roast pigeon, Pocari Sweat (an energy drink), delicious street waffles and the greatest pork bun in the world (it tasted like a donut with pork in the middle).
We meet people whose work ethic and passion is only surpassed by their bright smiles and enthusiasm (the first words we learn in Cantonese are "mghoi si," meaning "thank you very much"). The generosity and patience of the people is evident when the boat we were to use for the big finale springs a leak, and one of our actors (the talented Carl Ng) "finds" us a 6 million dollar, spectacular yacht that the owner then "donated" for the episode.
We work longer and harder than maybe we ever have. We run from alley to waterfront. As my coach used to preach, we "leave it all on the field." And, man, is it worth it!
Our Last Night.
It's the end of a long day. We're ridin' on fumes. We're on the fourth most populated corner in the world (a stat we were unaware of until trying to shoot there). There's more light here at night than there is in many cities during the day. Pick a color: red, yellow, green, pink, purple and on and on. Passers-by reach into frame between cast and camera to get a quick snap of Piper Perabo (or Annie). A kind-hearted young woman steps into a shot to offer "blind" Chris Gorham (or Auggie) help crossing the street. Hill Harper (or Calder) patiently sits on the escalator stairs, signing autographs and taking pictures with fans. Greg Itzen (or Henry) waits tirelessly on a neon-bedazzled corner, disappearing and reappearing like a buoy in the sea of Hong Kong traffic. Lap (our amazing, local A.D.) manages to control the crowd of hundreds, maybe thousands, with a smile, some hugs and a gentle word or twenty in Cantonese. The crowd calms and watches. This is our moment. It's only a moment, but that's all we need to re-introduce our hero to our villain.
Game on.
For the rest of the Hong Kong story ... I guess you'll have to tune in Thursday night at 10 p.m. on USA.
PHOTO GALLERY
'Covert Affairs' In Hong Kong