Imagine a television program that is built around questions such as: How and when does art take on a "sacred" dimension? Where doe the Creative Sprit lie within each human? And who to invite on such a program, to shed light on such questions?
We searched for guests whose spiritual traditions and artistic mediums were quite different. We thought it best to have both a man and a woman. And as Global Spirit is an international series, we always try to have at least one guest who has not been brought up in the U.S. A week later we had a plan: How about a Navaho sculptress from New Mexico and a Tibetan Lama painter meeting for the first time?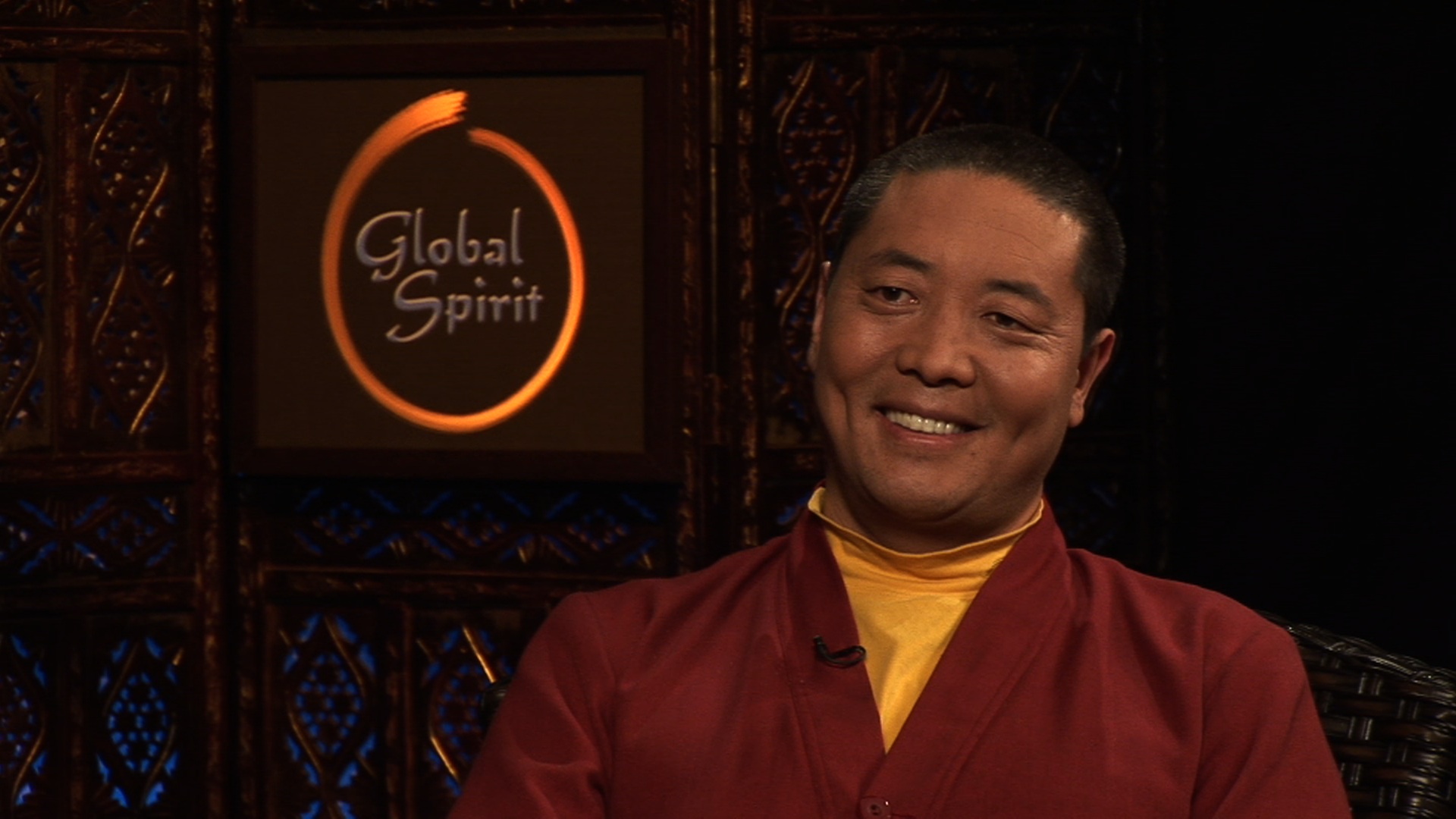 Estella Loretto molds clay, brass and gold into strikingly graceful birds in flight, or humans embracing. She brings a unique life and spirit to her creations. After two phone calls, I'm very excited about meeting her.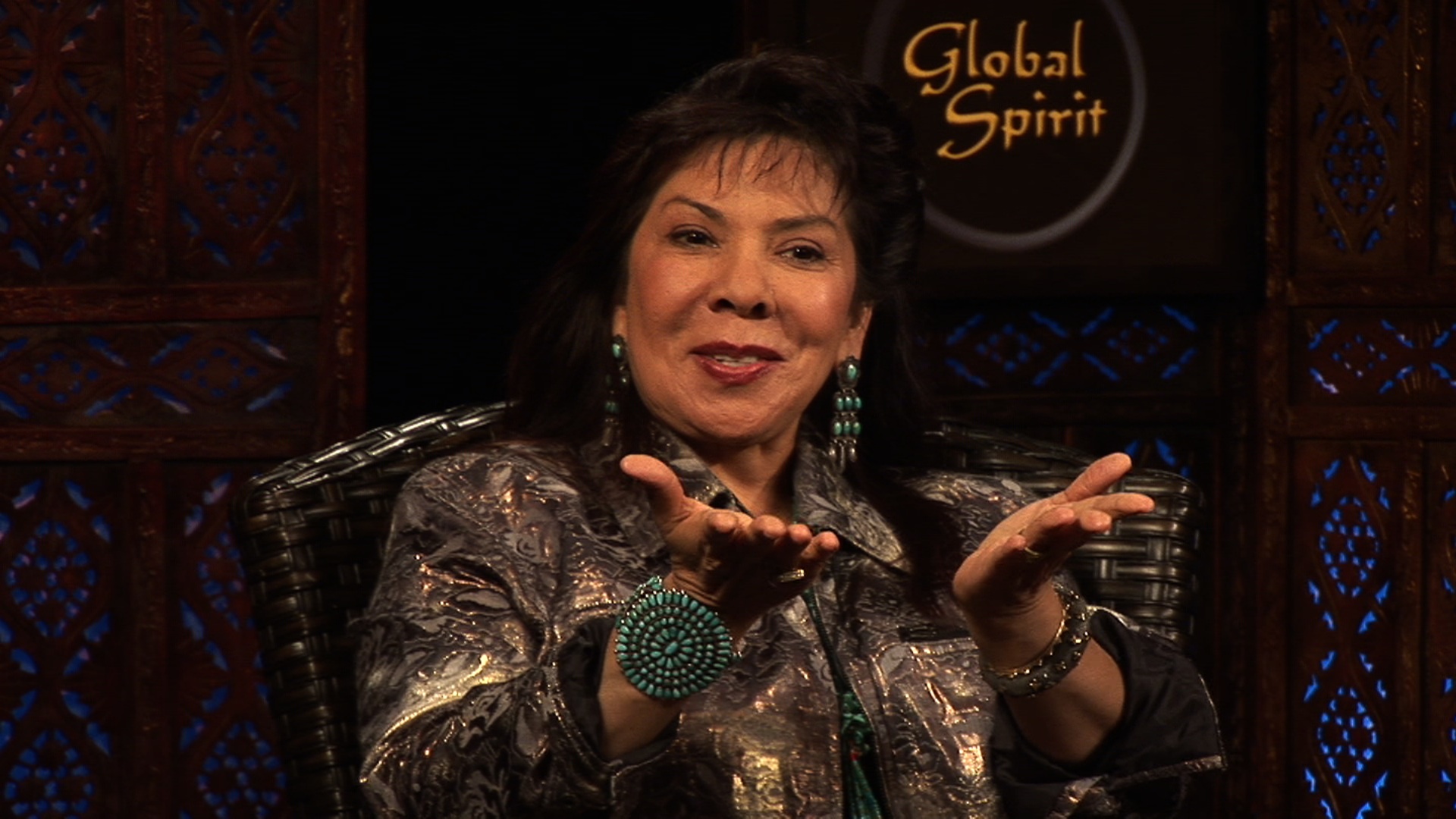 And Lama Lhanang's paintings range from Tibetan mandalas and images of graceful manifestations of the Buddha, to grotesque, rather scary images of human addictions, depictions of pain and suffering.
A few days before every studio production, we try to film and edit an "experiential" video sequence with each guest, to bring a visual, experiential dimension to each program. So, early one Sunday morning, I'm boarding a plane for Los Angeles to experience one day with this Tibetan Lama/painter from the remote regions of western Tibet, a man who sneaked past Chinese check-posts in the Himalayas to begin a new life in California.
Lama Lhanang Rinpoche is a spiritual teacher of the Nyingma Longchen Nying-Thig order and has been recognized as the reincarnation of Ken Rinpoche Damcho, an emanation of Nubchen Namke Nyingpo, one of the 25 disciples of the great Tibetan tantric master Padmasambhava.
I find my rental car and head for Lama Lhanang's temple, in East L.A.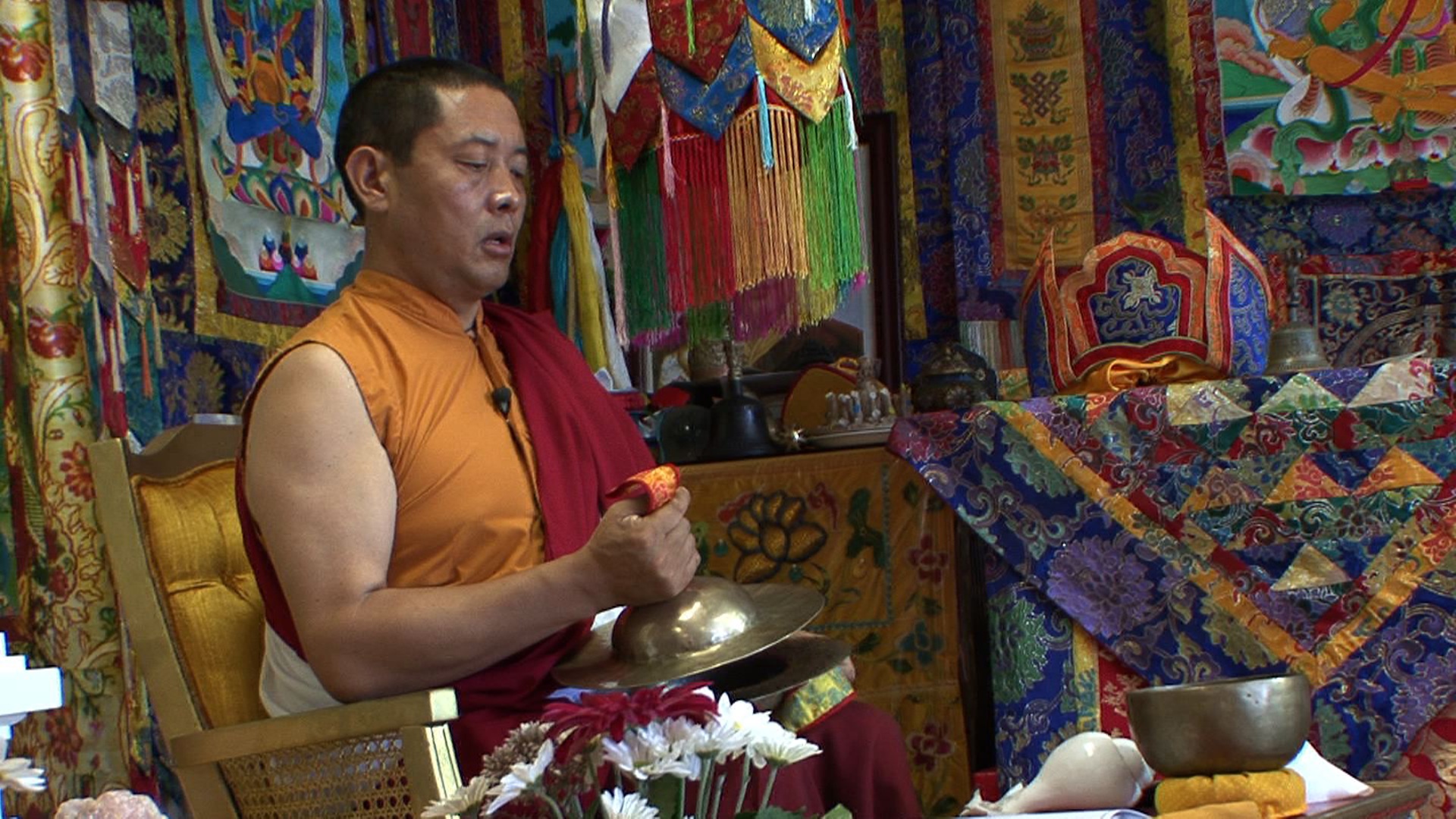 This temple is actually a converted three-car garage, with it's own alleyway entrance. The chanting, symbols and bells grow louder as I approach and park. Lama Lhanang comes to greet me, with a natural warmth, an ease of being and a sense of kindness, which I see extends to his multi-generational, multi-ethnic community. He leads me through the garden and into his art studio: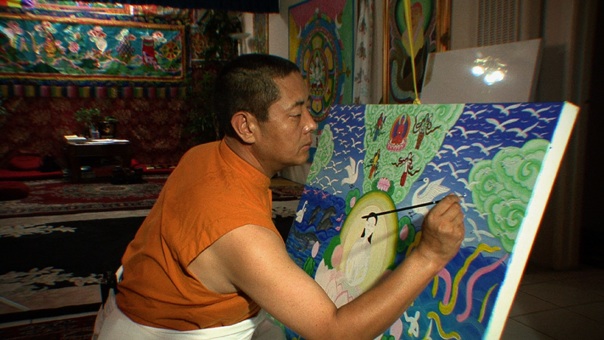 "What I'm saying is that everything is art. What you see around you, everything -- houses, mountains, the beautiful Ocean. It's all such beautiful art. But the 'inner art' is the best art. That's when you are creating a beautiful picture inside your heart, a picture that is always there. Nobody can take it or erase it from you because it stays with you. That's why meditation is the most beautiful art, why it's called the 'ultimate art.'"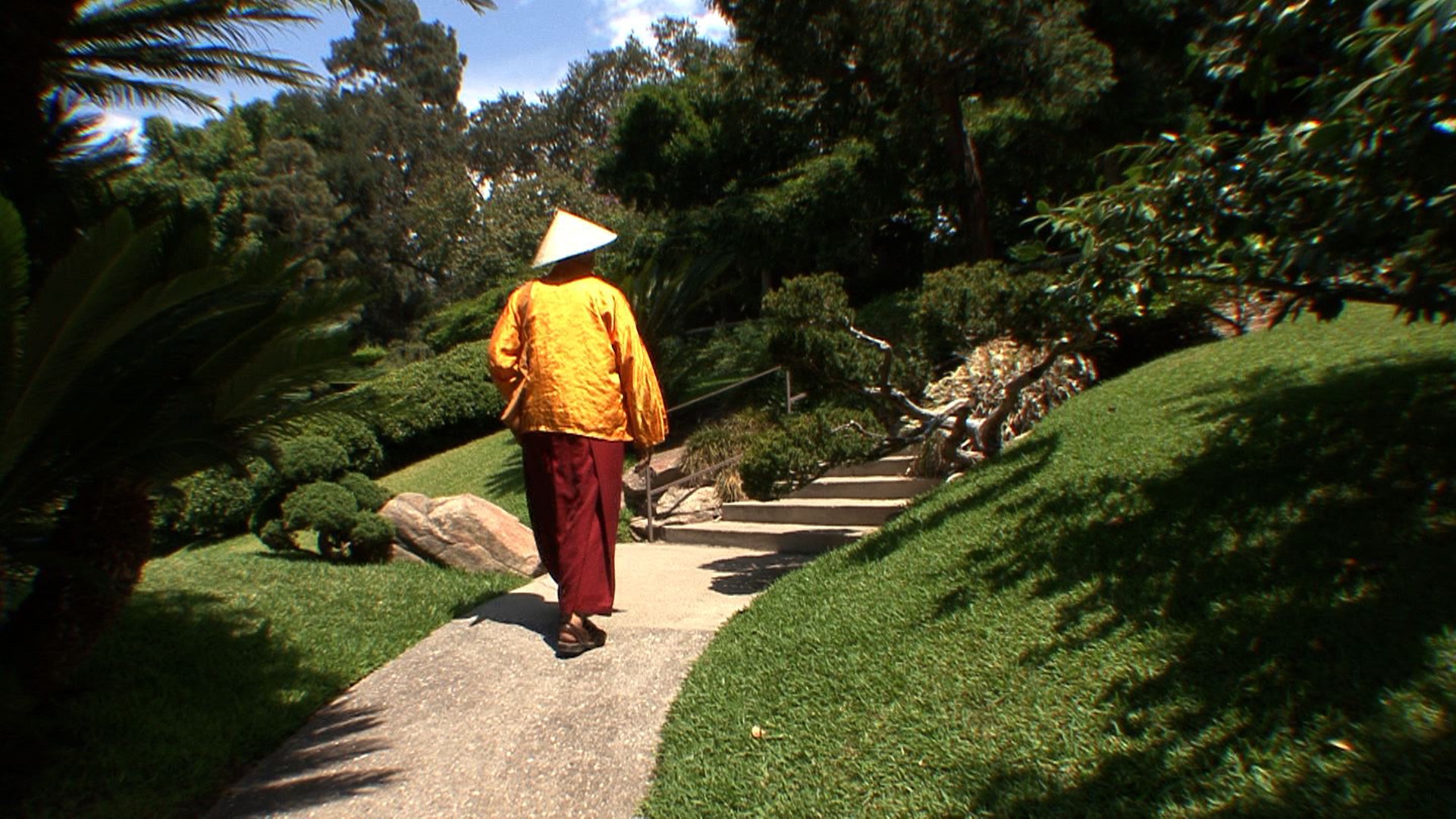 We decide to go for walk in nature. Someone suggests the Huntington Library and Botanical Gardens. For the filmmaker, it turns out to be a great choice. Looking through my viewfinder, the Lama embodies the timeless Tibetan monk, strolling through a bamboo forest in his saffron robe. We stop at the edge of a pool, covered with lily pads. My first thought is that it is in the direct sun, and too bright. Then, as Lama starts speaking about the lotus flower, we become transfixed by the sheer beauty of the lotus blossoms, with their pink and white petals glowing so brightly in the sun. Lama recites a short prayer, first in Tibetan, then in English:
"Behold the jewel in the lotus. Our lotus is like our heart. May our compassion open our hearts, like the lotus."
Time seems to stand still as we stare at the lotus blossoms, hearing more from Lama about the wisdom and compassion of the "inner mind," that place where all dualities cease, where art and the creative spirit are one. Passers-by stop to gather around him and listen. Behind the camera, I'm laughing. Encircled by a dozen colorful, fashionable Angelenos, Lama Lhanang looks like a Tibetan "ET," perhaps a teacher from another planet.
We decide to follow the setting sun, to Santa Monica Beach. Lama squats near the water and draws with his finger in the sand, the Tibetan characters for that most quoted Tibetan prayer: "Om Mane Padme Om," the mantra of Compassion, "the jewel in the lotus." Within minutes, a wave comes in and washes it all away. Everyone is silent.
As the sun drops below the horizon, I realize that Lama's art, his spiritual practice and his creative spirit are in total alignment. I realize what a blessing it is to spend a day (or a lifetime) with someone who breathes and speaks and lives with such compassion, in the present moment:
"Each person has a job to create the right consciousness in this moment, to bring positive energy to this world. Most people, they forget this moment and are always looking for something further. But we don't have further, we don't know next moment."
We leave the beach together and say goodbye. As I head back to the airport, I am thinking how perhaps Lama Lhanang is here to remind us of so much that we already know, but throughout our busy, daily lives, we so often forget. I try to hold onto what he said about "right consciousness" and jot a few lines down in my notebook. I close my eyes. From the seat in front of me, I hear a man enthusiastically discussing his film script. My mind drifts back to Lama on the beach: "Nothing is forever. Everything is impermanent. It's important not to get attached to things."
The attached video sequence is one of the short film segments within the Global Spirit program: "Art And The Creative Spirit," now showing on many public TV stations (check local broadcast schedules at www.GlobalSpirit.tv).
GLOBAL SPIRIT is a unique inquiry into humankind's belief systems, wisdom traditions, and states of consciousness. Hosted by author and spiritual seeker Phil Cousineau and featuring renowned experts such as Deepak Chopra, Karen Armstrong, Robert Thurman, Riane Eisler and many others, this new critically acclaimed series takes viewers on a mind and soul-expanding journey, exploring the relationships between ancient wisdom traditions, diverse belief systems, world religions, metaphysics and modern science.
Stephen Olsson is a HuffPost blogger.