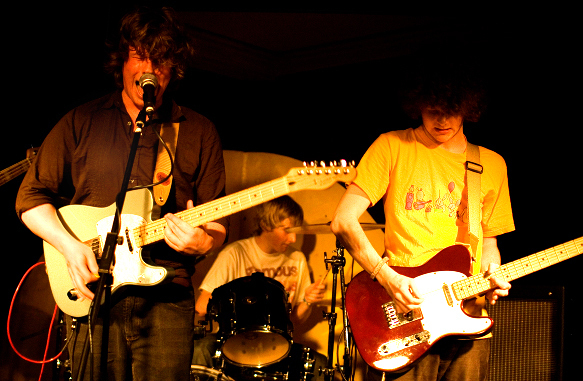 We Were Promised Jetpacks doesn't look like the kind of band that plays The Music Hall of Williamsburg. Frontman Adam Thompson is heavyset and wears plain clothing for an indie rock star, while guitarist Michael Palmer, bassist Sean Smith and drummer Darren Lackie just come off looking like his three fitter younger brothers. Last night, however, at a venue where everyone from the lighting technicians to the opening act (the stellar groove economists Bear Hands) seems to have stepped out of a post-punk fashion plate, We Were Promised Jetpacks rose to meet the challenge.
The hour-long set was comprised mostly of highlights from the band's 2009 debut album These Four Walls: the post-rock experiment "A Half Built House," the rhythmic tour de force "Moving Clocks Run Slow," the modern bar ballad "Ships With Holes Will Sink." The album received lukewarm reviews upon its release; its sound is admittedly comparable to that of labelmates Frightened Rabbit and The Twilight Sad. But while recordings of these songs can sound bleeding-heart and derivative, by way of both a focused intensity and sheer loudness, We Were Promised Jetpacks bring them new life onstage.
While none of the members of We Were Promised Jetpacks are virtuoso musicians, they almost never miss a beat or a note. The rare exception would be a few off-pitch vocal leaps from Thompson, who occasionally flew off the handle when his passion got the best of him.
The guitar work on some of the more adventurous numbers, like "It's Thunder and It's Lightning" and "Quiet Little Voices," was limited, but arranged such that it achieved a particular kind of articulate beauty. Despite the fact that their sound is reliant on their songwriting, the band was not afraid to stretch out on an instrumental passage or to let their finale, "Short Bursts," devolve into a colorful mess of feedback.
The inspiring emotional rush We Were Promised Jetpacks provides during a live performance does not stay with you forever. Eventually the hooks repeating in your head go back to sounding the way they do on the album, and you're ultimately unconvinced by Thomspon's assertions "I'll die for you," and "you're winning me over." Still, the fact that the band can make a crowd of young Brooklynites shout these refrains along with the somewhat-older band is a testament to their sincere attempt. The aim of all anthemic music is to make people feel, even if only for a moment, that they're sharing in some kind of triumph. Last night, We Were Promised Jetpacks succeeded.