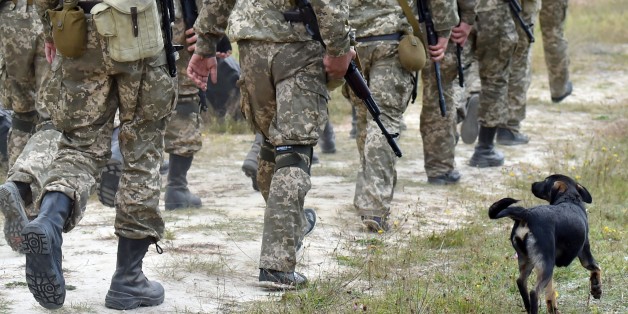 Last week's NATO meeting in Wales showed an unexpected and sobering realism on the most pressing issue it has faced in some years, namely the Ukrainian crisis. Despite many pressures on the body to take some sort of decisive action to counter the Russian threat to Ukraine -- beyond sanctions already instituted -- the 28 NATO countries agreed to make only a few limited measures on Ukraine, but mainly focused on strengthening their own security interests.

The most important pronouncement NATO made was that it would not be sending NATO troops into Ukraine to help drive out the anti-Kiev rebels and their Russian allies and retake Crimea. NATO was, in effect, saying it was not worth a war with Russia over a non-NATO country in Europe -- conceding that Ukraine was within Russia's "sphere of influence."
The backroom calculation behind this diplomacy was to seek a Georgia-type solution for Ukraine. As one may recall, in 2008, Moscow, asserting its ancient boundaries, threatened to go to war with Georgia over that nation's claim to two lands adjacent to Georgia -- Abkhazia and South Ossetia. But given Russia's threat of intervention, Georgia realized it could not win such a fight, and, so Georgia, along with the West, acquiesced in the Russian occupation of these states. Since then, though, only a few nations have recognized the independence of those territories.
So NATO basically has, in a similar way, tacitly admitted that Moscow will hold onto Crimea and will retain significant influence over Eastern Ukraine through wider autonomy for the region and renewed economic ties with Russia -- though, in both cases, the West will never grant formal diplomatic recognition either to Crimea's takeover or to Russia's intrusion into Eastern Ukraine.
But the message that President Poroshenko of Ukraine, who was present at the Wales meeting, got directly from NATO was that, while he might, at best, get a few small tokens of military assistance from the group, he must otherwise work out a cease-fire with the insurgents and the Russians as soon as it was feasible. And as we know, the Ukrainian leader followed up the next day by agreeing to a deal with Putin to put a truce into place.
Then, perhaps the most telling outcome of the NATO meeting was NATO's decision not to invite Ukraine to join the organization. For the Russians have seen Ukraine as historically an extension of the Russian empire, so the notion of Ukraine enlisting in NATO has long been one of their red lines. In this case, NATO acceded to Russia's long-term security concerns over Ukraine.
In the end, NATO's most substantive response to the Ukrainian crisis was to approve a modest plan for a 4000 member rapid-reaction force based in Eastern Europe which will rotate in and out of all those NATO states that border on Russia. This was done to reassure nations formerly under Soviet rule that their freedom will be guaranteed.
There were two additional resolutions -- first, that the 28 nations collectively aim to spend at least 2 percent of each member-nation's gross domestic product over the next ten years on the military, and, second, that NATO backs new European Union sanctions on Russia should Moscow increase its military pressures on Ukraine. Still, with all of these moves, NATO was assuring one thing -- there will be no East-West war in Europe.