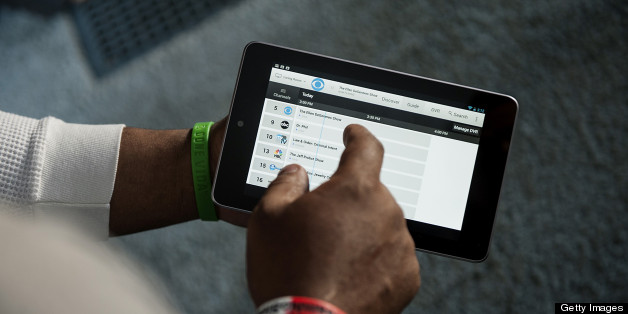 Interesting comment from RIM/Blackberry's CEO the other day that said tablets would be dead within five years. Wait a minute, isn't that the same company that lost out to iPhone and iPad, Galaxy and others?
Fact is, tablets are not going away, despite the forlorn wishes of a company's CEO. Over 100 million were sold last year. And, millions of people are right now looking to buy a 7-inch tablet computer. Sure, you can read a tech news site review or scan what some customers think (even Blackberry's CEO). But what about the big picture? What do customers from all over the world think?
Taleee, with our consensus engine technology, answers just that -- what small tablet do customers love based on reviews from all over the Web? Which rates the highest? With millions of data points now in our system we crunched the numbers and the totals surprised us. Both these tablets came out on top -- but for different reasons. Which means that tablet size may have less to do with determining a product competitor. What seems to be more important is intended use.
Said another way, the right tablet for you may depend more on what you want to do with it than the size of its screen.
Here we have the Web-wide roundup and a hands on comparison in photos for Kindle Fire HD and Google Nexus. Both shine. The exclusive Web-Wide Consensus Ratings for each based on customer opinion from across the Web:

As you can see, both tablets score highly. The 7-inch form factor (portability), content and commerce experience and price points ($199 each), high res display, all fueled customer satisfaction.
What we did next was more of a ergonomic and "hands on" review to show you how both stack up side by side. Both weigh about the same, 340g to 400g, and have similar camera specs, 1.2 to 1.3M.
After doing a hands on test with each at Taleee we noted that each tablet has its strengths and may fit you best depending on what you intend to do with it. The Kindle is a little wider in the hand and the weight vs. Nexus is noticeable. Not a big deal but noted. It feels solidly built. The Nexus (made by Asus) also feels well made.
For one handed use the Nexus was a little easier to handle since it's not as wide as Kindle Fire HD. Check the photos here. Here's the Kindle first: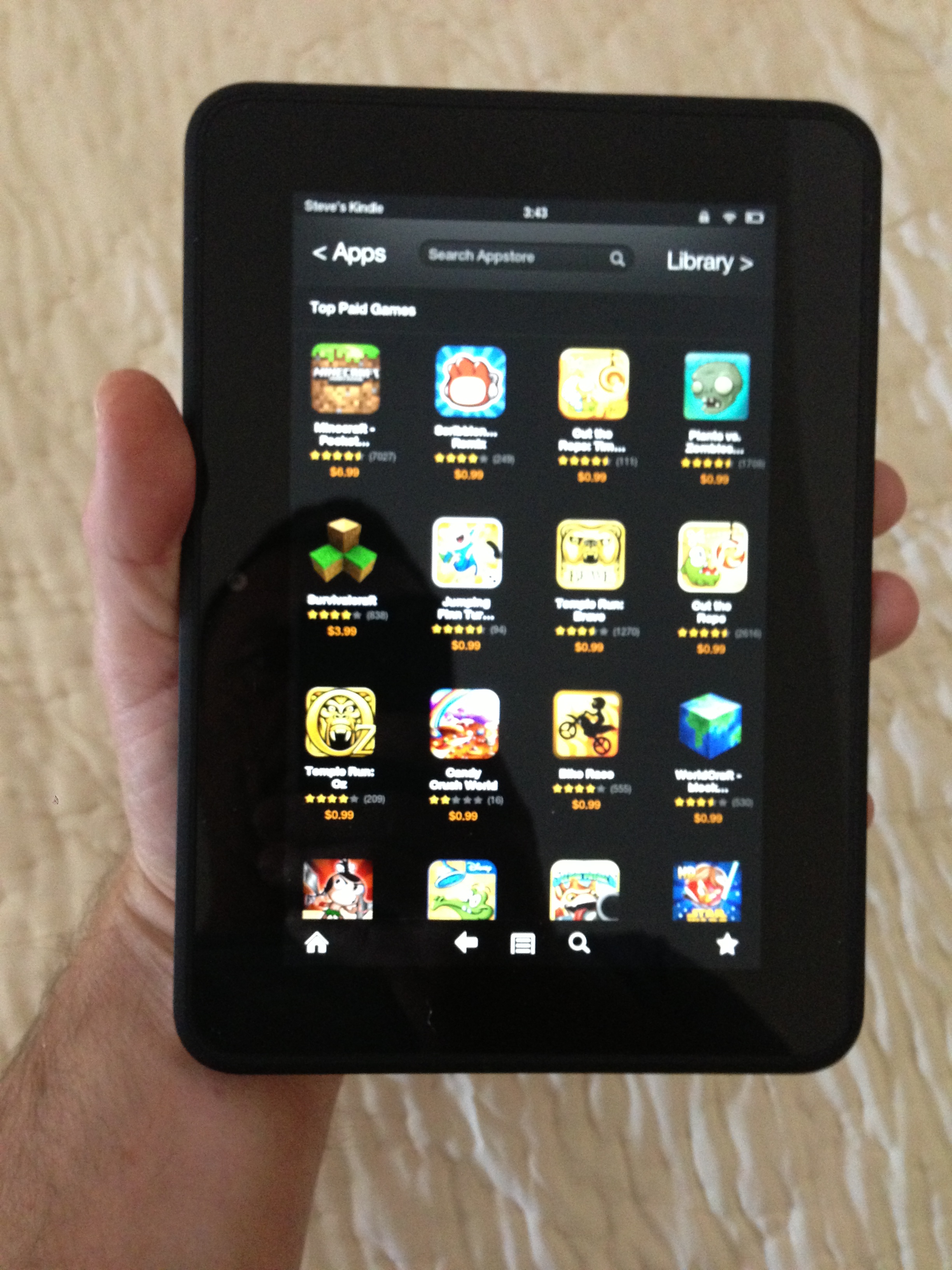 And here's the Nexus in hand: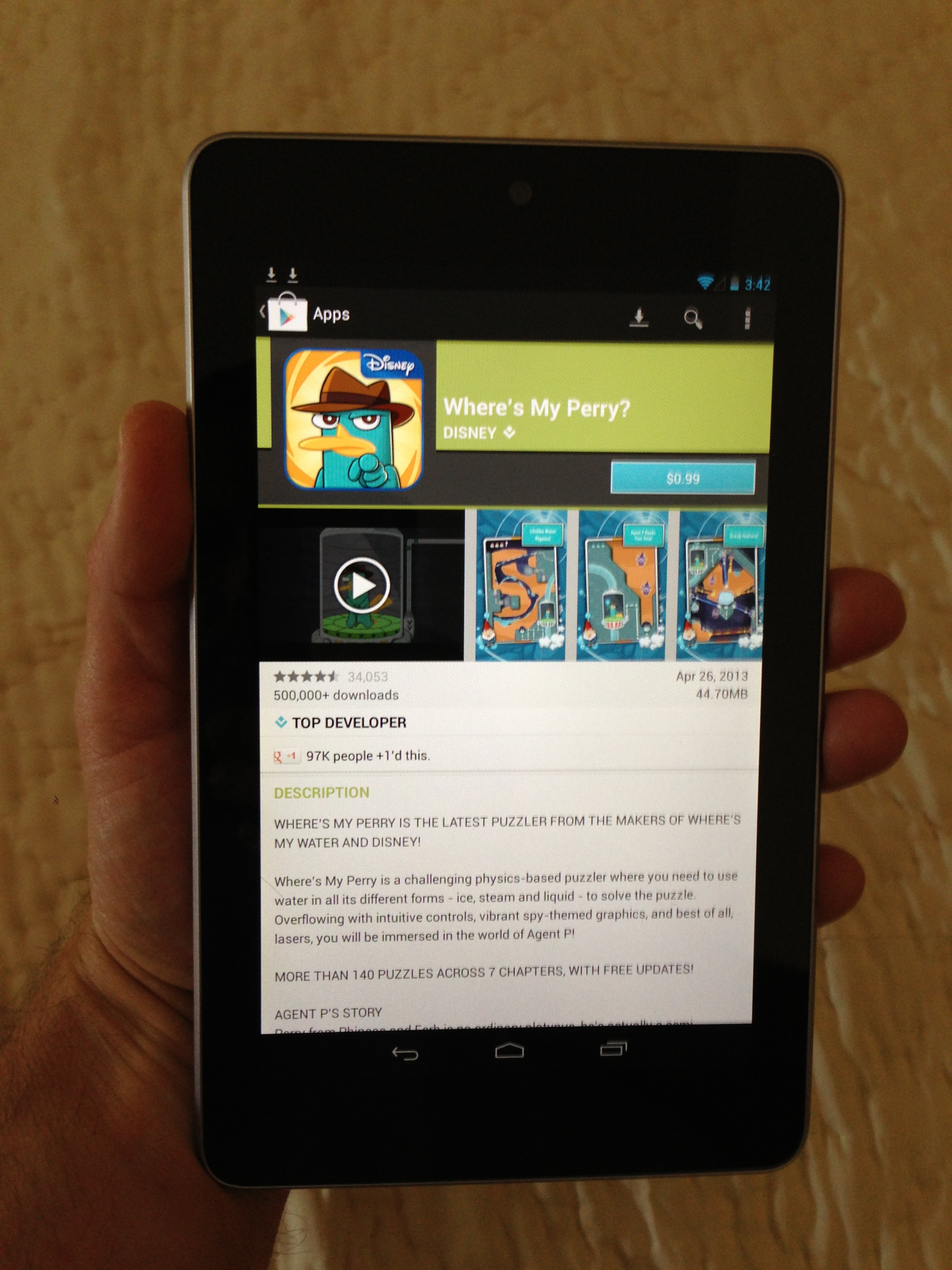 One of the most important aspects of any tablet is content. We looked at the app store and both have an abundance of an array of apps and more. For games breadth, Google Play came up a little stronger. However, games played on Kindle Fire (because of its Dolby stereo sound) were audibly amazing.
The Kindle Fire HD shows movies and plays games with crispy colors and sharpness. As noted, the biggest "wow factor" is the Dolby stereo sound. The movie, TV show, game or music played on the Kindle sounds so rich, a real treat. Reading an e-book also shines on Kindle.
Here's the two tablets side by side showing the same book on the Kindle reader app. The settings for display are the same (sepia page and same font). Note that Kindle Fire HD shows more page and the sepia seems a little darker: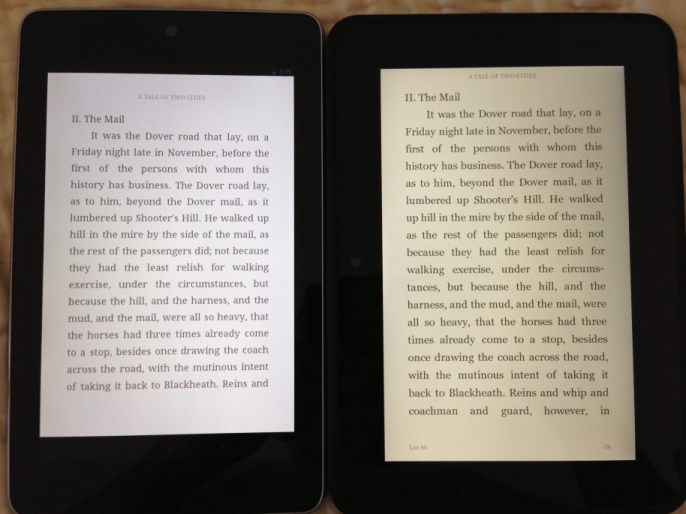 On the other hand, for doing email, spreadsheets, syncing Google activity including calendars, etc. was very easy and intuitive on the Nexus. If you're a Google user as I am (Google.com, Gmail, etc.) than you'll find Nexus a natural and can be up and running quickly. It's handy for quick emails and checking news. The Nexus boots right into Google's universe of Gmail, Calendar and apps you're familiar with from the desktop/laptop experience.
Sometimes the Kindle Fire HD seemed a little closed in and stuck on the Amazon store. Kindle relies on the carousel to scroll through apps and content, with links to shop and categories on top: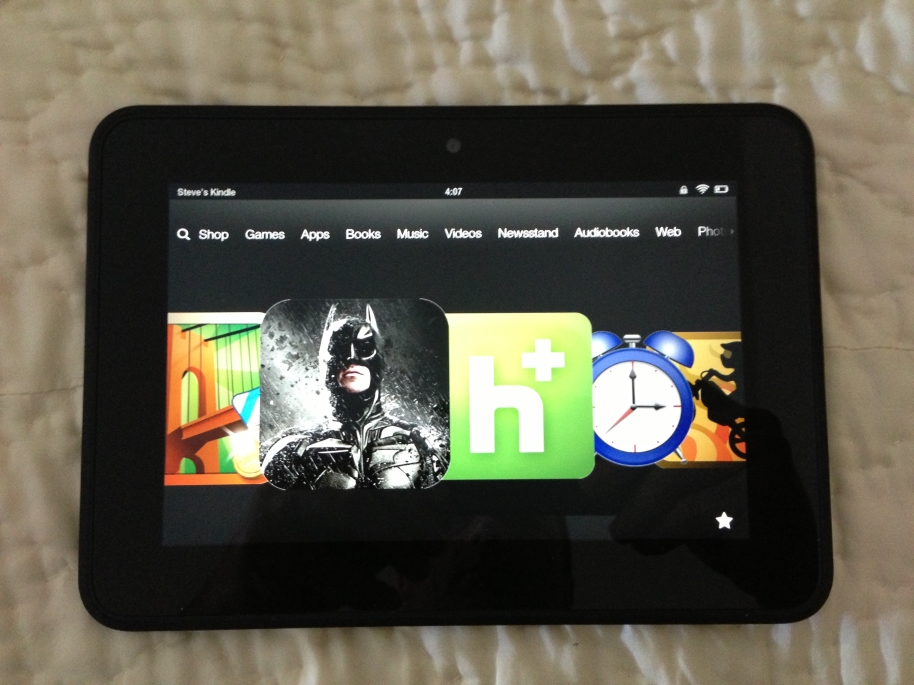 As an Amazon Prime user (as we are) it also shows free content and any digital purchases you've made. So you can sit in bed and watch Walking Dead anytime you want.
Here's a look at Nexus' home screen: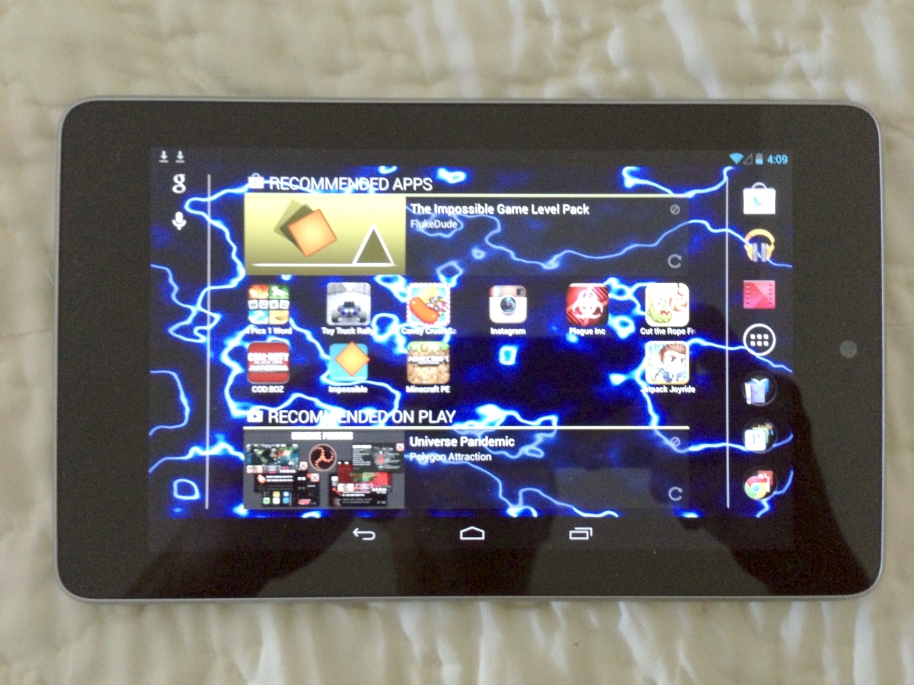 Both tablets have content ecosystems behind them. Millions of songs, thousands of movies, games and books. It seems little easier to buy from Amazon if you already have an account with them. Giving Google a credit card still seems a little new to us. However, not a game changer.
Bottom line: both tablets are Customer Choice Award winners, Top Rated Web-Wide.


For entertainment focus we lean towards Kindle. For apps and light mobile productivity we prefer Nexus. If you have a spouse or children then get one of each and use accordingly. For $400 you can have both. Not bad for the multitude of uses for each and the expanding content and commerce aimed at tablets. For despite what Blackberry's CEO thinks, we tend to agree with Amazon, Google, Apple, Dell, Microsoft and most importantly -- the customers -- that the tablet is here to stay and may only get more popular as usage evolves for both work and play.

For full tech specs check their sites: Kindle Fire HD and Google Nexus