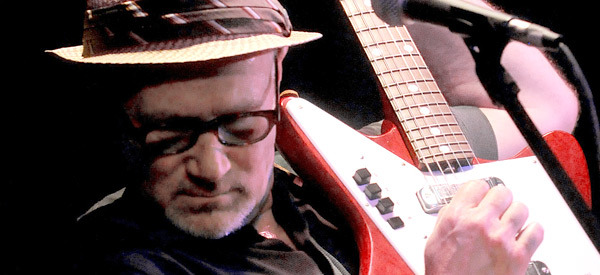 Marshall Crenshaw is really much more than his extensive catalog of catchy songs, his inimitable voice, and his jaw-dropping guitar work. And even though he once played a fake John Lennon in Beatlemania, a fake Buddy Holly in the 1987 biopic La Bamba, and wrote the title track for the fake biopic Walk Hard, Crenshaw is every bit an American original. Now, 32 years after the debut of what Rhino Records once called the "überperfect pop record," Crenshaw's music still pops with the same rootsy authority as it did back when record albums were the preferred delivery system of rock 'n' roll and a tweet was a tweet.
Last year, an innovative Kickstarter campaign launched by the Crenshaw camp gave his die-hard fans the rare opportunity to participate in launching a series of six limited-edition EPs on 10-inch picture-sleeved vinyl and digital download, containing a new Crenshaw song, an old one re-recorded, and a cover.
The first EP, I Don't See You Laughing Now, came out last November and includes a lush cover of The Move's trippy "No Time." The most recent release features the new song, "Stranger and Stranger," a cover of the Carpenters' 1970 hit "(They Long to Be) Close to You," as well as a new acoustic version of Crenshaw's classic "Mary Anne." The material will soon be up on all the usual digital platforms.
We recently spoke to Marshall about Crenshaw family history, new projects, old vinyl, and "The Bottomless Pit," his weekly radio show.

So when did it dawn on you to do a Kickstarter campaign to make I Don't See You Laughing Now and the subsequent EPs?
It was my manager's idea. The idea of the vinyl and the subscription thing and the ongoing release schedule was my idea. It turned out to be the best path forward. We succeeded with it, like so many other people have. It's not just an accepted thing among artists, but it also seems to be an accepted thing for people on the other side of the equation. People find these things and support them.

Were there incentives for those who gave to your efforts?
Yes, there was this creatively assembled list of perks for the Kickstarter campaign. I was really impressed with what they came up with. I gave my first and only guitar lesson ever, and I gave a couple of house concerts.
What did the one and only student ask you to teach him?
I spent a lot of time with this guy on how to approach the instrument, even though he'd been playing for 30 years. So, I showed him this exercise that I learned from a teacher I went to for a
while. It's a classical guitar thing called "the rack" -- where you stretch your hand on the fret board, like it's on a rack. Nothing specific, but he wanted to learn There She Goes Again for the last 50 minutes.
Did the big resurgence of vinyl enthusiasts, particularly among younger, indie rock fans who weren't even around the last time records were being sold in stores, give you the idea for the 10-inch EPs?
I was aware of that and it did switch on a light bulb above my head, you might say, just knowing that it's going on. But it also appeals to me; I get these audiophile magazines from time to time with all of this stuff about mastering and pressing plants, and I just dig that stuff. My entire life I've just really loved records for some reason, I guess just the way people love things that they love. I don't know why.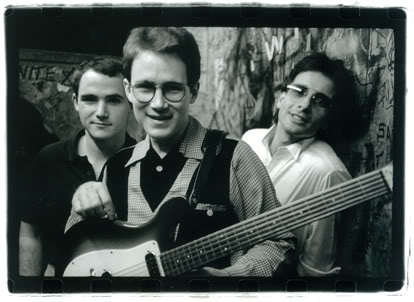 Early in his career, with brother Robert Crenshaw (left) and bassist Chris Donato (right).
Was there a particular record store you went to as a kid in Detroit?
In the beginning, it was just the dime store, like the Woolworth's or the Kresge stores. I would go to this drug store called Kinsel's. There were a couple of albums in this cutout rack that sat there for years, literally. There was the Friday on My Mind album by the Easy Beats. I happen to love that album very much, the single "Friday on My Mind" is one of the greatest rock 'n' roll records, bar none. That album landed in the cutout bin, and months and months went by where I would see it and then finally I decided to pull the trigger and spend the 79 cents and just really fell in love with it. That album is part of my musical DNA, with its flaws and shortcomings. There was another one by The Standells called "Try It," which sat on my shelf until four years ago; low and behold it is fantastic. Who knew? (laughs).

Let's talk about some of the tracks on the EP's. I love the new original "Stranger and Stranger," it has a dark thematic vibe to it.
Thanks, it's still the most recently written song of mine. I guess it's written from the point of view of someone who's in the aftermath of a loss. My dad died on December 14th, which was the same day I had a recording session in the morning where I recorded the vibraphone for "Stranger and Stranger" with this great musician named Brian Carrot, and as I was walking out the door of the studio someone had a TV on and there was something about the Sandy Hook Elementary School shooting, so that was like getting punched in the head. So, Stranger and Stranger is about loss, a sense of foreboding about the world, and in the end trying to fight back while keeping their spirit intact in the face of all of it.

Your dad's photo is on the back of the EP. What was his musical influence on you and your musical brothers?
My dad loved music. It was just a fundamental, essential thing for him. I think the musical influence mostly came from the Crenshaw side of the family. My dad and all his siblings were all born in Michigan, but his parents came up from the South. If you talk to any of my Crenshaw relatives now you'd think they come from the South. They belong to a Southern Baptist church, but it's in Flint, Michigan. Anyway, when I was a little boy, I used to love it when he would sing and play guitar.
So, you didn't feel that was there much of a generation gap between the two of you?
No, I certainly did, believe me. I actually had a conversation with Dave Marsh about this recently, and I said, "We clashed a lot in my youth, but we didn't fight over music and we didn't clash over race." And Marsh asked, "Well, what else is there?" (Laughs).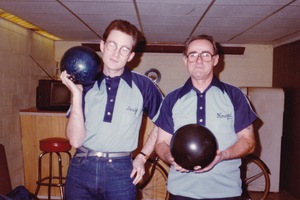 Bowling with late father Howard Crenshaw.
Let's talk about the cover songs on the new EP's. Were you into those songs when you were in HS? Did you know that they existed or did you discover them later on?
No, both of those songs I knew in "real-time" when they were released. "No Time" by The Move ... I'd just marvel over it. I remember thinking, "what in the world inspires somebody to write a song like this? How do you sit down and come up with something like that?" It's a song like that which would intrigue the hell out of me. When we went to do the recording session, I was with Glen Burtnik and this guy named P.K. Lavengood, they were all showing me the chords to the song because I still couldn't completely fathom the thing ... so, it's just a really intriguing and beautiful piece of music. The lyrics are good too. It's a song that really paints a picture in your mind. The Carpenters thing, that's the one track of theirs that just I genuinely loved. I like a lot of their records but "(They Long To Be) Close to You" sounded Brian Wilson-ish to me. And the place his music would take me to emotionally and in my imagination, the music just had a lot of power with me for a long time. I thought it was coming from the same place as Brian Wilson. It's also a little tongue and cheek, too, with me doing it, because it's an oddball choice.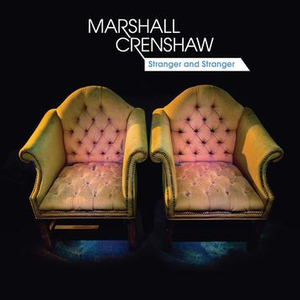 Do you notice changes in your approach to songwriting over the last 20 years?
I just try and do the best I can. Whatever changes there have been are due to the fact that you change. There's just no way not to, right? You're always evolving. I'm not as concerned with brevity as maybe I once was. You know the earlier songs I wrote were just compact. I used to say "no wasted motion." Now I'm more inclined to stretch out. I like longer songs, and I write longer songs that the ones I used to write.
But does that translate into your approach to getting out on the road? Obviously you're still career-minded like you were in the beginning. A younger musician is concerned with singles and promotion, but has that changed in you?
Most certainly it has. The sort of hustle I was in at the very beginning is far in the past. Now, what I have is a body of work and self-identity as an artist. So, that's all an established fact. It's like a finished product.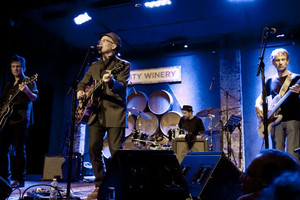 On tour with Graham Maby (bass), Rich Pagano (drums), and Andy York (guitar).
Since 2011 you've hosted the Bottomless Pit radio show on WFMU. What inspired you to have your own show?
I went up to Air America one day to be a guest on the Steve Earle show and it was pretty interesting. I was a listener to the station and there was Chuck D, Al Franken, and Rachel Maddow (she's fantastic at what she does). After that I felt that I really wanted to do this. I know a lot about this stuff and I have a lot of love for it, obviously, so ... All the past experience I had playing records on the radio, running my mouth about music, and I thought, "I've got to try it."
All in all, it sounds like you're still having fun making music. You look like you're having fun playing live.
I hope so, I'm glad to hear that (laughs). Other than hearing loss, it brings me joy still. That's the one sign that I've had of physically starting to break down, but that's my only complaint.
To read the longer version go to Web2Carz.com