To read Part 1, click here.
I had never spoken before to a high school prep school so I woke up excited and eager. I was being picked up by Donald Ball and taken to the Webb School one of the top independent schools in the country. Donald, a history major from Princeton, had been at Webb -- rated in the top ten independent schools in America -- for 15 years and had started an entrepreneurship program with the help of the Kravis Leadership Institute. Donald and I talked excitedly about the Webb experience during our 30 minute drive to this beautiful campus. We visited with his students whose ages ranged from 14-18.
I was extremely eager to learn about their two business ideas: one was a website for triathletes and the other was a personal branding consultancy by teens for teen artists. I sensed the passion for entrepreneurial education and then I interviewed Donald about his personal motivations for teaching Entrepreneurship Makes a Start at Independent Schools.
SM: What made you decide to develop an entrepreneurship course for high school students?
DB: It is a perfect fit for a school with a mission to inspire students to become men and women of integrity who think boldly and lead with distinction. Entrepreneurs change the world. My students learn what it means to be ethical decision makers who not only consume but create. They are asked to do the hard work of leaving this world a little bit better. Teenagers are at an inflection point in their lives where they are deciding who they are and what they can do. It is exactly this moment when their innate energy and curiosity are already mobilized in the service of discovery that an entrepreneur is born.
SM: How has your background led you in this direction?
DB: My one year-old son Joshua has a relentless drive to explore everything. He is constantly learning by testing his ideas and when reality pushes back he pays attention and iterates -- most of the time.
Watching him I am thankful that I continue to enjoy this kind of playful tinkering as much as he does. Today's complex problems require entrepreneurs who look to connect the dots across disciplines.
Solutions are often multidimensional. My broad liberal arts background cultivated through my undergraduate studies at Princeton and an M.A. in Liberal Studies at Dartmouth combined with an E.M.B.A. at the Drucker School of Management places me squarely at this dynamic intersection of Insights and effective implementation. I have had many mentors along the way, in particular Sarah Smith Orr, the Executive Director of the Kravis Leadership Institute.
SM: Based on my visit to your class I am certain that tens of thousands of young people in Independent schools will begin learning the basics of starting a business. Thank you for inviting me.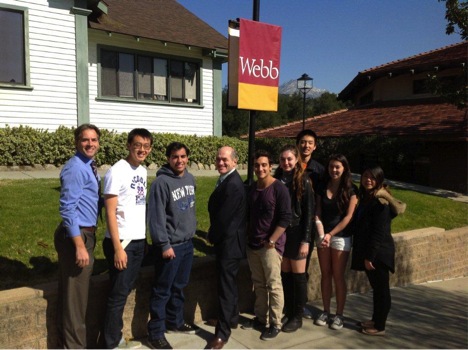 Donald Ball, Terence Tien, Kareem Albadawi, Steve Mariotti, Brandon Scolieri, Nani BabaKekhyan, Davis Tsui, Miya Wensley and Diana Hoi Kei Wong. Photographer: Joe Shaver