Her story is legendary: an American bibliophile who brought her love of literature to Paris and created one of the most well-known and influential bookstores of the twentieth century, Shakespeare and Company. Sylvia's story is a fascinating one, and something that I have been knocking up against over the past several months.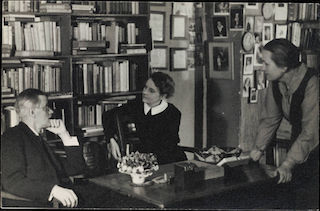 Sylvia and Joyce in Paris (source)
It started when I first began to think seriously about diving back into book collecting, and with it a career in books. I have always loved bookstores, and in New York, there was none like the great Shakespeare and Company, where I first stepped 23 years ago.
Throughout my career I have been passionate about the rights of individuals--from artist to business owner, from writer to shopkeeper--and Sylvia's story speaks directly to that theme as she helped to publish one of the greatest expressions of free speech in the last 150 years.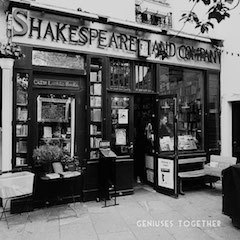 The old store in 1920s Paris (source)
A few months ago, I was traveling through Europe, and in Paris to see the wonderful labyrinthine bookstores and antique stores holding Europe's treasures. I visited the old site of Sylvia's second store on the Left bank, and fell in awe of the magic that had taken place there. Sylvia herself gathered some of the most influential novelists and writers of the century, along with Gertrude Stein and Hemingway, during the Interwar heyday of the Modernism movement. It was like Midnight In Paris had come alive, and I was so inspired by simply being there.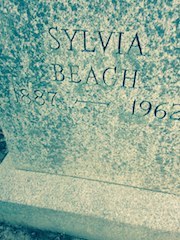 Sylvia's memorial in Princeton
Back on my home turf, I learned that our dear heroine had been buried and memorialized at Princeton University. No small feat, she was the original publisher of Joyce's Ulysses, famously banned in America for its supposed lewdness, and a book which I am so proud to own and love reading! Her papers are archived here in Princeton where you can read her personal letters like a window to that time period.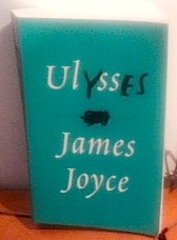 My copy of Joyce's masterpiece
In 1922, Sylvia remarkably and single-handedly published Joyce's epic tome. He was notorious for working until the end, trashing printer proofs by adding huge amounts of text and working on his novels and stories up to the very last minute. While other publishers turned their backs on Joyce's genius, Beach chased it--and like a good entrepreneur, risked everything in order to afford its printing.
Unfortunately for Beach, the risk did not pay off when Joyce eventually sold the rights to the book to Random House in the 1930s and failed to pass any of his advance on to her.
Before Random House's bid on Joyce's book, it had been banned in the United States and American readers were clamoring for pirated copies. In 1933, a judge made the landmark ruling allowing sales of James Joyce's book and countless subsequent written works involving obscenities.
As we close this week--an annual focus to raise awareness of banned books, we have to consider how much Joyce's masterpeice not only influenced English-language literature and Modernism in general--but, perhaps most importantly, the pursuit of freedom of speech and the written word in American history.
From the trial on banning Ulysses (source)
Special thanks to Lauren Bailey for her assistance on this article,