Starting and running a business is without a doubt a life-changing experience. And failing your business start-up can be a jolting change. In fact, an astounding 70% of Americans cite fear of failure as the main roadblock for starting up a business (Source). One of my personal heroes, Joe Mancuso, used to say:
These are producers who strike out on their own, who know high highs and low lows, great devotions, and who overextend themselves for worthwhile causes. Without exception, they fail more than they succeed and appreciate this reality even before venturing out on their own. But when these producers of wealth fail, they at least fail with style and grace, and their gut soon recognized that failure is only a resting place, not a place in which to spend a lifetime.
This message is not only empowering, but it is realistic. Failure is frequent and sometimes inevitable when you are trying to bring a new product or service to a market. But failure is only a resting place--where you learn lessons about your mistakes and move on to your next success. With that in mind, I share Part Two of my interview with a resilient and inspiring young entrepreneur, Joshua Termeer.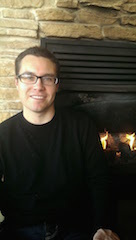 Mr. Termeer today.
SM: How did your life improve once you started your commercial real estate business?
JT: My commercial properties allowed me to enjoy a nice life without constantly working. There were thirteen tenants on the properties with enough rent that I had passive income to live from, though I soon learned how tricky the business is. In the meantime, our family lived in a beautiful home right on a creek in Bucks County. We had an RV, luxury cars--everything we wanted, it was ideal. It's funny because now that we have lost everything, I only miss one thing--the RV.
Josh and his wife, Marissa
SM: At what point did the business start to crumble?
JT: It was in 2009. That year really felt post-apocalyptic to me--the economy was shrinking rapidly and the real estate bubble that I had been living comfortably in started to evaporate. My real estate investments--built up from the blood, sweat, and tears of my 20s--were in decline as several of my tenants went under and simply could not pay rent. I looked around for a regular job, only to find dismal options--after all, I had spent the past several years living off the rental income and volunteering my time in downtown Philly.
Faced with financial failure, I started scalping tickets--not concert or sports tickets, but for museums. Through a membership to a local museum, I was allotted a daily set of tickets for free, which I would sell for 50% of their value. Since it was working pretty well, I bought a membership to another museum and started scalping those tickets as well. When we moved to New Jersey, I did the same in Museum Mile in New York City. I spent those days somewhere between shell-shocked by the economy but peace--I got to enjoy some of the best art museum in the world set against the chaotic streets of New York.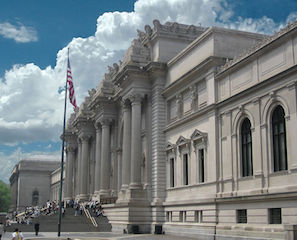 The Met on Museum Mile in New York City (source).
People asked me why I was scalping these tickets and I would tell them my story: that I had been a successful entrepreneur who had experienced business failures. Now it was simple: with no unemployment check and a family to feed, I had to make ends meet. It was an a rough time for me--financially as well as emotionally and psychologically. (I've recounted much of this in darkly comedic ways, in a memoir on kindle called Sublime Absurdity and on my personal blog)
SM: What are your hopes for the future?
JT: My passion is speaking and writing, which I've spent much of my last years doing while working as a limo driver in Princeton. This has allowed me to interact with some of the brightest minds in the world and hone my material with them. I'm also studying communications at a New Jersey state university. In addition to the memoir, I've written a screenplay that revolves around the rich comedy I've mined through all this drama! I am also helping start and manage Calm Waters Coffee in historic Bristol in Bucks county. We just had a successful kickstarter and will open this summer! (www.CalmWatersCoffee.com)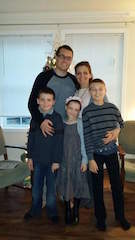 Josh and his family today.
SM: What are the most important lessons you've learned?
JT: Don't go for money for its own sake it's not a very whole way to look at things. Do quality, innovative things, creating something of value and the money will come. Or not. But remember to be grateful, you too can lose it all and end up roaming the streets of NYC scalping tickets! On second thought that may not be the most universally transferable principle..
SM: What should young entrepreneurs keep in mind in order to stay grounded and realistic about succeeding in business?
JT: If you are successful money can buy autonomy. However, people don't often talk about the isolation that comes with that autonomy--it can be quite destructive. Humility is the only reasonable option given our frailty as humans. Money is one metric and not the best one of your success as a person.
Connect with Joshua Termeer on Facebook or Twitter @JoshuaTermeer