Despite what they say, customer service is alive and well.
You just might have to go out of your way to find it sometimes.
But if you venture down the row of unique shops on Princeton's Chambers Street, directly across from the Princeton campus, you'll come upon a beacon of customer service and appreciation.
Hannah Schussel, owner and enthusiastic cheerleader of the eponymous store, Hannah! embodies the age-old wisdom that taking care of your customer's is the lifeblood of any business. And as a small business-owner, she has a number of important insights on how to run a business that delivers and caters to its market.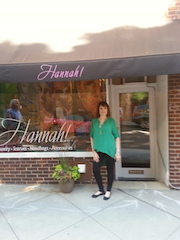 1. First, you need to know your customers.
"It is really important to get to know my customers and for them to get to know me," Hannah says, explaining the care she gives to everything from what she chooses to have in her store to the 10% discount she gives to frequent customers and first-time buyers.
2. Second, love the things you sell.
Hannah! carries an appealing array of jewelry, scarves, handbags, cards and other accessories--mostly for women, though there is a small selection of jewelry for men--from all over the world. And the store manages all that in just 235 square foot space.
Their inventory is, by Hannah's own description, "whimsical" and features everything from long lavish scarves printed with Marlon Brando and Audrey Hepburn to jewelry and gifts. As soon as you enter the store, you appreciate Hannah's love for products that excite the senses. Everywhere there are colors to see and textures to feel.
"I buy eye candy, things that aren't carried by a lot of other people," she offers.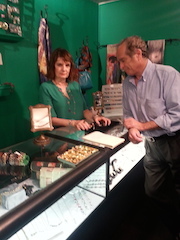 3. Thirdly, you have to know your audience.
She is mindful that Princetonians have "conservative tastes," so while you will find plenty of whimsy at her store, you won't find many flashy items.
Hannah! opened just this past March, after a seemingly endless winter. But Hannah herself has been a fixture in Princeton retailing for more than 20 years. She comes from a long line of retailers, who were in the mercantile business in Germany and then the hardware business on Long Island.
Her Princeton experience includes owning Toys...the Store on Palmer Square from 1992 until 1999, and stints working at Sweet Kendall, Nits and Pieces, Dandelion and Kitchen Capers. Odds are if you've lived in Princeton, you've seen Hannah.
Most recently, she ran the popular gift shop at McCarter Theater (and another at the Berlind Theater, part of McCarter) where she oversaw more than $2 million in sales from 2000 until the stores closed in June 2013. She had been approached to run the McCarter store to sell items during intermissions and found that she was selling out quickly and that people were asking for more merchandise.

All those years of retailing in a town with intelligent customers has honed her customer-friendly skills. Therefore, number four:
Bend over backwards for customers, whenever you can.
Hannah once greeted a customer returning an item--one with nail polish remover stains on it. The customer insisted the item had come that way--it hadn't--so Hannah gave the customer store credit, understanding it was better to have a satisfied client who might come back than haggle over it.
Catering to customers is all the more important by the fact that there just are not that many people shopping in the area. Hannah! gets an average of ten to fifteen people in each week.
While Chambers Street is undeniably lovely and charming, it has, she says, one percent of the foot traffic of nearby Palmer Square, and Chambers doesn't have an anchor store that brings people in.
Does she get lonely? "Yes, but I have a lot of work to do."
And Hannah seems to enjoy her work, and loves the interaction with customers.
"I don't want to be selling people," she says. "I want people to buy from me."
Special thanks to Joe Seldner for his help on this article.