Kim Kaupe left a career in publishing to launch a media startup with her colleague Brittany Hodak. The two recognized a need to give fans more--and they got it right with their unique product, the ZinePak. Today, their company has won praise from Forbes and the Wall Street Journal, and both entrepreneurs have found themselves on more than a few under-30 and under-40 lists (see here and here).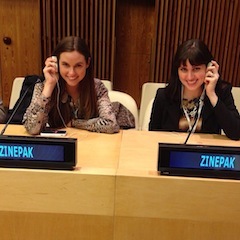 Kim and Brittany at the Empact Showcase (source)
One key to entrepreneurship is and always has been disruption. In any market, the potential for a disruptive business is tantamount to guaranteed success. Like Napster--and later iTunes, Spotify and even YouTube--famously disrupted the music recording business, aspiring entrepreneurs everywhere are looking for their opportunity to innovate. But what about after that moment of disruption? What does the young entrepreneur do to enter the market?
Well, Kim Kaupe has a few answers. She knows from experience how important it is to create and share your story with your customers and investors, while boosting your company's credibility with cold, hard numbers.
I met Kim in November at the Empact100 showcase, where ZinePak, which Brittany Hodak and Kim Kaupe founded in 2011, was nominated. Kim had just come off of a big month -- they had released ZinePaks for Mary J. Blige, Katy Perry, and even Duck Dynasty -- one after the other in the lead up to the holidays.
Their startup, ZinePak, borrows from both Brittany and Kim's expertise and backgrounds -- in music and publishing, respectively. They looked for a way to pack in merchandise for the super fans -- something affordable for those fans who wanted more. Kim told me:
It's one thing to have a great idea, it's another thing to have a great idea that solves a problem.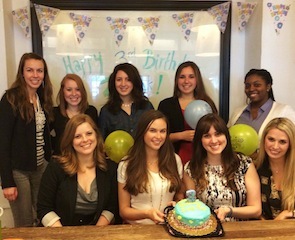 The ZinePak staff on the company's 3rd birthday (source)
Steve Mariotti: What are some of the struggles you've dealt with as an entrepreneur?
Kim Kaupe: It can be a struggle when you're so young. Not only are we women, but we look younger than our counterparts. We struggled to be taken seriously, and to combat that. But from that experience, I learned an important lesson: at the end of the day, nobody can argue with numbers and nobody can argue with facts.
Even if you're a 15 year-old purple alien, if you have $10 million in sales, it doesn't matter who you are, where you come from. . . At the end of the day, we're capitalists, and people want to see numbers.
You really only have one chance to meet with the bigwigs: your jobs is to show them the numbers and draw them in immediately. You can make them stay ten extra minutes and push their next meeting back. You can even make them give you the full half hour. When you lead with your numbers and follow your passion, it gives you instant credibility.
The ZinePak app
SM: How do you capture people's attention from the beginning? How did you get those meetings?
KK: Basically, you need to educate people on your business with cold hard​ numbers and show them what you can do, upfront, from the start. The first email that you send out should capture that. Even if you don't have a million-dollar business, you can wow them other numbers, like your online followers or number of reoccurring clients.
Even if it's not $20 million in sales, your partnerships give you some legitimacy. For example, we had Walmart ​become a partner early on. Before we had Justin Bieber and Katy Perry, we could say hey, Walmart believed in us.
SM: Well capturing the attention of the world's largest retailer is serious business! What advice do you have for young entrepreneurs trying to communicate their business potential to investors and others?
KK: First, you need to figure out exactly what it is that you have. Second, you need to show them why it matters. After that, in everything that follows, you need to keep in mind why you started.
Just like with other startups--for example, Tom's Shoes or Warby Parker--there's always a story. Ours was basically an underdog story. We were two females who were sick of not being heard and sick of having great ideas and not being able to execute them. Its really important for young entrepreneurs to figure out what their story is.
Most of these stories come from a need. For example, Mark Zuckerberg created Facebook because he wanted to know who was sitting next to him in class.
Keeping this story in your business is another thing that is super helpful.
​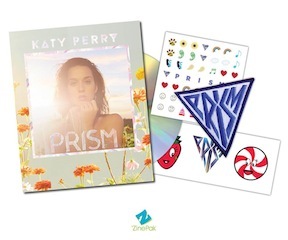 The Katy Perry Prism ZinePak
SM: You've talked about the power of disruption in entrepreneurship. What do you do to make sure you a disrupting the market in the right way?
KK: Live by this maxim: Ask for forgiveness instead of asking for permission. We just do things, cross our fingers and hope we don't get in trouble. If we do, we apologize profusely. In today's day and age, you have to in order to disrupt your industry.
Take Uber, for example. It is actually illegal in a ton of cities--a lot of people don't know that. But Uber works despite that because they know these laws are antiquated.
Technically speaking, it's illegal to use Uber but there sure are a ton of people who want to use it. They launched, they saw the numbers, they were in contempt of court in Miami.
If you're not willing to disrupt a space, it's never going to get done. You cannot wait for somebody to give you permission. You can do it in small ways, and you can do it in big ways. Do first, then hope everyone will be ok with it.

Kim Kaupe
SM: What else is important for young entrepreneurs to keep in mind?
KK: Find organizations with like-minded people. For us, as young entrepreneurs,​ it was an organization called Count Me In, which is specifically for women and companies that are under $1 million. We were two girls, and our revenue was at $600k--not quite $1 million. Some of the organizations--outside of local meetups, which are also key--I would recommend include:
Empact
The YEC--Young Entrepreneurship Council
Count Me In--for women only
These are all ways for entrepreneurs to learn from other people.
For Brittany and I, ​it ​was best and worst thing we've ever done. When we joined, it was amazing. At the same time, I would say it was one of the worst things because, the minute we finally got that point, were thought ' ​Why did we wait so long?! We should have done ​this​ earlier!'
SM: Do you think there is value in participating in a community of entrepreneurs?
KK: Of course. People get Superman complex, thinking they'll solve all the problems by themselves. Usually, you're not solving problems that haven't already been solved by Richard Branson or Mark Zuckerberg--or even that entrepreneur down the street.
I can't overstate the importance of meeting with other entrepreneurs and even those outside of your immediate industry. I go out once or twice a week with people I used to work with in the publishing industry. For instance, my friend who works for Vanity Fair helps with publishing questions even though she's not an entrepreneur. People who are well versed in your industry can be incredibly helpful.
Sometimes, there is this sense of I'm not going to ask for help because it is a sign of weakness. But, you have to remember, asking for help, looking for support, shows strength. And to get the support you need, you have to get involved with other people who can help you!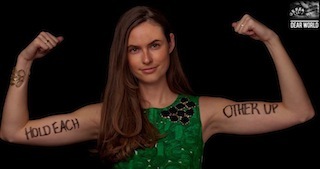 Kim for Empact (source)
WHAT Kim and Brittany are accomplishing with their startup is phenomenal. ZinePak provides something for those fans who may not have the money to buy more, but want t0 follow their favorite stars nonetheless. Kim wants to elevate the fan experience, and it looks like she and Brittany are doing a bang up job!
ZinePak has​ ​accounted for $25 million in consumer sales at Walmart in the past 3 years--quickly evolving from an idea into a multi-million dollar company with
​ten full-time employees and two-dozen freelancers.
Special thanks to Lauren Bailey and Maya Horgan for assistance on this article.