Stop, in the name of love. Stop, in the name of entrepreneurship.
In the late '50s, Berry Gordy founded Motown Records and discovered Diana Ross, the lead singer for The Supremes. Little did I know, that 30 years later after she had sold millions of her albums, this legendary artist would reinvent herself and become a very successful entrepreneur.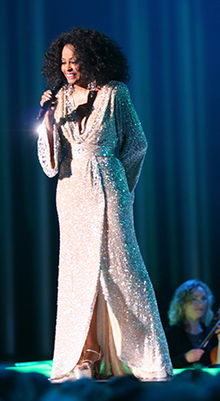 Diana Ross is one of the great entrepreneurs and artists of our time. She's had 28 number-one records and 70 best-selling singles. She has sold hundreds of millions of dollars of her art and has inspired the world to love her. I wanted to meet her for years -- she's from Detroit, near my hometown of Flint, Michigan -- and I finally convinced my friend, the Wall Street entrepreneur Bill Donaldson, to introduce me.
The ask was simple: We wanted her to be NFTE's honoree of the year and to recognize her contribution, both as an artist and as an entrepreneur. Our appointment was scheduled for three o'clock one October afternoon in 1998 and we were to meet at her penthouse at the Sherry-Netherland Hotel. Camy Calve, a top New York event planner, accompanied me, and we arrived early.
Excited and my heart racing, Camy helped to calm me down and mentally prepare to meet this legend. The doorman let us in, we entered her apartment, and a secretary walked me to this large, beautiful sofa. I was struck by the apartment's beauty and design; Ms. Ross's taste was impeccable.
Almost immediately, in came one of the most beautiful women I have ever seen -- Diana had entered the room. With perfect posture, hair flowing, and radiant, clear skin, our eyes met. Ever charming, she said, "So nice to meet you. I'm so sorry, I only have five minutes." I followed and, without hesitation, took her hand. "I have a lifetime," I said. She laughed, now totally at ease. I paid her a sincere compliment, saying, "You are a truly brilliant artist." She laughed with joy, excusing herself, "Well, my voice has changed a bit." I said, "I'm talking about your gift as an actress. Your scene with Richard Pryor in Lady Sings the Blues, where he is being beaten to death, is one of the greatest performances ever in cinema." Touched, her eyes watered. She looked at her assistant over her shoulder and said, "Cancel my next appointment. I want to talk to Steve."
During our three hours together, we talked at length about her early career, and how she'd been neighbors, in Detroit, with Smokey Robinson and had attended a school I knew well, Cass Technical High School, known locally as "Cass-Tech." She first met Berry Gordy at eight years old and was delighted to learn that I'd spent a whole day touring Detroit's Motown museum, now composed of the four houses where she and Berry Gordy had started Motown Records. Two of the houses had served as sleeping quarters, one for recording, and the last for practicing. Each house was tiny, meant for one family.
I barely moved, barely breathed, as her narrative progressed, and trusting me, she entered a kind of a flow state. She told me how she and Berry Gordy had planned to change the world through their music. She told me about her first group, The Primettes, and how she was their hair stylist, make up person, and costume designer. The Primettes won a contest in Canada and when they came back, Berry Gordy signed her on to his label. This was January 15, 1961 and the group's first two years were terrible and they could barely get gigs. And then, in 1963, they had the breakout record "When the Lovelight Starts Shining Through His Eyes." It went to twenty-three on Billboard's Top 100 and, from 1964 to 1970, they dominated the charts. She described how she went solo, still with Berry Gordy, for the next 11 years. Her 1981 deal, for $28 million, was the largest contract at that time.
But I was more intrigued by her acting career. We talked at length about Lady Sings the Blues and how Diana had researched the part based on Billie Holiday's career. I knew the dialogue from Mahogany, a movie that won the César Award, France's equivalent of the Oscar, and that I think is just brilliant. We even play-acted a scene.
Three hours later, our time was up, but our mission was accomplished -- Diana Ross would be our honoree. On the way out, she gave me a copy of her album, The Boss, and signed the cover -- "To NFTE, be your own boss -- always Diana Ross." As I left, I paused and turned to ask her a final question, "What are the most important lessons that I can teach young entrepreneurs?" She responded, "Find out what you're good at. Get your team right. And, never give up." Those are good lessons for anyone.