Part V: From Chicago to Pittsburgh, from Ohio to Kansas.
We're almost there -- October 3rd, when 39 students representing 35 businesses from around the country will contend for top honors and for the chance to win over $25,000 in cash and prizes from Mastercard to help bring their business ideas to life or advance their education. The evening will also feature an appearance by all-star entrepreneur Sean "Diddy" Combs.
Today I will share information about the final cohort of students coming to NYC this week -- those from Chicago, Ohio, Pittsburgh, and Kansas. They're bringing some brilliant ideas and great business plans, and I wish them all the best of luck!
Destiny and Angel, 17 (Chicago, IL) created DNA Puppets, a customizable puppet show focused on delivering positive messaging, themes and lessons for kids of all ages, by taking their church's puppet ministry to turn into a business. Angel and Destiny had both already learned how to be puppeteers and through NFTE they learned they could make money and do what they love at the same time. Both plan to attend college and obtain a Business degree.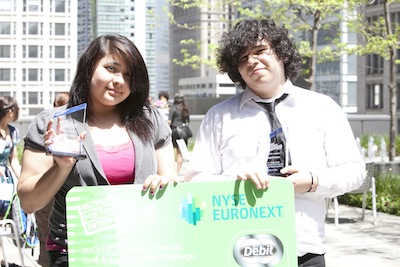 Destiny and Angel, owners of DNA Puppets.
Total Carpentry Design is a customized furniture business that designs and builds quality furniture and small wooden structures to the customer's exact specifications. Gustavo's, 19 (Garden City, KS) business revolves around the customer and making sure that their product is exactly to their liking. Gustavo says that that thinking like an entrepreneur helps him to always be ready for the unexpected. Gustavo will be attending the University of Oregon in the fall where he will be double majoring in Architecture and Spanish.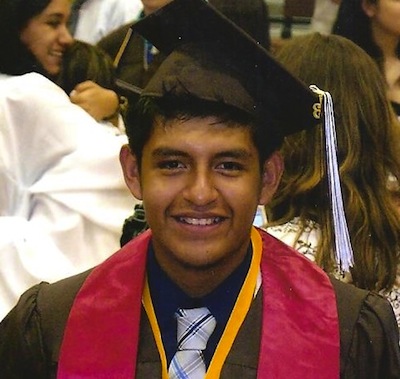 Gustavo, owner of Total Carpentry Design.

T&J Soccer is a manufacturing/retail business that sells soccer socks with pockets sewn into them for inserts that protect players' shins during soccer games. Jesus and Toheeb, 17 (South Holland, IL) have found that thinking like entrepreneurs has helped them by strengthening their problem solving and critical thinking skills. Toheeb will attend the University of Illinois at Urbana Champaign this fall and will major in business administration. Jesus is number one in his class and plans to major in Computer Science when he attends college.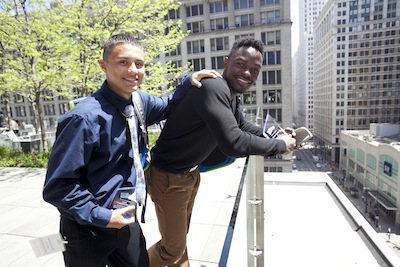 Jesus and Toheeb, owners of T&J Soccer.
Using her personal hobby and creativity as her inspiration, Miranda, 17 (Topeka, KS) has created LOL Knitting, providing customized knit wear for personal and online sales. Miranda says that she would like to see her business help put the spotlight back on handmade products. She recently decided to further her education in the fall and will be paying for it entirely on her own.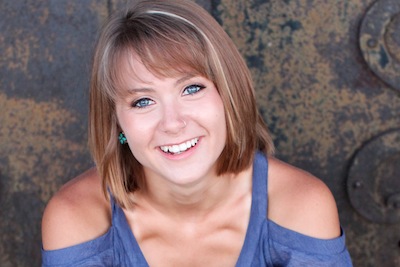 Miranda, owner of LOL Knitting.

Vanesa, 17 (Painesville, OH) started Piñata Time, a company that sells handmade piñata kits, to create cultural awareness and acceptance in the community. The goal is to show that learning about different cultures and customs can be enjoyable and educational. Each Piñata Time kit includes an educational lesson and an exclusive link to an instructional video. Vanesa says the most important thing she learned from taking NFTE is that if you want to reach your dreams and make them a reality, then you need to get out there and hunt down every opportunity that can lead you to success.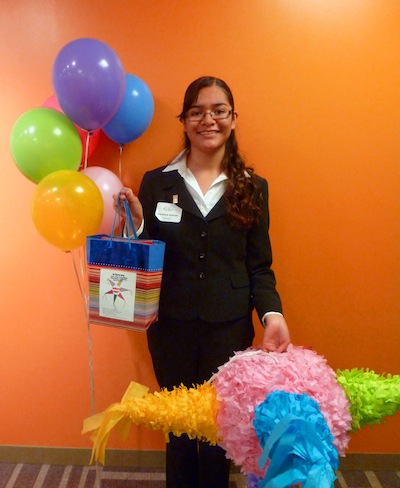 Vanesa, owner of Piñata Time.

Tiara, 17 (Florissant, MO) invented the idea of Quik Squeeze, a water bottle that easily and quickly mixes natural flavoring into water on the go, when she thought about how convenient it would be to be able to create a flavored beverage without any of the mess that powdered packets generate. Tiara plans to give back by donating money to organizations and countries to help build water irrigation systems in towns and villages that do not have access to clean water. Tiara plans to attend college after she graduates next spring.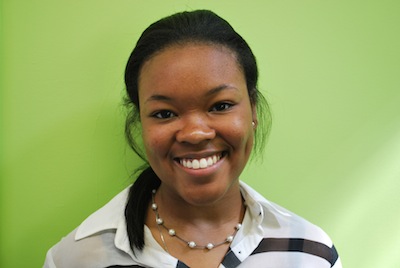 Tiara, owner of Quik Squeeze.
Julianna, 18 (Cleveland, OH) is the owner of My Loving Sitter, offering in-home pet sitting services to those traveling for vacation or work. She says kennels are not an ideal option to the pet parent, and knows how important it is for her customers that their pets are carefully tended when they are away. She chose this business due in part to her love for animals, and plans to study Veterinary Technology at Cuyahoga Community College.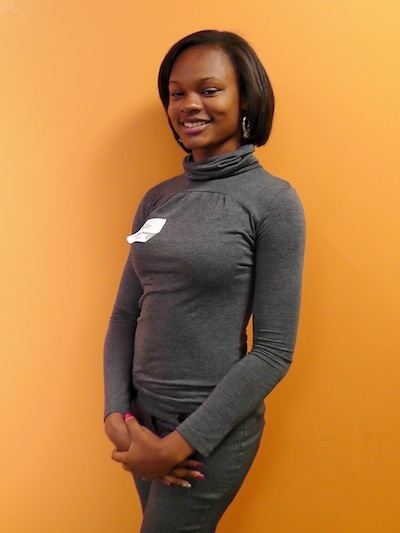 Julianna, owner of My Loving Sitter.
With Cool Aid Crutch Wear, Aliyah, 17 (Florissant, MO) has created a product line of custom designed crutch accessories that provide healing patients with style and confidence. She was inspired by an injury of her own, during which time she had to go through four surgeries and felt like she did not fit in. She loves that her fashions can bring joy to her community and let people heal in style. Aliyah participated in NFTE through the St. Louis Science Center's Y.E.S. (Youth Exploring Science) Program, and she intends to provide them with a portion of her proceeds. After graduation, she would like to attend college with a major in Biology/Pre-Med and a minor in Business, because she would like to become an Anesthesiologist while running her business.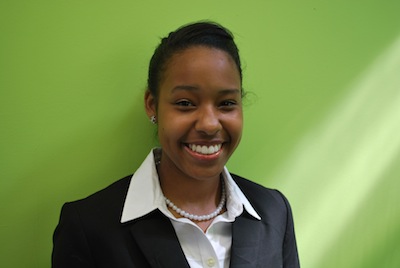 Aliyah, owner of Cool Aid Crutch Wear.

Meg's Photo Booth is a business that prints original photographs on canvas, creating photographic art for a wide range of clients. This year, to help her community, Megan, 17 (Moon Township, PA) will be working with the local Animal Friends shelter to provide them with a wall collage of photos of all the animals in the shelter at no cost to them. She is planning to attend college with a major in Graphic Design and a minor in Media/Communications.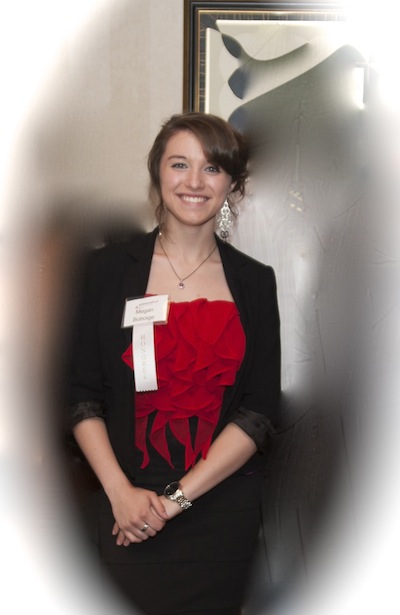 Megan, owner of Meg's Photo Booth.
Taja, 18 (Aliquippa, PA) combined her love for photography with the business skills she has learned and created Acute Angles. Acute Angles is a photography company that produces customizable key chains, framed photos, picture magnets, postcards and artistic photos. Taja donates a percentage of her proceeds to the AJ Foundation which helps children with autism. NFTE has helped her to become and think like a leader and also to tap into her creative abilities even more. Taja plans on attending college.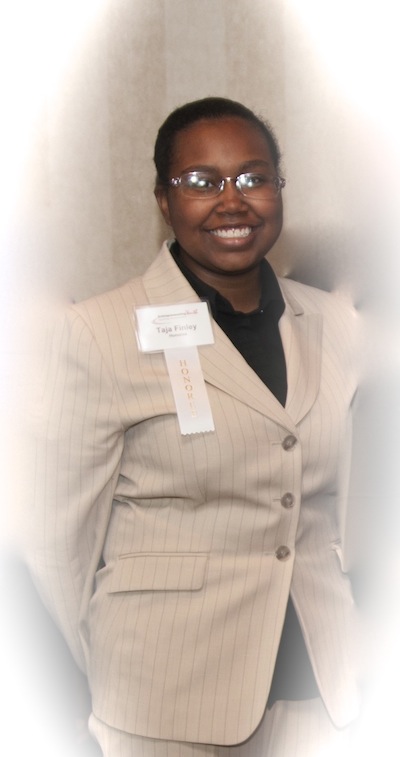 Taja, owner of Acute Angels.