Dr. Lisa Williams was the first female professor to receive a multi-million-dollar endowed chair, the first African-American female professor to earn tenure at Penn State University, and the first African-American to receive a doctorate in Logistics from Ohio State University.
But those hard-earned accolades were only the beginning. Now Lisa is revolutionizing the toy industry through her successful start-up, World of EPI. Lisa is committed to uplifting children by creating toys that positively influence the way that girls perceive beauty and themselves.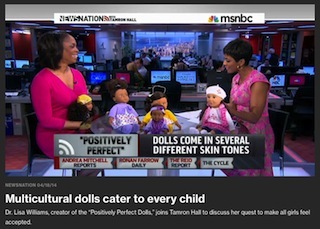 Dr. Lisa in-studio of News Nation with Tamron Hall (April 18, 2014)
I am humbled and so very proud that the dolls have made a huge impact in the lives all little girls of color.
--Dr. Lisa
It is so difficult for girls to find strong role models as children, and it's even harder to find toys that portray more than just one type of beauty. Just watch this speech from Oscar winner Lupita Nyong'o, talking about what it's like to hate your black skin and wonder how it could ever be beautiful. And listen to Dr. Lisa speak so eloquently on this subject here.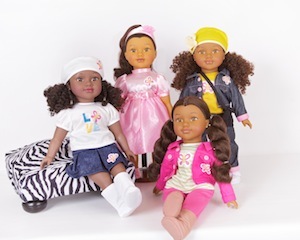 Some of the dolls created by this wonderful company
This is no secret since the fashion industry has recently come back under fire for its slow decrease in using black models on the runway.
And while toy production is a multi-billion-dollar business, there are still questions all around about how much this industry is meeting demand. That's where Dr. Lisa and her company Positively Perfect, comes in. She is not only growing a business with exponential potential, but she is working hard to help little girls see new standards of beauty in the toys they play with.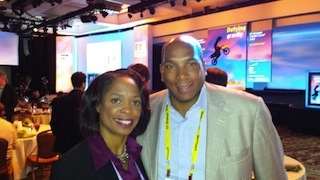 Dr. Lisa with the President and CEO of Black Enterprise at the EY event, where we met last year.
Steve Mariotti: Since we last spoke, how has the World of EPI and Positively Perfect grown? Are you still selling at Walmart?
Lisa Williams: The dolls can still be found nationwide at Walmart Stores, as well as on Walmart.com We are thrilled with the loving response from parents and people who continue to find the Positively Perfect collection and make them a part of their family.
Since we spoke last, we've increased the number of skin tones in our collection, which currently range from creamy vanilla to deep rich chocolate. Now even more girls can see their own skin tones in the collection. We also have new Positively Perfect fashions and accessories offered on www.PositivelyPerfectDolls.com.
We are extremely excited about our new Latina Divah Collection that rolled out in March 2014.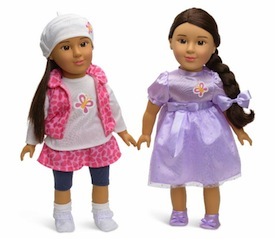 The Latina Divah Collection
SM: What prompted you to create The Latina Divah Collection?
LW: Girls of color have many challenges because they truly don't know or even recognize their own beauty. Like the original doll study in the 1940s, the recent 2010 study showed African American children still believe they are unattractive and aren't smart.
Hearing one beautiful chocolate skinned little girl say a doll's brown skin color was "nasty" like hers broke my heart. I literally cried when I heard her. She was the inspiration for the Positively Perfect African American doll line.
Likewise, I learned from Latina moms that Latina girls have similar issues with self-esteem. A new academic study conducted by Oregon State University-Cascades and Elizabeth Daniels an assistant professor of psychology reveals, "a strong sense of ethnic identity can help Latina girls feel positive about their body and appearance." Daniels tells us, "We're in a perfect storm of dissatisfaction . . . this is a serious problem among girls, and our media environment and consumer culture has been making it worse for some time." In the research conducted by Daniels, scientists found that a stronger sense of ethnic identity helped some girls feel more positive about themselves. To put this into context, as of July 2012, Latinos constitute 17 percent of the U.S. population, which equals 53 million people.
With the same passion, I knew we needed to create beautifully authentic Latina dolls. Working together with Latina moms, we were driven by our hearts to give beautiful Latina girls dolls that represent their beauty and intelligence. Each doll has custom blended skin tones and hairstyles typically worn by little Latina girls. We particularly worked hard to make sure the facial features reflect the gorgeous eyes, nose and mouths of little Latina girls.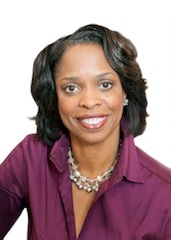 Dr. Lisa Williams
SM: What are some of the challenges you encountered with the Latina collection?
LW: Teaming up with Latina mothers to capture the true essence of Latina girls was essential. Those intricate details are so important--just as it was in the case of creating the Positively Perfect African American collection. I made it a priority to embody the uniquely beautiful features and create custom blended skin tones of Latina girls. I wanted to launch a line that helps Latino parents show their daughters how intelligent and special they are.
SM: What's next for Positively Perfect? Are there plans to created other ethnic collections such as an Asian line? Positively Perfect Merchandise?
LW: Wow, that's a loaded question because my mind is always on overdrive thinking how to bring joy to little girls lives and what the next rollout should be. Yes, we'd love to create dolls that represent the beauty in Asian and other cultures.
We are also exploring investment opportunities to expand into animation. So, look forward to seeing Positively Perfect dolls on the big and small screen. As I mentioned earlier, we're increasing our present collections and adding a fashion line that is now only available on our website www.PositivelyPerfectDolls.com.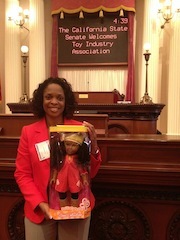 Dr. Lisa on the floor of the California State Capital with a Positively Perfect doll (photo source)
SM: What distinguishes Positively Perfect/World of EPI from other manufacturing and design firms?
LW: EPI was created with the mission of providing children access to dolls that encourage dreams, promote intelligence, challenge perceptions, and open their hearts to all types of beauty. Our hearts guide us to create beautifully authentic products for multicultural children. We like to view ourselves as partners with parents and global communities by providing tools to help lift self-esteem and reveal the intelligence of children of color.
Thus, we go beyond the norm in creating and developing our dolls. For instance, the one thing that I learned early on in manufacturing dolls was that there are standard doll heads and skin color. I was determined to go against the norm and create unique and authentic faces. The doll face is truly a work of art--a sculpture. That's why they are called sculpts. It was my deepest desire to create sculpts that really show multicultural children how gorgeous they are. I created custom blended skin colors, which had rich undertones that reflect the richness of multicultural skin tones. We were meticulous because I want girls to see their beauty every time they play with their Positively Perfect dolls. I can't tell you the initial resistance I received because the expectation was that I pick from what was currently available instead of creating something truly heart based and new. I had to stand strong and work with manufactures that saw my vision and could deliver.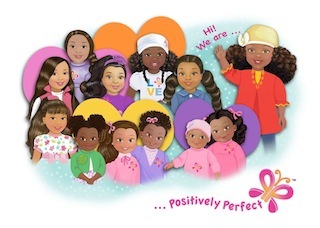 SM: What impact do you hope of leaving after all is said and done?
LW: I want to be a positive change agent for young women and children. I hope to help create a world where children know their true beauty and intelligence. Whether I'm serving on boards, creating dolls, speaking to audiences or partnering with other organizations I want to uplift children and young women. As a young woman, I didn't see my beauty. I didn't recognize my intelligence. So, I know how hard and painful it is to live in a world where you feel "less than". I want to be a part of the change were children and young woman of color know their value and truly love themselves.
Special thanks to Lauren Bailey for her assistance on this article.