Down in Princeton, there is a shop that holds a true gem--the only Einstein museum in America.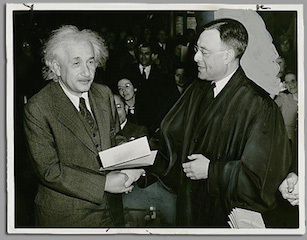 Einstein at his citizenship ceremony in Trenton in 1940 (source)
Landau was founded in Jersey City in 1914 before moving to Brooklyn to make way for the building of the Holland Tunnel. Later the family moved their business again to Princeton, where it stands today. Back in New York, the union workers were crippling the owner's profits so he moved to Princeton, where a family member had an Army-Navy store. Landau's success today is owed to its forte: selling things you can't buy any place else--everything from imported Austrian coats to souvenirs.
As part of carrying unique products, they have always been involved in the community. So why is the museum located within the walls of Landau? No one else wanted it apparently, and I dont know why.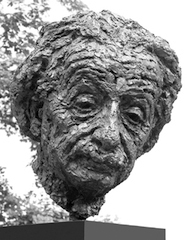 The bust (source)
Albert Einstein lived in Princeton starting in 1933, as he studied at Princeton University and the Institute for Advanced Study. At 112 Mercer Street, the European refugee found his new home until he died in 1955. Beloved by the town, in the early 1990s, the community started to talk about commemorating the e=mc2 genius. In 2004, the Robert Berks Foundation donated a beautiful homage to Einstein, sculpted by Robert Berks. Today the bust can be found in the Robert Berks Foundation sculpture garden south of Borough Hall.
But the museum's story starts a bit earlier, when Hollywood came to Princeton, to film IQ with Meg Ryan, Tim Robbins, and Walter Matthau. Landau's owners asked customers and the community to look for their favorite treasures to support the crew in recreating Einstein's world. They never expected to get the response they did! Objects poured in--photographs, memorabilia, letters, a sterling silver desk set from Einstein's desk. A compass. A pipe. A wax statue that Einstein's daughter had made.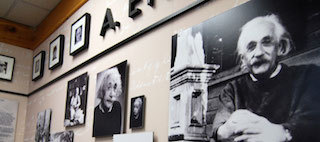 Einstein's photos on the walls of the Princeton Museum (source)
Today, only a few of those objects remain in the museum because of their incredible insurance value. But, with the help of a generous Princeton alum based in Michigan, the town of Princeton and Landau's proprietors were able to build an impressive permanent exhibit on Einstein's life and work, with a particular focus on his time in Princeton. This is actually just one of two museums in the US, the other is private in the generous alum's garage!
As it turns out, people come to Princeton from all over the world to see this museum. Apparently, the museum is listed in a German tour guide and thus attracts plenty of visitors that way. Once, an academic from India came to spend eight hours in the corner, studying Einstein's life and genius. Everyday, the owners receive emails from students around the US, trying to get to know Einstein a little better for their book reports and class presentations.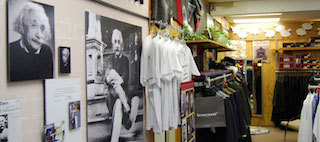 Einstein meets merchandise at the Museum at Landau (source
By the time Einstein moved to Princeton, he was already a star in the US. The public was fascinated with the man who has popularized information about the universe and mysterious "other dimensions." After all, Einstein's fame had started in 1922 when they announced the Nobel Prize for the first of his lyrical year papers, which served as the foundation for Quantum Physics and I wrote about recently here. Funnily enough: Einstein had promised his prize money to his first wife, who he left in Switzerland before the First World War--and he gave her the full award.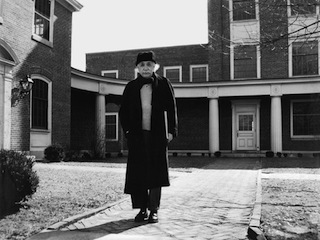 Einstein in Princeton (source)
Einstein's genius permeates this wonderful town. One of Landau's owners told me a story about the plumber that worked for Einstein at his house on Mercer Street. The plumber was called to repair the ball in the toilet. Six months later he was called back for the same thing even though those typically last for 10 years.
The plumber asked whether it was working after he fixed it.
Einstein replied, 'yes,' but he was curious about something.
'Why, when you press the handle down and the water goes out, does the ball make a pause?'
Einstein wanted to know why. He had been trying to figure it out for months, and put 10 years of wear on the materials in 6 months. Like so many other experiments, his tenacity baffled most of the people around him.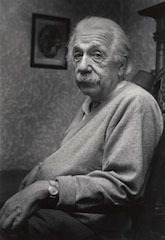 Einstein in Princeton, two years before his death (source)
Now that I call Princeton home, I can't wait to learn more about this fascinating man.
Special thanks to Lauren Bailey for her assistance on this article.