The last "car guy" is gone from Detroit.
Bob Lutz, the charismatic, fiery and egomaniacal automotive genius behind creation and development of the Chevrolet Volt extended range plug-in hybrid, due for sale in 2010, is leaving General Motors, the corporation announced yesterday. Since 2001, the 76-year old Lutz served as GM vice-chairman and product czar, answerable only to company CEO Rick Wagoner.
The announcement came not from Lutz's office, but in a press release from GM corporate, leading many to wonder if he's really retiring or was pushed-out by the company's board of directors. A noted car and fighter plane collector and pilot, Lutz turns 77 Wednesday this week, and will become a senior adviser to GM chairman Rick Wagoner on April 1, focusing on product design.
As soon as this kind of retirement announcement is made, the retiree becomes an instant lame duck and thus irrelevant. Making Lutz an adviser to Wagoner seems the American equivalent of what Japanese companies call giving outgoing top executives "an office with a window," which often gives those executives tacit control of a smaller company within the carmaker's corporation. But there's no such company-running in Lutz's future, though he'll no doubt receive a big monthly check for his "adviser" services.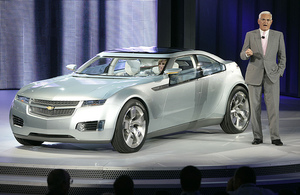 (Bob Lutz introduces the Chevrolet Volt concept to the media at the 2007 Detroit Auto Show).
Lutz will be replaced by Tom Stephens, who has been in charge of GM's global powertrain and product quality efforts. Stephens, 60, adds Lutz's product duties to his portfolio on April 1.
According to Autoweek magazine's website, Lutz was hired by Wagoner in 2001 to inject passion and style into GM's product lineup. The automaker had been widely criticized for building vehicles with bland exterior styling and interiors covered in cheap-looking plastic.
Lutz arrived and questioned everything about GM - its products, its hierarchy and its product development strategy. Ultimately, Lutz lost his battles within GM. The same mid-level and senior management remains at the corporation as he leaves.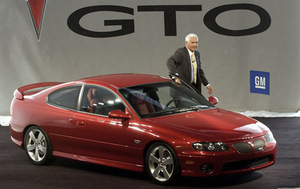 (Lutz thought it was a good idea to take a car built by GM's Australian division, Holden, put the steering wheel on the left side and sell it in the US as the "new" Pontiac GTO, starting around 2002. The car was stillborn, a victim of bland design and little connection, style-wise, to the original 1964 GTO).
Lutz's first shot in turning GM's product lineup around was the surprise introduction of the Pontiac Solstice roadster at the 2002 Detroit Auto Show. Lutz had ordered the concept built soon after joining GM - and the concept went from initial sketch to drivable vehicle in less than four months. Solstice, also sold as the Saturn Sky are they're two of the best small sports cars we've ever driven, especially their sport-tuned turbocharged models which produce some 260 horsepower with moderately-good gas mileage for about $30,000.
Other landmark vehicles during Lutz's tenure include: the Cadillac Sixteen concept, which attracted huge media attention worldwide, the revival of the Pontiac GTO and G8, both sales failures which were Americanized-versions of Corvette drivetrain- equipped cars built in Australia by GM's division there, Holden, and the Chevrolet Malibu hybrid. Cadillac's CTS and 500-horsepower CTS-V were also Lutz-inspired creations.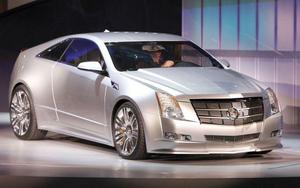 (A concept car at the 2008 Detroit Auto Show, this one a coupe, two-door version of Cadillac's CTS; Lutz most-loved these traditional American-style car projects).
Lutz, who was born in Switzerland, had a career with stops at Ford, BMW, where he was involved in the creation of the BMW 3-series, and Chrysler, where he gave approval for the Dodge Viper supercar and the Plymouth Prowler faux hot rod. He left Chrysler after retiring Chairman Lee Iacocca picked then-GM executive Bob Eaton for the top job and he then headed-up battery-maker Exide until getting the call from GM.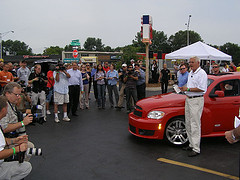 (Lutz the car guy talking-up the Chevy HHR small truck with a group of auto journalists).
With his leaving GM, the future of the Volt becomes even more questionable to appear as a real car for sale in dealerships. Lutz was the Volt's "rabbi," bringing it from an idea to a car which may soon be ready for production. The question: does a Lutz-less GM have the will, and the money, to produce the Volt?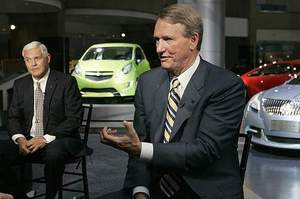 (Lutz, left, and GM CEO Rick Wagoner).
The Volt, if and when it makes it to market, will sell for at least $40,000. Any car company can build a great $40,000 car, hybrid or not; but where are the $25,000 hybrids from Detroit? Even the new Ford Fusion hybrid will list for almost $30,000.
In typical Lutz fashion, instead of exhibiting a moderately-priced hybrid at the recent Detroit Auto Show, the company displayed a high-milage concept from Cadillac called Converj, a car which has about as much of a chance of going into production as I do of building the world's best car in my basement. His old-styles of automotive overkill, bombast and pomposity might have finally sealed Lutz's fate at the second-biggest carmaker in the world.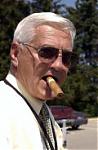 (Lutz in a top US car exec's natural habitat; sucking on a classic Detroit-size heater).
Lutz , the first major car company executive to call for increased gas taxes, thus becomes the last of the real car guys to leave a US carmaker; bean-counters like Rick Wagoner and Chrysler's Bob Nardelli now have almost total control in Detroit. Lutz's genius, ego and charisma served him well personally, but his tenure at GM, though it had some high points, will also be remembered as his being the right man at the wrong time in a struggling company and economy. Bon voyage, Bob. Journalists, especially, will miss you, because you were always there with a pithy quote and, sometimes, a hell of a concept car for GM's future.
Next planned post: motor racing, the 2009 season.
-30-