Danica Patrick, the most popular driver in IndyCar, will drive in a limited number of NASCAR Nationwide Series events in 2010 for JR Motorsports, a team co-owned by Dale Earnhardt Jr. (most popular driver in NASCAR) and Rick Hendrick. She'll continue in IndyCar for that series' full schedule.
The Nationwide series is just one step below NASCAR's crown jewel, the Sprint Cup. Many Sprint Cup drivers regularly compete in Nationwide. As a stepping stone to her Nationwide races, Patrick will make her NASCAR start by driving in a race Feb. 6 in the second-tier ARCA stock-car series at Daytona International Speedway in Florida.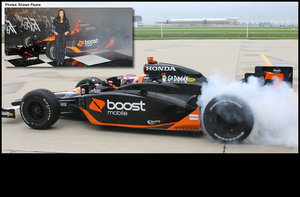 Patrick has been an IndyCar phenomenon
Patrick, the only woman to ever win an IndyCar race, had been rumored to be interested in a NASCAR drive, too, but said there would be no announcement until her IndyCar deal was finalized. There were rumors that Patrick was dissatisfied driving for Andretti/Green racing in IndyCar, and the team suffered greatly last season with a lack of parts and was usually not in contention for the win.
The IndyCar deal was signed a few days ago, and she's re-upped with a reformed Andretti team, now called Andretti Autosport.
Immediately after Patrick re-signed with Andretti, it was made public that Patrick had been talking with Earnhardt and Hendrick for quite some time.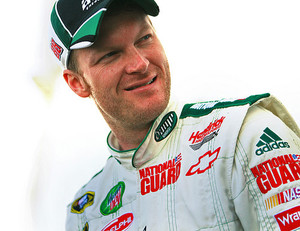 Dale Jr. has been voted NASCAR's Most Popular Driver the past seven years in a row
In addition to Earnhardt, Hendrick fields the Chevrolet teams of Jimmie Johnson, Mark Martin and Jeff Gordon; it's the current powerhouse of NASCAR. Patrick will have access to the best cars, parts, crew chiefs and pit crews in the sport.
Patrick is not typical of today's drivers; she has a welcome edge to her personality. She looks good, speaks well and isn't afraid to express her emotions. She's the most successful woman ever in one of the ultimate macho sports. Also, she drives like a bank robber ...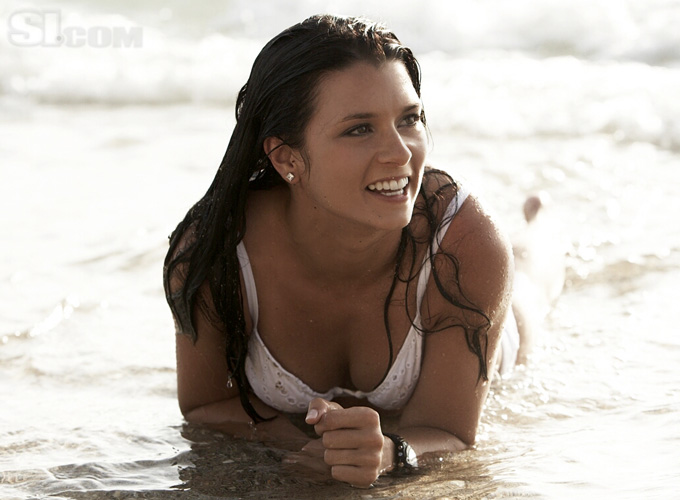 Patrick was in Sports Illustrated's swimsuit edition last year
She could be a boon to NASCAR, just when that sport's TV ratings and race attendance is dropping.
In fact, now every time Patrick's name is mentioned, both IndyCar and NASCAR will be mentioned ... she's the Golden Goose, and handled correctly, could be a tremendous asset in both race series -- not to mention continuing as an even bigger inspiration to millions of girls and women everywhere.