For its first public showings outside Japan, Nissan's all-new Leaf "pure EV" plug-in electric sedan, due on-sale worldwide as a 2012 model, will see the first light of an American day at a press-only event this Friday morning at Dodger Stadium featuring Nissan Chairman Carlos Ghosn, and later that day, in front of the public, at Pier 59 Studios, 2415 Michigan Avenue in Santa Monica.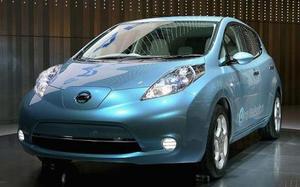 Nissan Leaf at its first public display at last molnth's Tokyo Motor Show; Los Angeles gets it next!
"Get an up-close look at the 100 percent electric Nissan LEAF", say Nissan's marketers, "and the opportunity to learn more about its industry-leading technology. Top Nissan people will be on-hand to answer questions and share Nissan's vision for Zero Emissions."
Nissan estimates the four-door EV will cost around $27,000 and achieve about 100 miles per charge. It can be charged overnight on a standard 110-volt household plug or much faster using an optional 'quickcharge' service.
The Leaf stop in LA kicks-off a nationwide tour of the car which will hit all major American cities between now and February. Production of the cars will be in Japan, the UK and in Tennessee, where Nissan's manufacturing facilities for the US are located. Those factories are already been prepared for Leaf manufacture.