Well, NASCAR, there you go again!
Last week, for the Sprint Cup Allstate Brickyard 400 at the Indianapolis Motor Speedway, the second biggest race of the season after the Daytona 500, the racers encountered tire problems for which Goodyear apparently had no answers. Right-side tires were coming apart at an alarming --- and dangerous --- rate, so NASCAR decided to throw a "competition yellow" flag every 10 to 15 laps, turning a race into a parade, decided by 10-lap's worth of what we used to call a "trophy dash" to determine the winner.
Goodyear has said since the Indy debacle that the heavier weight of the new race car used in Sprint Cup and the fact that, as we said at the time, there are more g-forces than before on the right-side tires, the company is building a "beefed-up" racing tire for next year's Brickyard 400. I'd guess they'll use this new tire at all the fastest banked oval race tracks next year, including Daytona and Talladega.
(Canadian Ron Fellows won in the Montreal Nationwide Series event --- Note the grooved tires on the car; those are rain tires, usually racing tires are slick).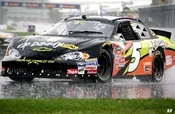 But NASCAR had another trick up their sleeves for the Nationwide Series race last Saturday at Montreal: Rain tires!
Grooved tires, or rain tires, were used two previous times in NASCAR, but never in a points-paying race. In 1999, rain tires were used during Craftsman Truck Series practice at Watkins Glen, NY and they were first used in a Sprint Cup exhibition race (in the rain) in Japan in 1997.
When a company has a monopoly, as Goodyear has with NASCAR, they might not be as quick to make improvements as they would if there were some competition. Let NASCAR call for bids from other tire-makers for next season for all three of their professional series, and have at least two tire suppliers for each series.
The Montreal event at Circuit Gilles Villeneuve, a gorgeous 2.7-mile road course on an island in the St. Lawrence River, started under dark skies. After just 7 laps, the decision was made by NASCAR to bring all of the cars onto pit road under red-flag conditions (which stops the race) to bolt on rain tires, windshield wipers, blowers and brake lights. But only about half the field had wipers, and at least one driver said he ran into the car in front of him because the brake lights on that car weren't working. Drivers used their hands, squeegees, rags and anything else handy to try and keep the inside of their windshields clear, an almost impossible task when you're also trying to race with 42 other cars.
(The so-called Car of Tomorrow is used by every Sprint Cup team on every track this year, and seen here is Dale Earnhardt, Jr's car; the big wing on the car's rear-end and the large, low front air dam are tip-offs to the new car).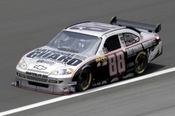 Rain tires?!? Who knew they even had rain tires for any NASCAR series? NASCAR and Goodyear apparently decided that the situation would be perfect for another tire testing session, another tire test in front of a couple of hundred thousand paying fans and millions watching on TV.
I can imagine officials at NASCAR saying, "Let's try the rain tires in a Nationwide race first; if it works out okay, maybe we'll try them in a Sprint Cup event." After Montreal, I wouldn't waste my breath waiting for rain tires in Sprint Cup, certainly not anytime soon. The rain tires made for another parade of a race with drivers clearly and understandably skittish about running in the wet, rain tires or not. How could they spring these tires (and the need for wipers, brake lights, blowers and more) on drivers and teams at apparently a moment's notice and with no prior testing?
Canadian fans were thrilled because one of their countrymen, Ron Fellows, won the race. Fellows is a world-class road racing driver who was deeply involved with the development of the C6 Corvette and its racing version, the C6R. Second was another Canadian, Patrick Carpentier, best-known to American racing fans for his CART and IndyCar careers. Marcos Ambrose took third, in just his second year in NASCAR. Road racing aces Ron Hornaday (also a Nationwide and Craftsman Truck series racer and champion) and Boris Said finished fourth and fifth, respectively.
(With tobacco sponsorship no longer allowed in motorsports in many countries, including the US, NASCAR counts on hard liquor sponsors like Jack Daniels; how this fits into NASCAR's family-friendly theme is asked by many observers of the sport).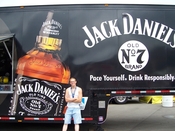 Now that NASCAR and Goodyear have made public their rain tire, when will it be used in Sprint Cup competition? At the very next rainy day which hits a Sprint event? Obviously not, as the Sprint Cup race at Pocono the next day was red-flagged due to rain, and there were no rain tires trotted out by Goodyear to fit on the Sprint cars.
Perhaps the best and fairest thing to do is throw out the results from the Sprint Cup Allstate 400 and the Nationwide NAPA Auto Parts 200 at Montreal. Call them "practice and tire development" sessions and go on from there. And give spectators their money back, or at the least a big discount on tickets for the same events next year.
There needs to be a meeting of the minds between NASCAR, Goodyear, team crew chiefs and, most importantly, the racers themselves.
Twice, in 1961 and 1969, attempts were made by some of the sport's top drivers to form an official, organized way for drivers to make their concerns known to NASCAR as an on-the-record group. You know, a union. Both times it was quashed by management, with some drivers involved in forming these groups hit with lifetime banishments from the sport (those thrown out of the sport were such popular drivers that NASCAR eventually rescinded the banishment).
(That's a Toyota V8 engine made for NASCAR; Sprint Cup cars must use engine blocks with some of the same measurements and specifications as a "stock" engine from the factory; while drivers have air conditioning and power steering, the cars still use carburetors instead of more efficient fuel injection. This past week, NASCAR mandated the use of restrictor plates on the Toyota cars in the second-tier Nationwide Series to try and control what competitors think is too much horsepower).


Almost every major sport, from the stick-and-ball ones to Formula One, has some official, recognized method for its participants to question management and make suggestions, especially on issues regarding their own safety.
But, just as NASCAR has no official rules or regulations regarding drug and alcohol use or even drug testing, a group of drivers organized to petition management has never been allowed. One Sprint Cup team has started their own drug testing, tired of waiting for NASCAR to take a stand. Much of this came to the fore with the recent revelation by a Sears Craftsman Truck racer that he shot-up heroin just before a race. Heroin! And the sport has no official drug testing policy? Ridiculous. Outrageous.

NASCAR has made some important strides in the cause of driver safety since the February, 2001 death of series icon Dale Earnhardt, but clearly that quest for safety must not be over. No one can ever be complacent about 3,000-pound cars shooting around oval tracks and road courses at speeds approaching and even well over 200-mph.
These past two races were not the kind NASCAR needs to be staging; races run as parades, with the drivers essentially taken out of the equation and at the mercy of Goodyear, is a show which no one wants to watch.