The newest presidential limousine was officially scheduled to make its debut on Inauguration Day, but it appears that it might have been used Saturday night to carry the Obama family to Blair House when their 137-mile, day-long train journey from Philadelphia ended at Union Station in Washington, DC. Call it a "dry run" for Tuesday afternoon.
I base that on my spotting what appeared to be new-tech LED taillights on the Caddy, which was parked just a few feet from the "Georgia 300" Pullman train car in which the Obamas and Bidens had ridden. Incidentally, Georgia 300 was used as a support car in 1992 by George H.W. Bush during his campaign.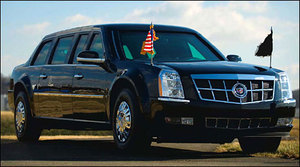 (The new Cadillac Presidential Limousine, used first by Barack Obama).
Now, thanks to Detroit News reporter David Shapardson, we now know a bit more about the new "2009 Cadillac Presidential Limousine" (official moniker) which President Barack Obama and family will ride to their new address on Tuesday afternoon.
General Motors recently delivered the new limousine to the Secret Service, replacing the 2006 model Cadillac DTS presidential limousine that President George W. Bush has used (and which will be farmed-out to other parts of the country and world as needed).
And you can bet the Secret Service has been driving the stuffing out of it from the moment they got the keys. Anyone who has been lucky enough to take evasive driving courses at facilities where the police, FBI and Secret Service train, as I have, knows there's nothing quite like the thrill of performing what's known as a "reverse 180 degree turn performed within a limited space," a high-speed maneuver in which the driver forces a vehicle to turn around in almost its own length, and get headed in another direction. Pronto.
Frankly, I never liked the look of the Bush limo. It was too massive and appeared to be a truck that had started out its life as a tank. The new limo looks more like an actual car, albeit a very big and heavy one.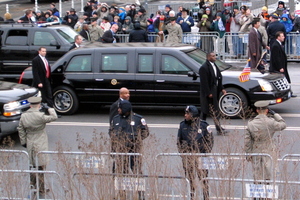 (Bush 43's limo; big and bad and Caddy DTS).
Ford supplied Lincoln limos for Reagan, Nixon and Bush 41, which I admit left a bad taste in my mouth (United Airlines was also the "official airline of the republican convention" one year, so to this day I've tried to stay away from United).
The new Caddy is the first presidential limousine not to carry a specific model name (such as Bush's DTS), said GM spokesman David Caldwell.
GM declined to say how many it was building for the government, but it's believed to be fewer than 25; the cars provide protection across the country and around the world for the president and other leaders and diplomats, and are expected to remain working and in-service for several years. Cost? No price too high.
The new limousine has larger windows and better visibility for the new president, GM's Caldwell said, adding that it is roughly the same size and "footprint" of the previous model. A footprint you don't want to be under.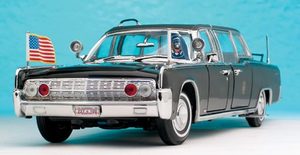 (A 1964 Lincoln presidential limo looks more like a fire engine than a car).
Spy shots of a test version of the limo (called a "mule" in car-talk) made the rounds on blogs this summer (including this one), with suggestions that it was built on GM's medium-duty truck platform and had a diesel engine. But those photos didn't have GM production panels (GM can still keep a secret when they must). Anyone viewing the Inaugural Parade in-person Tuesday will find out if the limo is diesel-powered or not; just sniff the air as it passes. Turbocharged or supercharged diesel engines would make sense for the car; the limo would be able to easily chug-along at parade speeds, and have power available if and when it's needed. Could be a clean diesel in its future.
GM's Caldwell said it would be a mistake to classify the new vehicle as a truck or a sedan.
When pressed on it, he said, "One of the specifications is that we don't talk about the specifications."
Here's a hint of what the new limo really might be from a release I got yesterday from Goodyear, which reads in part: "On the new presidential limousine, a heavily customized Cadillac DTS (mistake - this limo has no model name, as we already know), a set of Goodyear tires -- Goodyear Regional RHS -- will be occupying the four corners of the car. These are actually truck tires in a 285/70R19.5 size, necessary due to the vehicle's extra load that includes a heavy-duty chassis, extended length and armored material."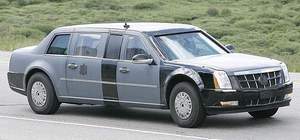 (Shots taken of the new limo during testing last summer).
Another company provides heavy armor that is reportedly at least five inches thick. The limousine has bulletproof glass and a completely sealed interior to ward off any chemical attack.
We can also surmise the car, called The Beast by its handlers, has secure satellite communications, the ability to jam local-area cell phones and sites so the phones can't be used to set-off explosives (a common problem in the Iraq War) and probably has other James Bond-ish features like exterior tear gas dispensers, a trunk-full of heavy weaponry and possibly the ability to deliver strong electric shocks to anyone touching the car's exterior.
"This is an assignment we really treasure," Caldwell of GM said. "We're honored again to be associated with the U.S. presidency."
From a marketing perspective, it's a grand slam home run. A long-time chief for one of GM's ad agencies told me that he was once in a car with a GM top executive, in New York City, when the cross-street in front of their car was suddenly closed for a presidential motorcade. After the motorcade, which contained many Cadillacs, had passed, the GM exec, my friend says, was nearly-orgasmic. "My god!" he shouted, "Did you see all those Caddies? You can't buy that kind of prestige!"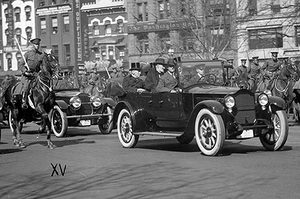 (In 1921, Warren G. Harding became the first president to be driven to and from his inauguration, using a Packard Twin-Six. Harding was also the first president to drive).
Mr. Obama's personal 2005 Chrysler 300C sedan was listed on eBay for $100,000 by someone (not Obama) this past week, but was relisted yesterday at a cool million. Don't let me keep you from bidding. The car features GPS, moonroof and a leather interior.
(Next Post - Five things President Obama must say about the American auto industry in his inaugural address).