The only way to run a successful racing series is as a benevolent dictatorship.
Never was this so obvious than in Sunday's three-hour, 28 minute and 29 second tire test run by NASCAR as the Allstate 400 at the Brickyard at the Indianapolis Motor Speedway.
Since its creation by "Big Bill" France over 50 years ago, and now overseen by his grandson, Brian France, NASCAR has been run first and foremost by and for the France family, their partners and minions. This is one place where there is never any question of who is in charge; as a publicly-traded company, International Speedway Corporation, stockholders are happy to leave the running of the organization to those who know it best. In 2007, NASCAR made a profit of just under $3 billion, and was the world's second richest motorsport, trailing only Formula One. (NASCAR's Hall of Fame is being built in North Carolina, near where most of the teams have their headquarters).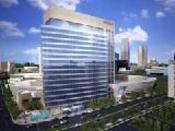 With about two-thirds of Sunday's 160-lap race on Indy's 2.5-mile track run under the yellow caution flag (where there's no passing allowed and the cars are slowed to about 80mph), spectators at the track and those at home were treated to one of the biggest disasters in American racing history.
Ex-Formula One driver Juan Pablo Montoya, traditional crowd favorite Dale Earnhardt, Jr., Matt Kenseth, Brian Vickers and this season's winningest driver so far, Kyle Busch, all experienced right-side tire blow-outs which put them out of contention for a win.
As the tire wear problem became evident, NASCAR threw the yellow flag every 10 to 15 laps, a competition yellow, they call it, so pit crews could inspect the tires on their cars to try and catch blow-outs before they happened. (Not every NASCAR fan feels good about Toyota now competing in, and often nearly dominating, all three of NASCAR's top series).



The last green flag flew with 10 laps left, leaving a race inside a race -- the race out of the pits -- to determine the winner. Defending NASCAR Sprint Cup champion Jimmie Johnson got out of the pits ahead of Carl Edwards and held on for his second Brickyard victory. Edwards was second and Denny Hamlin, who had led the race going into the final stop, finished third.
I hate it when races are decided in the pits, and never was a victory thanks to a pit stop more evident than at this race.
NASCAR handled it as they always do; quietly and with no complaints heard by the public from anyone depending on NASCAR for a living, multi-millionaire drivers and team owners included. NASCAR learned a long time ago that auto racing is just another entertainment choice among many, and only a single, dominant story, what politicos call talking points, work best with the public.
Henry Ford II once said, "Never complain, never explain," and it seems everyone at NASCAR has taken that advice to heart. (That's the infamous Junior Johnson behind the wheel of a 1950's era NASCAR racer; he was driving it last year in the UK at the annual Goodwood Festival of Speed on the grounds of the Lord of March).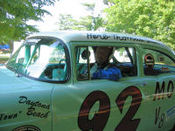 Tire-wear problems were noticed during testing and qualifying Friday and Saturday at the track. NASCAR decided to go ahead with the event in spite of those reports. So much for driver safety.
No one spoke about canceling the race and re-scheduling for a later date, which is exactly what should have happened. No one really explained why Goodyear tires meant for next week's Pocono (PA) race, a track similar to Indy, also at 2.5-miles with lightly-banked corners though in a tri-oval configuration, had been shipped to Indy, when teams had tested at Pocono but not Indy.
There was also too little discussion following the race about why the Car of Tomorrow (now the Car of Today), an all-new race car used on some tracks last year but on every track this year, had not been tested at Indy more completely prior to last Sunday's Brickyard 400, a race second only to the Daytona 500 in importance -- and, probably, revenue. (Jimmie Johnson won the "race" Sunday because his pit crew got him on the track faster than his competition).



The lack of questions and the public agreement among all parties involved about what happened and why showed, once again, one of the main reasons NASCAR has become so popular in just over a decade: A great show put on by people with single-minded determination for success. NASCAR races also offer great helpings of patriotism and christianity, as we've discussed in other posts and will do so again in the future.
The only other comparable incident in all of racing history had the same theme -- bad tires -- at the same place -- Indy.
During testing and qualifying for the June, 2005 Formula One U.S. Grand Prix, there were several obvious tire problems, including a blow-out explosion which sent Ralf Schumacher and his Toyota into the wall, seriously injuring the driver. Michelin Tires told the seven teams using their product that they couldn't guarantee the safety of their tires. (Lewis Hamilton is currently leading in the points in the Formula One series, driving for the McLaren-Mercedes team).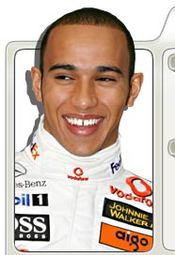 When that 2005 F1 race began on that June Sunday, there were six cars on the starting grid, all of them shorn with Bridgestone tires. Three teams, six cars. This "race" is now known worldwide as the single-biggest farce in modern F1 history. And F1 didn't reschedule that race, either.
Did NASCAR do the right thing? Should they have scheduled the race if they didn't know what might happen? Or should they have run it as they did, trying not to throw off TV schedules and fans' schedules, some of whom make the trip to Indy for this race a highlight of their year? What would you do to change or improve NASCAR? They're listening ... and I can almost guarantee you that ...