There's no greater test of cars, drivers, teams, technologies ... and race fans.
Peugeot broke Audi's five-year domination at the 24 hours of LeMans this weekend, winning the overall victory of the world's most important sports car race for the first time for the French company in 16 years.
Marc Gene, David Brabham of Britain and Alexander Wurz of Austria completed 382 laps in 24 hours, one lap more than the second-place Peugeot No. 8 driven by French trio Sebastien Bourdais, Franck Montagny and Stephane Sarrazin.
Bourdais is best-known in the US as a former Indy Racing League champion and Indy 500 competitor. He was born and raised in the small town of LeMans near the Circuit Sarthe, the track which 77 times counting this year has combined public and purpose-built roads to create the legendary super-high speed racing venue.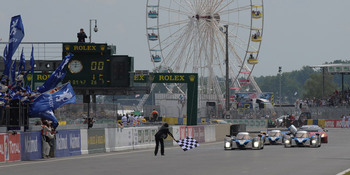 Peugeots placed 1-2 in the 2009 24 Hours of LeMans, which, along with the Indy 500 and Monaco Grand Prix, is one of the world's most popular racing events
Both the Peugeot and Audi LMP1-class cars, the fastest and most-exotic on the near-eight-mile long track, were powered by V12 turbodiesel engines producing some 600-horsepower in whisper-quiet, fuel-efficient fashion.
LeMans is closely-watched by even casual sports fans in Europe, Asia and South America, all areas where diesel-powered cars and trucks are major sellers. Over 60% of all vehicles sold in Europe have diesel engines; a diesel winning at LeMans is a terrific marketing tool for the car's manufacturer.
Indeed, because of Audi's recent LeMans wins with their TDI diesel powerplants, "clean diesel" engines are now sold in Audi and Volkswagen models in the US; similar models from Peugeot are expected in the US within five years. Unfortunately, because the ex-Detroit Three have not embraced clean diesels, mostly for economic reasons, the technology is still not well-known in this country.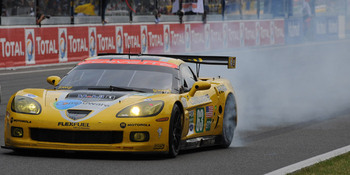 2009 was the swan song for the once-dominant C6R factory Corvette, a car greatly developed in part by Canadian road racer Ron Fellows; Johnny O'Connell did double driving stints of several hours each, due to a co-driver's overnight illness, to help bring home this #63 'Vette to its final win in class
Chevrolet won the GT1 class in the final appearance of their C6R Corvette two-car race team at LeMans, a poignant but victorious coda to years of success which saw the Chevy bowtie command the class.
There were several spectacular and frightening shunts during the event, which covered over 3,000 miles in total, but none resulted in serious injury to drivers. Several crashes were testament to, "Why we race;" demonstrating the safety of these cars which can be nearly destroyed after crashing at over 200 miles per hour yet see the driver walk away, safety advancements which will ultimately trickle-down to our own street cars and trucks.
The two winning Peugeots were challenged by Audi's No. 1 car until the 21st hour.
That Audi had to pit twice within the space of a few minutes, first by Allan McNish of Britain to change a steering wheel and then by driver Rinaldo Capello to fix an engine problem.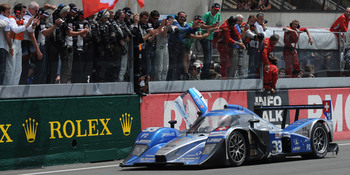 An Aston Martin-powered Lola race car shows the exotic nature of the entries in the world's most-prestigious sports car race
Defending champions McNish, Capello and Tom Kristensen of Denmark finished third, six laps behind Peugeot No. 9.
The Corvette No. 63, driven by Jan Magnussen of Denmark, Antonio Garcia of Spain and Johnny O'Connell of the United States, completed 342 laps to finish 15th overall but first in the GT1 class.
A total of 55 cars started this 77th edition of the French endurance race, but 21 failed to finish. There were nine drivers from the US in the event, which has been won in the past by Americans including Dan Gurney, AJ Foyt, Mario Andretti and Carroll Shelby.
Honorable mention: Heck of an end to the NASCAR Lifelock 400 at Michigan today. Though lots of fans showed up dressed as empty seats, leaders Jimmy Johnson and Greg Biffle put on a great show, ultimately both running out of gas on the race's final lap, allowing "The Kid," 50-year old Mark Martin, to win his third Sprint Cup event of the year in his Rick Hendrick Chevrolet. Martin started the race in 32nd place. Second-place Jeff Gordon started 43rd, dead last, and should remain in the Sprint Cup points lead; Martin should move into the top five.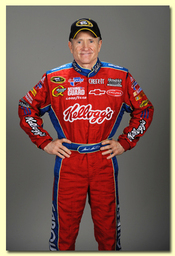 Mark Martin is the oldest regular competitor in NASCAR Sprint Cup and has a real shot at winning his first series title this year, in what was supposed to be his farewell season where he'd be driving just part-time; he got a full-time ride and continues as the best driver to never win the title -- yet.
SPEED TV provided near flag-to-flag live coverage of the event, bringing viewers the drama, excitement and flashes of humor of the race. A team anchored by SPEED's Formula One announcers including Bob Varsha and David Hobbs provided credibility, experience, history and vast knowledge to viewers. Kudos to SPEED (but not for keeping me up until 6:30am Sunday, Pacific time, as they manage to do every year).