Roger Penske is making a bid for Saturn.
The 72-year old Penske, the highly successful head of Bloomfield Hills, MI, Penske Automotive Group, which operates more than 300 franchises in the United States and internationally, selling 40 different brands, told the Paul Smith Show on WJR radio in Detroit on Tuesday morning that he's not interested in manufacturing Saturns, but in distributing them between the factories and their dealers.
General Motors' once highly-touted and progressive Saturn division is on the auction block, along with Hummer, Saab and Pontiac, the GM nameplates most-recently slated for death. A group of Saturn dealers have shown interest in buying the manufacturing end of the business from GM.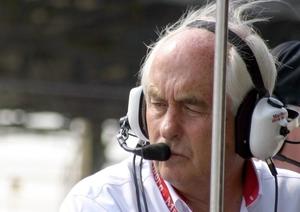 The Captain in full regalia and command at last month's Long Beach Grand Prix IndyCar race (www.SteveParker.com photo)
With his vast experience at every level of the auto industry, why would Penske shy away from actually making cars, which many would consider the ultimate involvement in the business, but show interest in being the middle-man between a factory and its dealers?
Because in doing so (and possibly in financing cars and trucks for dealers, too) he can make billions - in relatively "easy money" -- without the huge financial overhead and exposure of manufacturing.
Penske owns all the trucks and logistic operations and expertise he would need to be a major car distributor in the US or anywhere else; shutting-down that kind of operation in the face of an economic downturn is a lot cheaper, safer and easier than closing factories and laying-off tens of thousands of workers when car sales go south.
Also, in the eyes of the public, Penske's name would lend instant credibility and trust to any newly-revamped Saturn.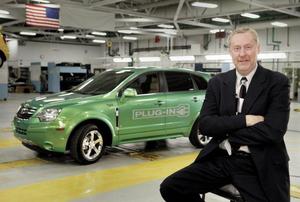 A forelorn engineer nonetheless beams at his baby, a 2010 Saturn VUE Green Line Plug-In Hybrid; Saturn sells over 25% of the GM hybrids in this country and the division's loss was initially thought to be a blow to some present and future pollution, mpg and safety standards, but GM said this week that they will try and continue to make or buy the former Saturn-made gas/electric hybrids and sell them at other GM division showrooms
Usually the car-makers control the distribution of their cars and trucks to their dealers, but there have been several independent distributorships operating between some import car-makers and their US dealers, left over from the days when the imports couldn't afford every step of making the cars, shipping them to the US and then getting them to dealerships.
Some of these distributors, including JM Moran, also known as Southeast Toyota Distributorships, still get the cars from the plants, the ports and the parking lots to the dealers and make billions in doing so.
For instance, Moran recently signed a new 25-year contract with the Jacksonville (FL) Port Authority. The agreement extends the 33-year relationship between Southeast Toyota Distributors and Jaxport, and ensures the vehicle processing facility's presence at the port through 2027.
In 1970, Frederick Weisman, a Russian Jewish immigrant who became head of Norton Simon's Hunt Foods, formed Mid-Atlantic Toyota Distributors. He sold the firm to Toyota in 1990, reaping a huge fortune. Along with his wife Marcia, the couple accumulated one of the world's best private collections of modern art.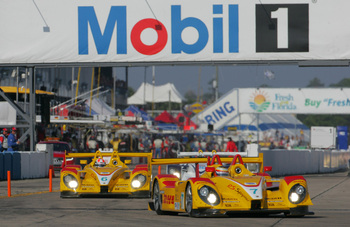 Penske's DHL factory-supported Porsches shown here winning the 2008 12 Hours of Sebring
Incidentally, Marcia was Norton Simon's daughter - Weisman wisely married the boss's kid.
Malcolm Bricklin and Harvey Lamm formed Subaru of America (SoA) in 1967 in Pennsylvania and contracted with Fuji Heavy Industries to import the Subaru cars Fuji made in Japan. In 1968, the first year, SoA imported 332 cars. In 2000, SoA sold 172,216 cars which is 14,351 per month or about 20 cars per hour around the clock every day of the year.
So there's money in the distribution business.
Each of the Detroit Three have tried at one time or another to bring Penske into their fold, GM reportedly offering the CEO position to the executive, known worldwide in the car industry as The Captain, more than once.
Penske was one of the top sports car racers of the 1960s (Driver of the Year, Sports Illustrated magazine, 1960) and took a Chevrolet dealership outside Philadelphia and turned it into a car sales empire.
He owns the most successful IndyCar team in the sport's history (currently staffed by drivers Helio Castroneves and Ryan Briscoe), NASCAR's Penske Racing South team (drivers Kurt Busch, David Stremme and Sam Hornish, Jr.) and the two-car American LeMans Series DHL Porsche race team with Sascha Maassen/Emmanuel Collard and Romain Dumas/Timo Bernhard in the cockpits.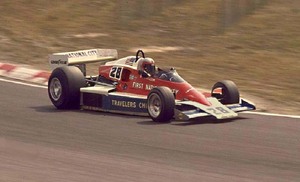 In1961 and '62, Penske and Brit John Watson ran a Grand Prix team in Formula 1 racing without much success, but Penske was learning the ins and outs of international-level motor racing
Penske recently purchased the old Matsushita air conditioning plant in Mooresville, NC and reconditioned it to consolidate his racing empire. Now, all of Penske's racing operations are under one massive roof with his IndyCar, NASCAR, and ALMS teams sharing over 424,000 square feet of space encompassing 105 acres. The shop includes all the necessary pieces to compete on the highest level in all of his racing endeavors, including a state of the art in-house wind tunnel. To complete the facilities, Penske imported over one million tons (250,000 pieces) of Italian marble; I mean, what's a race shop without one million tons of marble, right?
The billionaire Detroit booster, who oversaw that city's Super Bowl XL preparation, has accomplished almost everything in the auto industry, from racing cars to building engines as owner of Detroit Diesel to snagging exclusive U.S. distribution rights for the iconic Smart minicar to starting and running Penske Truck Leasing (a joint venture with General Electric, a company on whose board Penske sits).
UPDATE:
Automotive News reports May 6 that, according to sources at Bloomberg News, Nissan or French affiliate Renault, could make Nissan vehicles while Penske operates the retail and distribution networks for the company in the US. Such an "all-in-one-plan" with the names Nissan and Penske on top might be very attractive to GM as it is now considering offers from several sources to buy all or part of Saturn.