Join us LIVE Saturday at 11am Pacific/2pm Eastern (NEW TIME!) and Sunday at 5pm Pacific/8pm Eastern on www.TalkRadioOne.com for our exclusive LIVE motoring and motorsports talk shows!
Steve Parker's The Car Nut Show
NEW TIME! Join us LIVE every Saturday at 11am Pacific/2pm Eastern
Last time we talked, just last week, General Motors had "resigned" their CEO, who'd been on the job only eight months. This week GM fired the head of Chevrolet and appointed a new leader, and named a new North American Operations vice president --- and there's even a new job for Bob Lutz, The Survivor. Ford is hitting on all 8, and it's the end of Chrysler as we knew it --- which might be a good thing. And, finally, we have time to let you hear our interview with Volt Chief Engineer Andrew Farah! Let's discuss! The call-in number is: 213-341-4353.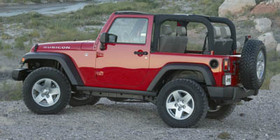 The 2009 Jeep Wrangler will probably be the last "real" Jeep once Fiat completes their Chrysler take-over
Steve Parker's World Racing Roundup
Sunday starting at 5pm
It's official --- Danica Patrick, most popular driver in IndyCar has signed a deal to drive in NASCAR's Nationwide Series starting at Daytona when the season kicks off in February (she'll be in an ARCA car for that race). Patrick will be with JR Racing, Dale a team co-owned by Dale Earnhardt Jr (NASCAR's most popular driver) and championship team owner Rick Hendrick. Plus plenty more from racing's 'silly season' worldwide. The call-in number is: 213-341-4353. Join in!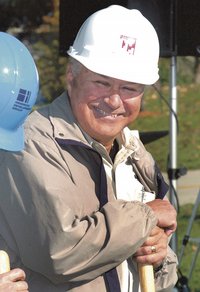 Rick Hendrick was all smiles when he and JR Motorsports team co-owner Dale Earnhardt Jr signed IndyCar's Danica Patrick
Podcasts of both shows are available one hour after the live shows conclude. That's our NEW TIME this Saturday at 11am Pacific/2pm eastern and Sunday at 5pm Pacific/8pm Eastern time every week on www.TalkRadioOne.com!