Last week New York emerged as the clear leader in the emerging world of web-based television. With back to back events from all of the major web properties, and lots of new and emerging companies, the Digital NewFronts have clearly taken the web video world's leadership position.
The NewFronts are modeled on the television industry's UpFronts, the annual season where TV networks announce and sell advertising in their fall seasons. Now, with web video coming on strong, the same market has emerged for web video programs and networks.
With big players like AOL, Yahoo, and YouTube all presenting... and up and coming sites like Blip, Vevo, Crackle all in the game the NY web video scene rocked.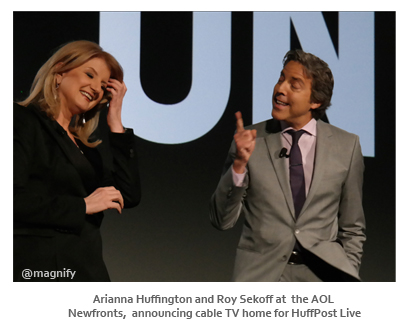 Meanwhile, TechCrunch Disrupt gathered hundreds of the cities best startups in a two day hackathon and three day event at Manhattan Center on 34th Street. Together, between the NewFronts and Disrupt - it was a week chock full of New York's future in content and code.
Over the past few months, I've been learning a lot about the Startup world here, and it's not what you might at first expect. While the media tends to present all startup founders as young and working in a garage or a cardboard box - the interesting thing is that many of New York's entrepreneurs are experienced business people and creators who are launching into a startup now, because the opportunities are so ripe and ready.
As the NYC Entrepreneur at Large, I get to meet many startups - some at the Cities fast growing incubators and others at events and gatherings. But the biggest surprise for me has been the Startup entrepreneurs I've been meeting at our groundbreaking Virtual Office Hours. I say virtual, because the office we meet at is simply The Internet. We're meeting online, using Google Hangouts as a real time way for me to open my experience and advice to a wide range of companies and individuals who are looking to grow their startup idea in New York. It's been amazing and exhilarating - to listen to folks with ideas in publishing, medicine, media, travel, food, and hospitality. Literally, startups from every sector of the hyphen-tech worlds that make New York a vibrant and growing marketplace.
What's been most exciting for me was the number of people who showed up during our virtual office hours looking to build a company or start us business after years and years at many of New York's leading companies. Entrepreneurs, it turns out, can be born straight out of the cradle or can evolve from the halls of corporate America.
What's exciting about New York's startup community is just how diverse it is, and how widespread and growing the community is. This week, I'll be hosting another of our Virtual Office Hours - this Thursday from 12 to 1pm. You can learn more and RSVP here: http://www.nycedc.com/event/virtual-office-hours-eal