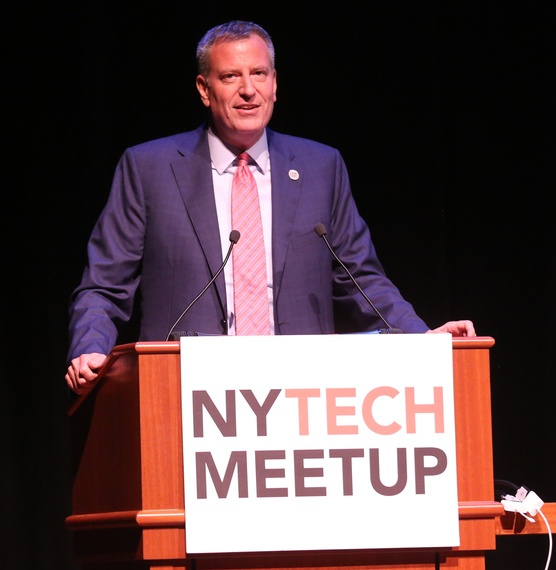 On stage at the what is the start of a period of celebration of the 10th anniversary of the NY Tech Meetup, Mayor de Blasio - who was called "his Mayorness" by the presenter that proceeded him -
announced the appointment of Minerva Tantoco as the City's first ever Chief Technology Officer.
Raised in Flushing, Queens, Tantoco is a product of New York City public schools. She attended Bronx Science High School and while still in college, moved to Silicon Valley where she co-founded technology startup, Manageware Inc, which was successfully sold five years later.
"Our City's digital infrastructure should reflect the 21st century innovation hub we want New York City to be. With the appointment of Minerva Tantoco as the City's first Chief Technology Officer, we are moving one major step towards the creation of a modern government that connects City agencies to the best ideas and brightest people to streamline the delivery of government services, and increase transparency," said de Blasio.
It was noted that Mayor Bloomberg had addressed this same audience, and told stories of his early days as a tech entrepreneur. de Blasio didn't have the same history, but when presenters "Heat Seek" and asked the Mayor for his support in getting the city to modernize how it tracks apartment heat in the winter, de Blasio said - "You'll get a meeting with the commissioner" - which the crowd applauded.
"Mayor de Blasio's appointment of New York's first citywide Chief Technology Officer is a milestone event in making New York City government the most innovative and efficient it can be" said Andrew Rasiej, Chairman of the NY Tech Meetup.
"Minerva is an experienced technologist with vision and technical expertise to make New York City the number one center for tech and innovation in the country, and I am thrilled to have her join my administration" said de Blasio.
"New York City is experiencing a technology transformation which is positively effecting the city's economy and changing the city's trajectory into the future. As the city's new CTO, Minerva will be an exceptional leader and partner in tapping into the power of technology to benefit all New Yorkers. She has been an advocate for women and innovation throughout her career, and will continue to be a role model and trailblazer in her new role." said Jessica Lawrence, Executive Director of NY Tech Meetup.