Today Peter Chernin, the former president of News Corp and AT&TT announced a half-a-billon dollar fund to invest and acquire new web video properties. It's a critical moment in the TV to the Web transition -- but one that makes perfect sense.
Here's the backstory:
Television, that big box that filled living rooms with a blue glow through two generations -- is gone. The era of three networks, TV dinners and the dull thud of the 'boob tube' has all but vanished. Good riddance!

But what you may not have noticed as you checked your email, read your Twitter stream, posted on Facebook or shared on Instagram -- is that TV is at the edge of a new horizon. About to be reborn.
TV's future is now in sight. Networked, social, interactive and focused on the things that matter to you. Passion-powered TV, nichified and valuable.
At the center of the change is the blurring line between TV and the Internet.
Broadcast TV is transformed from a one way experience with towers and transmitters into a narrowcast experience where we can can receive what we want, in our own timeframe.
Fixed televisions are replaced by moving mobile devices, smart phones and tablets, with mobile broadband LTE connections.
Devices like Google Glass, Facebook's Oculus VR and other motion control and voice control innovations shift the TV interface from a handheld channel changer into a fully immersive experience.
The old world of programmed TV -- with schedules and prime-time shows is being replaced by social recommendations and curated niche program offerings.
But perhaps most importantly -- TV is expanding beyond its narrow confines of entertainment. Television is increasingly playing a critical role in live events, shopping, gaming and even education.
What does the future of TV look like?
There are 3 trends that matter -- and are no longer the stuff of sci-fi futurists:
TV - Smart TVs - Connected and Social.
TV - The Shift To Mobile Media.
TV - Personal and Curated.
In-Stat reports that 500 million TV sets worldwide will be web enabled by 2015. Companies are driving hard to be the critical connection between the web and your flat screen. Amazon's new FireTV puts a new box in the mix, along with Apple, Roku, Google TV, Tivo and Samsung's Boxee. And don't forget Xbox and the other gaming boxes -- all vying to be your entry into video.
Already TV has broken beyond the bounds of proximity -- and big event television like the Superbowl and the Academy Awards have developed social experiences via Twitter and Facebook that rival the events themselves. And social TV is just the beginning. Around the bend, the emergence of participatory TV promises to turn audiences into active creators -- both on screen and off.

Trend # 1 - Smart Televisions

Thanks to devices, Netflix, Apple TV and Roku -- TV users have started to get a taste of what it feels like to enjoy a truly a la carte experience. But that's just the beginning.
Television manufactures are now building devices that are internet ready -- and the data is clear here. At the rate we're going we'll have our TVs connected to the internet at a dramatic rate. New high speed wireless technology coming to smart TVs is known as 802.11ac. 802.11ac, which will grow to 185 million new TV and display connections by 2015, will allow easy distribution of video within the home, including between tablet and TVs. Technologies like Miracast and DIAL will allow consumers to interact with their TVs from a mobile device.
Here's the Growth Track of Miracast and DIAL-enabled display device shipments (Millions)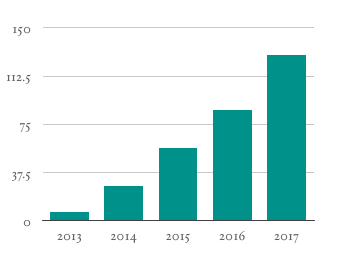 Source: NextMarket Insights
With HTML5 looming large as the new platform for the connected web, TV manufacturers are completing with Google and Apple, who are competing with cable companies and app makers. It's a free-for-all, with consumers poised to win in a big way.
Trend # 2 - Mobile
Mobile is one of the terms that's outgrown its actually application. Really mobile now means "everything but the desktop computer." iPad, Kindle Fire, Android tablets, Samsung and Apple smart phones -- anything connected to wifi or mobile broadband is now a TV set in your pocket.
As Ava Seave Reports in Forbes:
"The share of total video plays by mobile and tablet platforms continues to take away playing time from other devices, Ooyala reports today, as part of itsGlobal Video Index for Q4, 2013. The mobile + tablet share of video plays reached almost 18 percent -- an increase of a more than ten points over the 7 percent reported a year earlier. The report predicts that mobile video "could make up to half of all online video consumption by 2016."
Cross-platform viewing is on the rise -- as consumers start a program on a tabled to smart phone, and then pick up viewing on home internet-enabled smart TV.
Connected TVs are on pace to take over the television viewing experience. There will be more than 759 million televisions connected to the Internet worldwide by 2018, more than double 2013′s number, according to Digital TV Research.
Trend # 3 - Personal and Curated
The barrier to entry in the content creation space have fallen away. Handheld video recorders including the iPhone and GoPro are turning consumers into creators. And audiences are increasingly seeking authenticity and content depth over slick production values. This is a watershed moment in the powerful new role that video will play in the evolution of the web, and in the very nature of knowledge creation and transfer. The early promise of cable TV was that it would replace mass-media and low brow entertainment with quality, compelling, niche content. The concept was right for audiences, but too early to meet the economic demands of brand advertisers.
Today -- the demand for video in contextual and curated networks is evident and growing. Audiences want their information relevant, timely and ready for them on whatever device is in their hand.
Using emerging crowd-discovery tools and niche network platforms -- it's not hard to foresee a day where the noisy abundance of web video is curated into remarkably engaging and useful networks that meet your needs, embrace a community and provide advertisers with a trusted and safe environment for them to deliver relevant messages.
Today the light at the end of the tunnel can be seen in the almost 2 billion video views of TED, or the large and growing educational audience on Khan Academy. In the next three to five years, each and every personal hobby, interest, passion and educational category will have a curated video channel waiting for you to tune in, share and interact with. TV's future is bright -- and the next phase is already underway.