It's an important, and undervalued, journalistic skill.
Curation has been steadily rising as a concept as the sheer volume of undifferentiated content has made it nearly impossible for mere mortals to find useful, thoughtful, contextual content on the Web.
But its practice is undervalued. In just one example, a 2012 wrap-up in The Atlantic called "curate" one of the "words we'd just as soon never write or see or hear spoken again."
I disagree. Information overload drives content consumers to look for human filtered, journalist vetted, intellectually related material. This hunger for coherence isn't unreasonable; it's essential. And for some of us who think and write every day, gathering bits of thread that can then be elegantly knit into a thoughtful narratives isn't cheating, or lazy. Far from it. Curating is in many ways harder than writing (at least good curating). It's far easier for me to write 500 words from my head than to find themes and sources and tied them into a broader narrative.
Now, my issue with the state of curation -- and its current promiscuity -- is that a larger group of users have misappropriated the word and the core concepts that make curation so appealing.
Curation's genesis was to create a word for a practice that was emerging over the past two years to filter the overabundance of signal, and create quality, thoughtful, human-organized collections. The most urgent need for curation was in Web content, where algorithmic search was falling farther and farther behind the firehose of data that was spewing out of digital devices, video-enabled mobile phones, auto-tweeting devices, and overzealous Facebook friends. Curators created entirely new editorial works by finding, filtering, and contextualizing -- finding meaning in the cloud.
Curation, in its purest form, solves a problem and meets a growing need.
But then a bunch of random marketers and sign-makers got in the act. Today, things are curated that shouldn't be. For example, this wine store: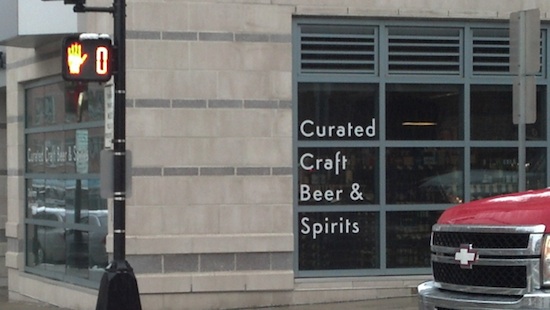 Photo courtesy of John Cahill
Known as a "social wine store" (whatever that means), the shop pictured claims to provide "curated" craft beer and spirits. As if another wine shop isn't "curated" (heck, they just stock whatever boxed wine they can get their hands on).
If the word curation is allowed to be diluted down to simply mean "selected" or "quality collection," then it no longer solves the problem we need it to solve.
Content NEEDS curation because of the sheer volume of unfiltered content that's flooding the commons without any gatekeeper or objective organizer. Wine doesn't.
Here are a few scary stats:
250 million photos are uploaded to Facebook everyday.
864,000 hours of video are uploaded to YouTube everyday.
294 BILLION emails are sent everyday. That's why you can't read all the mail you get anymore.
This all makes curation an important, even essential, part of journalism. The world is awash in meaningless data. Readers are hungry for clarity and understanding. And journalists are trained to find meaning and assemble facts into coherence. They're rewarded with enlightened readers, engaged audiences and a revitalized role in the new world where anyone can be a creator' of information, but quality curation, within a journalistic context, is a wonderful thing.
Originally published on Columbia Journalism Review, January 23, 2013.