As you may already know, Internet Week New York is an 'open' week of events. Since anyone can add an event - IWNY has grown massively since NYC and Katherine Oliver, Commissioner, of the NY Mayor's Office of Media and Entertainment, and David-Michel Davies of the International Academy of Digital Arts and Sciences formed it 3 years ago. Heck, NY didn't even have a Chief Digital Officer back then.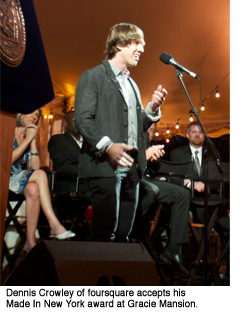 Now, Rachel Stern is getting a shout-out from Mayor Bloomberg at Gracie Mansion while Dennis Crowley from FourSquare is side by side with Matt Damon.
Because my team was powering UGC video for IWNY - I had a birds-eye-view of the events. And while I was an active participant in many events, I found it's more than I can filter. (http://video.internetweekny.com/)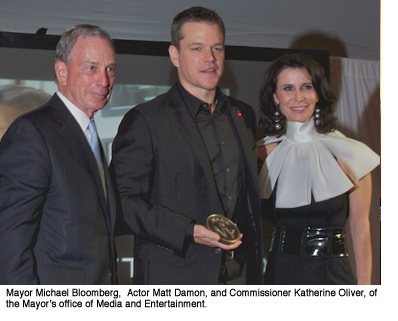 On stage at the Digital Media Summit, Henry Blodget moderated a panel with John Battelle from Federated Media, Gordon Crovitz of Press+, and Martin Nisenholtz of The New York Times. We debated content, and learned that the NY Times paywall is working. Luma Partner's Terence Kawaja brought in a stunning array of CEO's - making the day both thoughtful and engaging. Yet, strangely content is harder and harder than ever to define.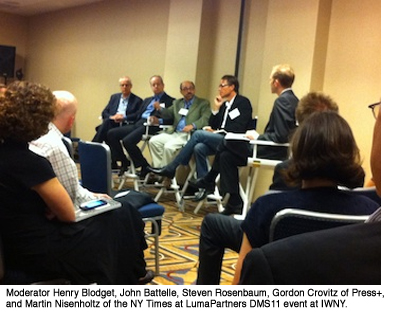 That night parties from Todd Harrison's Minyanville book party to the Luma Partners party at The Press Lounge & Ink48, the TechSet party sponsored by The Pivot Conference. Each had their own communities. Finance, Brand and Media Leaders, and Social Media mavens.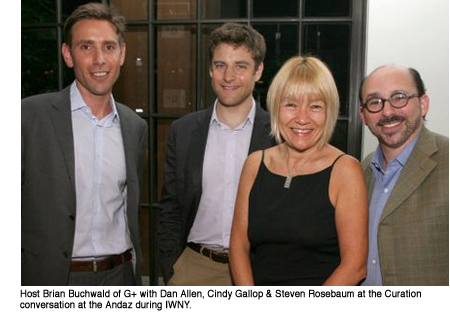 Then, on Thursday - at the Digital Newfront, the worlds of advertising, brands, and celebrity merged. With Aston Kutcher telling a small group "your customers are now your brand." Bravo! And Tyra Banks talking with extreme frankness about feeling insecure even as she was jetting around the world as a supermodel.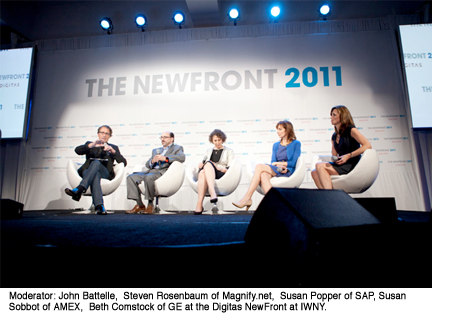 By Thursday afternoon, I'd been in 2 swanky new hotels (ink48 and Andaz) and had a dinner and roundtable conversation on curation hosted by G+ (the new division of Gerson Lehrman Group).
Along the way - I followed #IWNY, watched the live feed, read blog posts and news reports. Yet - I felt like I missed something. Was I at Internet week when I was at the Crown Plaza? What about Columbia University with the chairman of the FCC? Yes. Sort of. Maybe.
What Internet Week NY needs is a curator. Or maybe many curators.
So next year, I volunteer.
I'm going to pour over the schedule, check out panels and parties. And publish MY IWNY Schedule. It will focus on the things I care about - Curation, Video, Social Media. Maybe I'll even create my own hash tag. Why? So I can create, order, and filter a version of IWNY that may be useful to others.
In a sense, what I'm doing is what Plancast has been building on. Finding individuals who are early leaders in events and making their plans public.
Why does Internet Week need curators?
Because you can't read the whole web. You can't follow every tweet. and you can't go to all the IWNY events. But together, we can.