A look at the NY Tech Scene from the NYCEDC Entrepreneur at Large:
New York's passion for innovation and entrepreneurship were in full force last week - with an almost overwhelming collection of events and happenings.
In terms of sheer scale, the third annual Maker Faire at the New York Hall of Science in Queens was massive in both attendees and participants. The MTA turn the trek to Queens into an adventure, with the unanticipated shutting down of the 7 train, and then changes on the R, E, and M. Never mind the letters, the point is -- lots of families with geeky boys and girls found themselves wandering in Queens. No harm done, they all made the journey.
Mayor Bloomberg had declared the week of September 24th "Maker Week" in New York -- and it seems every Maker for hundreds of miles in every direction took him up on it.
And once they arrived, they found themselves among friends. Thousands of them. A veritable forrest of 3D printers, Audino projects, steam punk aficionado's, and flying drones of all shapes and sizes. If there's anything that's changed in twelve months - it's the explosion in 3D printing. Just 3 years ago MakerBot took some open source code and released its first 3D printer. It was a kit you built at home, as was their next version the Thing-o-matic. Now it's going mainstream, with the Replicator 2 -- which Wired proclaimed the machine that will change everything. And at Maker Faire, the number of 3D printing projects was stunning.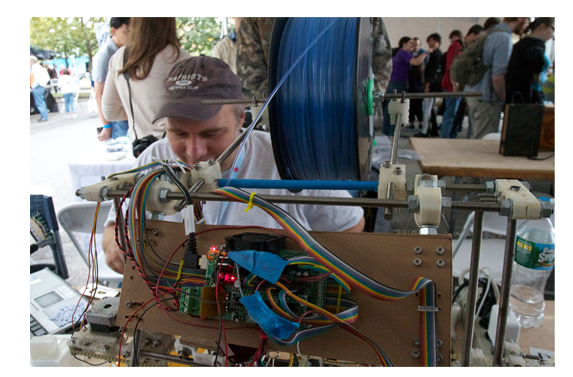 New companies like Solidoodle, Up!3D, Ultimaker, and Tinkerines all had 3D printers on display. But MakerBot was the big dog, with its printers in almost every booth.
MakerBot Bre Pettis strolled the grounds of the Faire, his now one-year-old daughter Nika ridding along on a baby backpack. But once he was on stage with author and wired editor Chris Anderson - he was ready to share his expansive vision of the Maker revolution with a packed audience at the New York Hall of Science.
Bre Pettis told the gathering that "a 'good project' is doing something where you don't know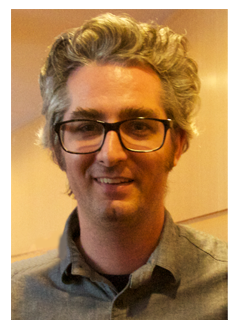 how it will end." And certainly the journey that MakerBot has taken represents that ethos. The fact that his new machine is the first one that will be sold fully built represents a significant change. So, why not sell the kit as parts? "We've learned that there is a 10x increase in buyers when you go from a kit to a finished product" said Pettis. That explains why he and Wired's Chris Anderson think that the whole Maker Movement is about to explode. Anderson says that we're on the verge of a manufacturing renaissance in America and desktop fabrication a much larger impact on our economy than desktop computing did.
How big can the Maker Movement get? Can it really restart a manufacturing renaissance in America? Will desktop fabrication have as much impact as desktop computing did? Bre Pettis (MakerBot) and Chris Anderson (Wired/3D Robotics, author of Makers) discuss the lessons learned in building big Maker businesses, and give a glimpse of where they think this movement is going.

JOBS, JOBS and MORE JOBS...
More than 1000 job seekers showed up at 7 Word Trade Center to meet with 80 high tech companies at the NYC Startup Job Fair on September 28th. Nearly 600 open positions were being presented. The candidates -- undergraduates, MBAs, developers, web designers, marketers -- spanned from entry to senior level, gathering from across the Northeast.
If you were unable to attend, a list of the startups can be found on the STARTUP LIST page and available positions can be found on the JOBS page. If you are qualified for a position, we encourage that you apply through their company website.
Job Seekers can sign-up to be notified about our next event - JOB SEEKER SIGNUP
Startups can sign-up to be notified about our next event -- STARTUP SIGNUP
Check out NY Job Fair here.
Meanwhile, New York is working to bring Startups to Wall Street area:
The project called H.E.L.M (Hire + Expand in Lower Manhattan) is a contest funded with 1.2 million dollars Sponsored by NYCEDC, LMDC and HR&A. NY is looking for companies in the following categories: "Startups, Creative Services, Technology, & 'New' New Yorkers." Up to 20 finalists will be selected by a Committee of industry leaders. Each will receive $10,000 each. Up to 4 winners that sign leases will receive $250,000 each. That's NY putting it's money where it's mouth is about supporting startups.
This week, Advertising Meets AdTech at OMMA Global.
At the New York Marriott Marquis - 1535 Broadway - Monday and Tuesday.
Monday, October 1, 9:15 AM

Keynote Interview w/ Tim Armstrong, CEO of AOL
Facilitator: Bob Garfield , Columnist , MediaPost @bobosphere
Tuesday, October 2nd 2:30 PM
OMMA Global Panel: After Radical Digital Change, What Is Content?
Moderator Michael Wolf , CEO , Activate
Panelists
Sarah Chubb , President/GM , Gilt City
Fran Hauser , President of Digital , Time Inc. Style and Entertainment Group
Larry Kramer , President and Publisher , USA Today
Jonah Peretti , Co-founder & CEO , BuzzFeed
John Robinson , SVP, Creative , Digitas
Have a great week in NY Tech!
(tips, events, or NY Tech news? Email me at Srosenbaum (at) nycedc (dot) com)