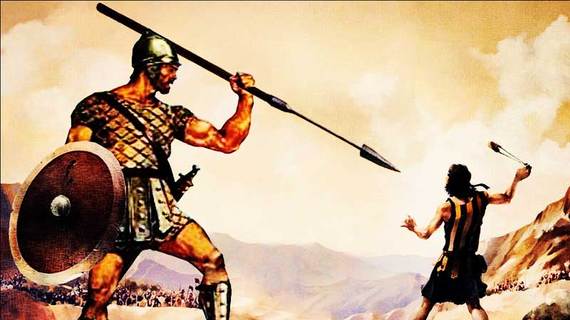 How many times have we heard a lawyer called a name like "ambulance chaser," "shark" and "shyster?" Usually, this derogatory, name-calling is triggered by cases in which an attorney represents a person who has been injured by another's negligence or misconduct, or represents a defendant who is charged with a serious crime. Ironically, where you hear these unflattering names most is in cases involving one individual up against the power of many -- whether it be a mighty insurance company, a well-funded corporation, or an over-zealous government prosecutor. A virtual David and Goliath scenario. So why such scorn for those who represent "David?"
The fact is that is the lawyers who represent the less powerful in our society -- injured victims, criminal defendants or those who are wrongfully arrested and convicted -- deserve praise, not scorn. Why? Because those lawyers may be the only ones who stand up to the powerful government and corporate machine; the ones who will speak for those who cannot speak for themselves; the ones who will serve as watch dogs against negligence, misconduct, corruption and over-zealousness, by those who hold the power.

The clarity of this shines no brighter than when analyzed against two tragic New York stories in the news recently. The first was an article in the New York Times uncovering a culture of prisoner abuse at Rikers Island -- the main New York City jail. The Times reported that "over an 11-month period last year, 129 inmates suffered 'serious injuries' -- ones beyond the capacity of doctors at the jail's clinics to treat -- in altercations with correctional department staff members." The other tragic story involved Eric Garner, a Staten Island man who was placed in a chokehold -- the restraining maneuver that cuts off the flow of blood and oxygen to the brain -- by police during an arrest for allegedly selling untaxed cigarettes. Mr. Garner died during the arrest. Notably, in 1993, the NYPD banned the use of chokeholds while making an arrest.
These stories underscore the real fear felt by the citizens of New York who find themselves on the wrong end of the law. In a much broader way, these events also compel us to ask significant questions like: Who will protect future victims of this abuse? Who will police these officers when they violate the law, and their own rules as well? Who will hold powerful entities, like the government, the police and corrections officers, accountable for their actions? Who will promote change in the policies of powerful entities forcing them to better protect the public they serve? The answer is lawyers.
Ask yourself this: What if Mr. Garner's death during his arrest was not videotaped? What if the Times did not uncover the internal report confirming so many injuries to inmates at the hands of some correction officers? Would we learn the truth? Would all of the facts be uncovered and disclosed? Government cannot police itself. Departments like the Internal Affairs Bureau of the NYPD and the Inspector General of New York can only do so much. It takes the lawyers for the injured and abused, to protect the less powerful and to effectuate true change for our communities.
There is no doubt that being a police or correctional officer is dangerous and stressful. Despite this undeniable reality, their duty to conduct themselves in accordance with their internal regulations and our laws must not be forsaken.

Some say that lawsuits against police and correction officers impede their job and interfere with the way they conduct themselves from day to day. In other words, some argue, lawsuits against officers jeopardize a safer society. To them, I say the opposite is true. It is our duty as lawyers (and citizens) to question the conduct of the government and fight against corruption and the abuse of power. Lawsuits can do just that. And the lawyers that file these lawsuits do not impede the system, but rather, protect it.

Such lawsuits serve as a watchdog for the conduct of the government -- when there is little else to protect individuals from the forces of power acting against them. To a large extent, a lawsuit against the police or corrections department is no different from a lawsuit against an insurance company or a big corporation. Lawyers that sue on behalf of those injured in an accident or as the result of a defective product are no different from those who sue to protect a person's civil and constitutional rights. The lawyer's goal is the same: to protect individuals against the powerful and the wealthy and to act as a real impetus for positive change.
So, the next time you hear lawyers called those derogatory names, keep this in mind.
Afterword: By the way, in Henry VI, Shakespeare's character who said "let's kill all the lawyers" was referring to corrupt and unethical lawyers -- he actually admired lawyers who fought for justice in society.
If you like what you read, please follow Sullivan Brill, LLP on their Facebook page or at sullivanbrill.com and sbcriminallawyers.com. You can also email Steven Brill at steven.brill@sullivanbrill.com.